Did Chance The Rapper Just Pair His Cake With Chicken Wings?
Picking out a birthday cake can be a tough choice. Of course, for all us 90s kids it mostly a choice between pineapple, black forest, and our favourite cartoon character. But with cake making now an art and Instagram photo hungry for gorgeous looking cakes, choosing the birthday treat has become all the more difficult. Not if you're Chance The Rapper, though, because you can then have your cake shaped as your favourite food. Problem solved!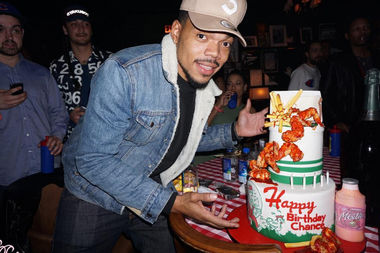 Alliance Bakery in Wicker Park made the Grammy-winner a special Harold's Chicken Shack-themed cake to celebrate the musician's 24th birthday. For the uninitiated, Harold's is a famous fried chicken chain based on Chicago's South Side. Alliance put together an interesting three-tier (or two and a half or even two maybe, depends) birthday cake complete with saucy chicken wings and French fries topped with tomato ketchup all made of fondant.
"One of Chance's favorite meals is a 7 piece chicken wing plate with fries, hot sauce and a Strawberry-Kiwi Mystic from Harolds' Chicken Shack here in Chicago, so I wanted to create a cake with cascading chicken wings that he would not soon forget!"


But the party was not all wings and birthday cake. Chance's birthday bash raised more than $100,000 for Chicago Public Schools via Chance's charity, SocialWorks, according to DNA Info. Moreover, the bakery's River North outlet even rolled out Chance-themed cookies, which also raised money for charity.