Celebrity Chef Sanjeev Kapoor Has Designed The Menu For The Luxury Mumbai-Goa Tejas Express
Yesterday, the IRCTC officially launched the Tejas Express, a speedy train which will journey from Mumbai to Goa, giving Mumbaikars a comfortable luxury travel option.
The train will have air conditioning, infotainment wi-fi and automatic doors. What we're most excited about (of course) are the food options.
Food From A Celebrity Chef
In January, the Indian railways roped in celebrity chef Sanjeev Kapoor to design the menu for The Tejas Express.

When asked about what he planned for the menu at the time, Kapoor said "It's a tough question to answer. Since the initial proposed Tejas trains would belong to Maharashtra, Punjab and Uttar Pradesh regions, therefore, my focus would be to include these cuisines at their best." "This will be further categorised as per seasons and meal timings. Also, besides this, as I've always been doing with other projects of mine, the dishes that I plan to include in the menus will not only be tasty, but, I'll also try and make them wholesome and nutritious at the same time," he added.
And Kapoor has done just that; the menu includes dishes like Cereals, Omelettes, Croissants and Whole Grain bread, Doughnuts, Dalebi and dry fruits.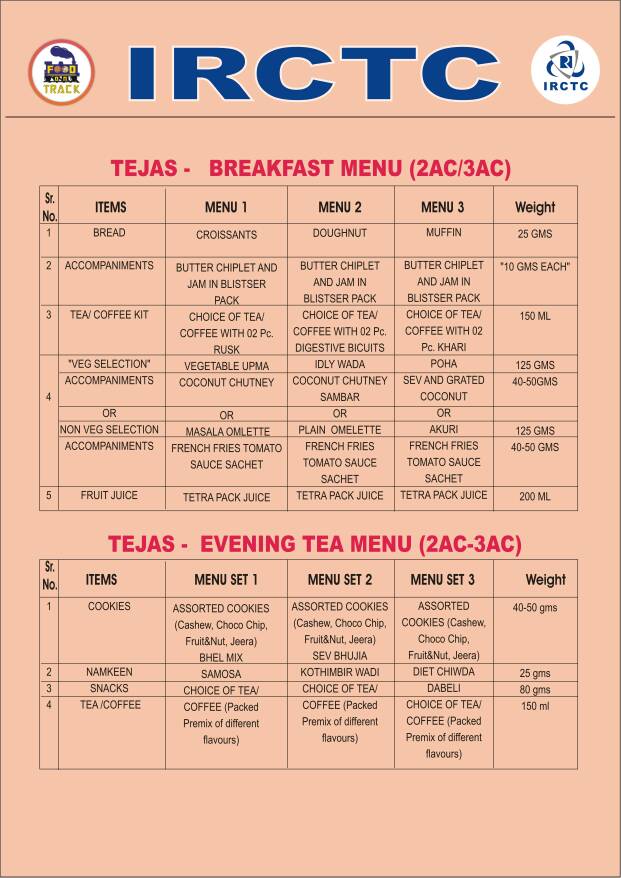 Additionally, the train will have tea and coffee vending machines; the first of their kind in Indian trains.