Celebrate Diwali in Style With Luxury Gift Hampers From JW Marriott Chandigarh
As the region's preferred luxury hospitality destination, JW Marriott Chandigarh evokes a sense of being 'special' every time you visit the property. This sense of being special and unique emanates from the services and offerings of the hotel which redefine understated luxury and exclusivity.
Extending its magical touch to Diwali gifting, JW Marriott Chandigarh has introduced Bespoke Diwali Gift Hampers which comprise exquisite articles carefully handpicked to curate luxury. The hotel is inviting you to usher in the festivities with their exclusive range of gift hampers specially crafted for your near and dear ones.
Patrons can choose from a'la mode of patisseries with sensational chocolates, delightful beverages and scrumptious goodies as Chandigarh Baking Company (CBC), the in-house deli and patisserie at JW Marriott Chandigarh brings to you scintillating and sparkling bakes wrapped in appealing gift boxes which are aesthetically designed hampers to perfectly complement your special celebrations.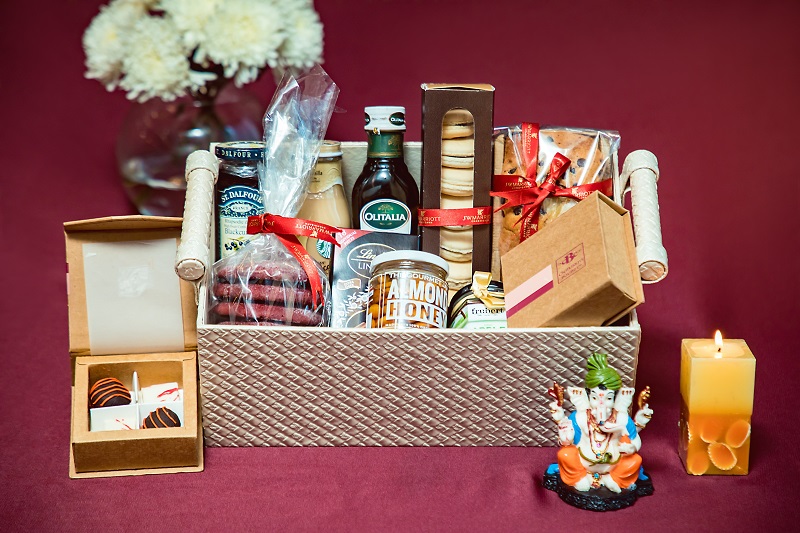 "Diwali is an occasion to celebrate goodness, togetherness and love. The much awaited festival of lights illuminates the lives of people with rays of smile, joy, unity and prosperity, encouraging us all to meet and greet our family and friends. This Diwali, we have tried to capture the lights, glitters and smiles associated with this festival and help you share them with your loved ones through the exquisite hampers which are crafted to gift happiness and that feeling of being special," shares Mr Ramandeep Marwah, General Manager, JW Marriott Chandigarh.
Perfectly complementing the CBC's in-house creations such as Homemade Coconut cookies, Handcrafted honey oatmeal cookies and Freshly prepared Chocolate orange cake among others, the multiple hampers on offer have hand-picked inclusions such as different varieties of olives, extra virgin olive oil, Organic tea, Flavoured basil tea water, Assorted nuts, Smoked sea salt etc. Articles including idol of Lord Ganesha, Aroma candles, St. Dalfour Fruit Jam, Dolce De Leche Desert Sauce and Jack Daniels Barbeque Sauce highlight the deep thought which has gone behind the composition of these hampers and beautifully establishes their luxury quotient.
Cost: INR 2,500/- + Taxes to INR 11,000/- + Taxes. These include: Classic Hamper, Classic Basket, Premier Basket, Tijori, Treasure Basket, Luxury Hamper, Luxury Basket and Signature JW Basket
For orders: Call – +91 998 889 8309 | 91 172 455 5555 or email at jw.ixcjw.cbc@marriotthotels.com