Can We Talk About How Nando's Is A Breath Of Fresh Peri Peri In This World?
When was the last time you visited a Nando's outlet or even Epicuria in Nehru Place? Last year? Last month? Last week? Yesterday? Well get ready to pay a visit to both the places again because Nando's India just kicked off its new outlet at Epicuria, Nehru! Speaking to Shail Stephens, Marketing Manager, Nando's India, we got a know a huge deal about what the food chain stands for and believe me when I say that it's way beyond the kitchen and the restaurant. And here's all that you should know too!
¡Mi Casa Es Su Casa!
Nando's around the world function on a simple and unique motto of "mi casa es su casa", which literally translates to "my house is your house" but really is a way of saying "make yourself at home". And in order to allow the diners to feel at home, the chain has brought about a bunch of tweaks in its service.
For starters, the establishment packs a supremely casual and chill ambience complete with an upbeat vibe and smiling faces all around. Moving on, let's just take a moment to admire Nandos' move to introduce us to the concept of 'bottomless servings'. Basically, if their house is your house, you can have as much as you want, right? Damn right you can! The restaurant features a number of fountain soda machines where you can get unlimited refills of our favourite soda and an ice dispenser to top it up! With self-service also one of the new features, diners don't have to rely on servers to get them water, cutlery, et al. That said, exceptions are always made for customers who could use a little hand.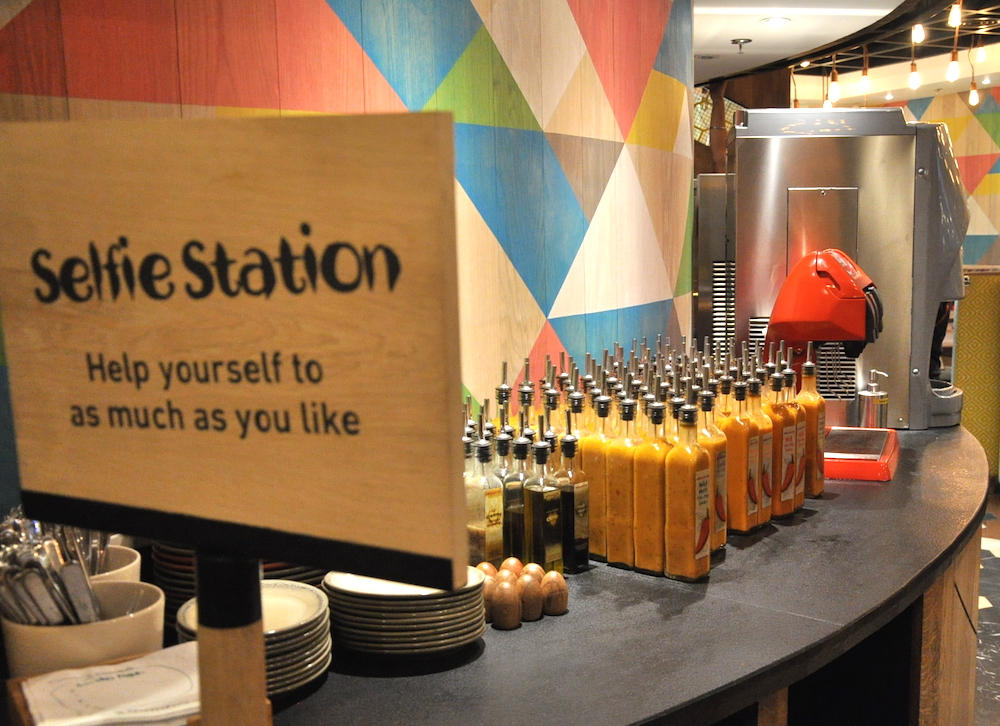 In addition to the 'at home' vibe and service, the Nando's staff too makes sure that you are having a great time at the casa by at least one "check back" (a personal review visit by the duty manager) at every table. Nope, we're not done harping about this establishment yet. Read on.
Artfully African
Nando's breaks away from the monotony by giving every outlet a personality, character, USP, and vibe of its own. The Nehru Place outlet is big on vibrancy and colours. Of course, the basics remain the same. And by basics we are referring to Nando's thrive to use au naturale materials like wood, stone, metal, and the likes.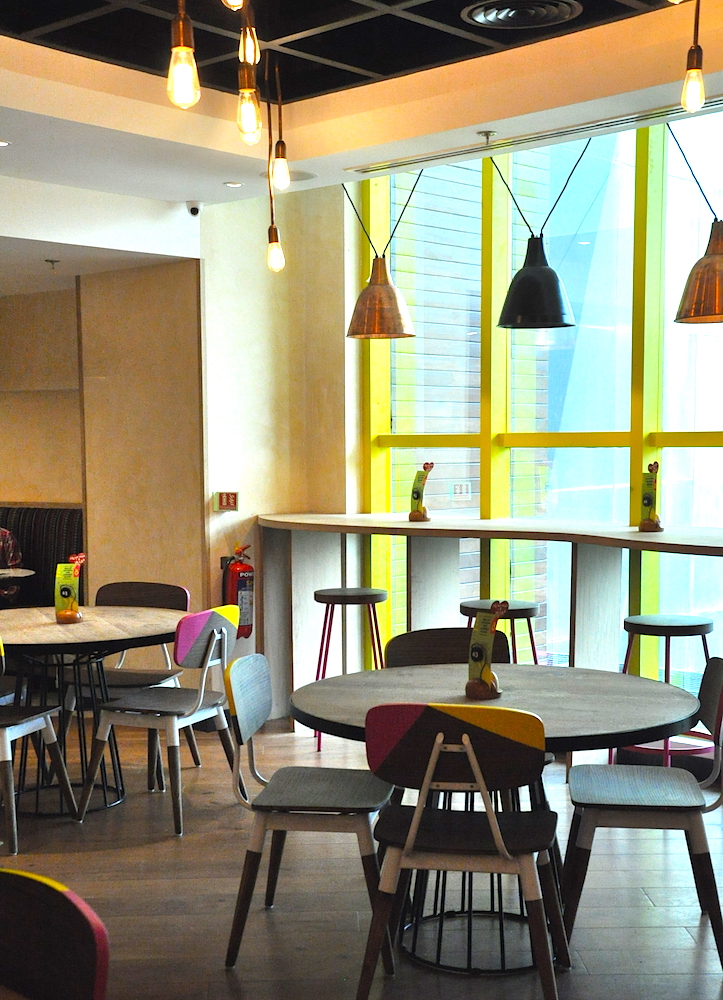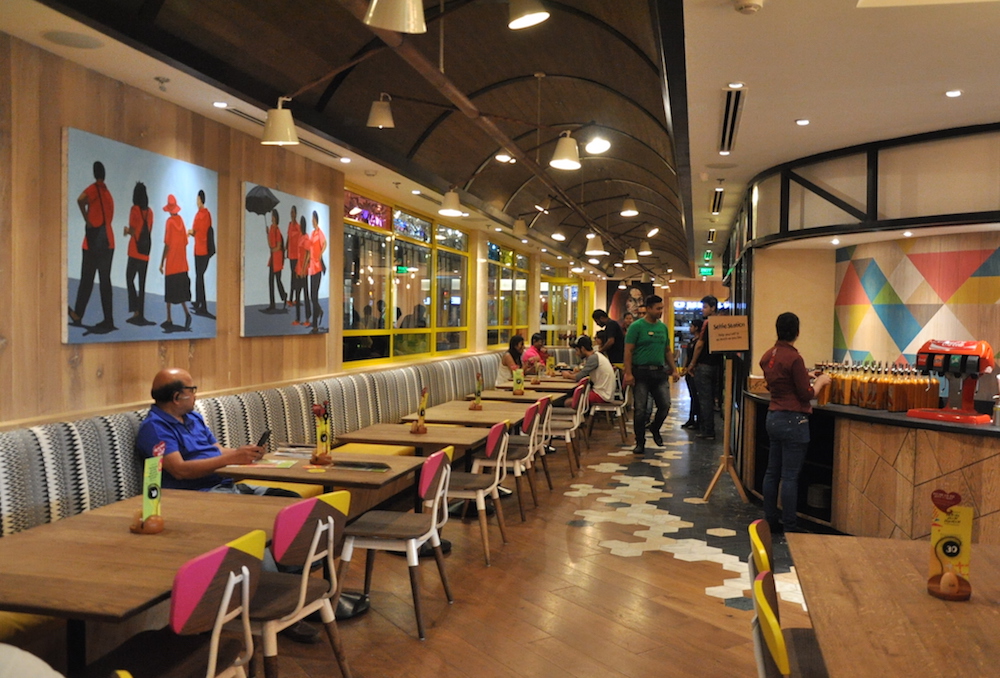 But when you visit a restaurant, you don't notice these things. What you do – and will – notice at Nando's Nehru Place is a bright African palette accompanied by some gorgeous art pieces.
Nando's sources all its stunning artwork from South Africa. And as is true for every piece of authentic art piece, they are unique as well. But Nando's South Africa connent does not end there. The restaurant goes that extra mile, supporting and playing a vital role in the development of the South African artist community.
Moreover, Nando's India's Nehru Place casa extends its reach beyond just the kitchen and dining space, making its surrounding prettier. Nando's took over a portion of Epicuria's parking wall to douse it in some gorgeous graffiti, which is an amalgamation of African and Indian sensibilities brought together by the restaurant's rooster mascot. And this is what a formerly dull parking wall now looks like.

Kitchen
Last and definitely not the least, the food. Stephens took us on an exclusive tour through the kitchen and boy oh boy, did we learn a lot! In a nutshell, here's all you need to know about the Nando's kitchen, where all the magic happens:
Hygiene –
One of the major pillars of a sound and healthy food joint, hygiene is closely monitored at the backend. With a neat designated spot for washing the dishes, Nando's has a quick and efficient three-step process to bring out the cleanest in them.
As for the food, the restaurant houses squeaky clean and colossal refrigerators bigger than my closet to nest their raw materials. Meanwhile, the staff members – or for that matter anyone who crosses over from the restaurant to the kitchen – are all on point when it comes to maintaining a certain level of cleanliness. And that means we also got the opportunity to don a hair net while on the tour!
Freshness –
Nando's runs on a tad intricate but well thought off mechanism, resulting in the best and yummiest peri peri chicken known to man. The restaurant serves the freshest food, which means that the cycle renews within a few day – three to be exact – and that is precisely why there are only a select few Nando's outlet across the world that would rather focus on quality than quantity.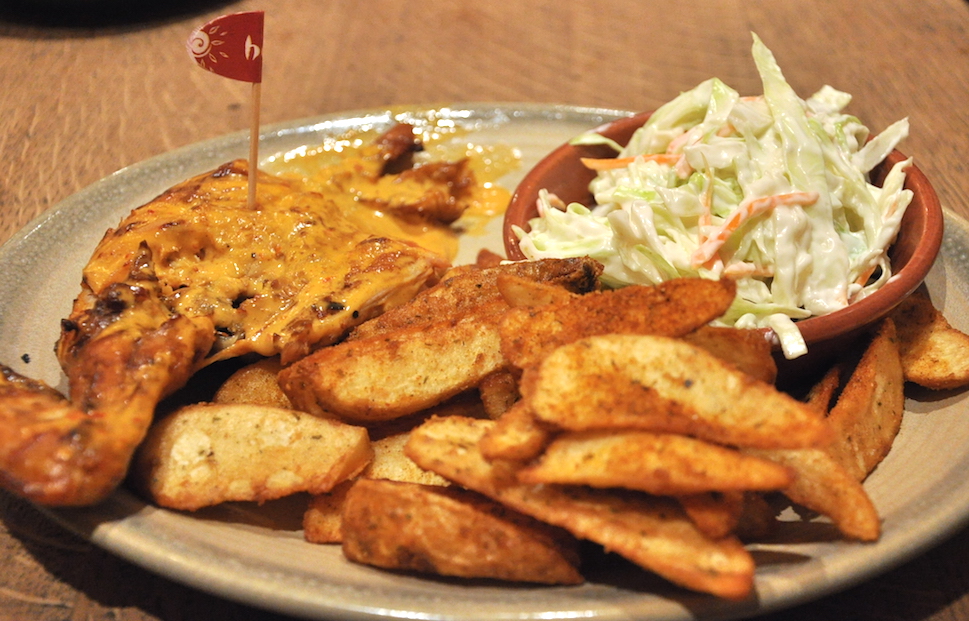 Moving on to the food, we really do not need to say anything? Except that we do, because you must be enlightened just as we were! Ever wondered how Nando's maintains the same taste across the globe? Well, that's because the restaurant uses chicken that is marinated at the factory, frozen, and then sent over. So it's hard to mess up that clockwork. Moreover, have you ever noticed that Nando's is also a great way to eat delicious AND healthy? If you look at the menu closer, you'll realize that everything apart from the peri peri fries and peri peri wedges is grilled, tossed, or cooked otherwise! #revelation
And of course we ate! The restaurant treated us to a beautiful plate of ¼ chicken with a side of coleslaw and peri peri wedges, and butterfly chicken with peri peri chips. We really don't have enough superlatives to describe the mind-blowing food at the casa, but in a nutshell we'd like to say that Nandos' new outlet id definitely worth a visit. Whether you do it to experience it from an art point of view, get a feel of the contemporary-tribal vibe, to dig into their delicious food, or just to bask in the amazing combination of the three!