Buying Food Grains For Ration Card Holders In Delhi Just Became Easier
As the New Year kicked in, so did the Delhi government's efforts to simplify buying food for ration cardholders easier. On Monday, the government initiated its service that lets ration cardholders buy grains from any fair price shop (FPS) in the Capital. Earlier, the cardholders could do so only at registered ration shops. The directive further enabled distributing ration to beneficiaries through the e-Point of Sale (e-PoS) devices in all 2,254 Fair Price Shops.
New Year, New Directive
"We have introduced ration portability scheme under which ration card holders can procure ration from any fair-price shop while shifting completely to the PoS device. However, this facility will be available only for online transactions. To avail this facility, biometric data of the beneficiaries must match the official record," Food, Civil Supplies, and Consumer Affairs Minister Imran Hussain said.
To ensure flawless running of the initiative, a robust mechanism will be put in place for proper verification of the beneficiaries and to overlook Aadhar certification. Additionally, all e-PoS devices have been fortified with electronic weighing machines to certify that the beneficiaries get the correct amount of ration.
"Distribution of food grains to 8% of the total card holders will be allowed off line so that the beneficiaries whose Aadhar authentication either fails or who still do not possess Aadhar cards do not face problem," the minister added.
While this is a trial run, based on the outcome the government may consider making the plan permanent from February.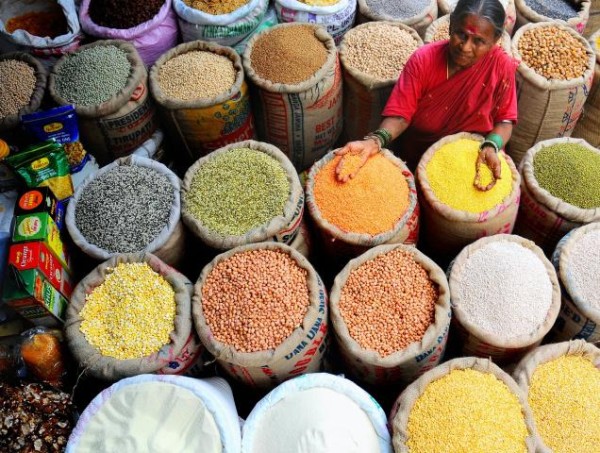 Image Source
Happy Year For All!
Though great for consumers, the new initiative will also give equal importance to the demands of FPS owners by increasing the margin money. This will aid the shop owners' costs of running the shops.
"The department has made a proposal to increase the margin money for fair price shop owners from Rs 70 per quintal to Rs 200 per quintal (from 70 paisa per kg to Rs 2 per kg) which is under active consideration of the government. The proposal will soon be tabled in the Cabinet meeting for the approval," Hussain said.