Burger King Spain And Taco Bell Jump On The Alcohol Bandwagon
After Starbucks in the USA began serving wine and beer at select outlets, Burger King Spain and Taco Bell in the US are also dishing out booze that complements their fast food.
In celebration of being in Spain for forty years, the Spanish outlet of the Burger King has created the 'Whopper Wine', which has been flame grilled in Burger King broilers and aged in wooden barrels. It's named after, and will be paired with the popular Whopper burger.
https://instagram.com/p/7pnQlFvbs5/?tagged=whopperwine
Customers who want to get a taste of the wine can join a Burger King competition, in which one has to share a story through video, photographs or words about a memorable moment at the chain.
Meanwhile, back in the USA, Taco Bell in Chicago is serving beer, wine and twisted freezes made with vodka, rum and tequila. The outlet that serves the booze, called Taco Bell Cantina has become wildly popular, with many customers saying that tacos and tequila are a genius pairing.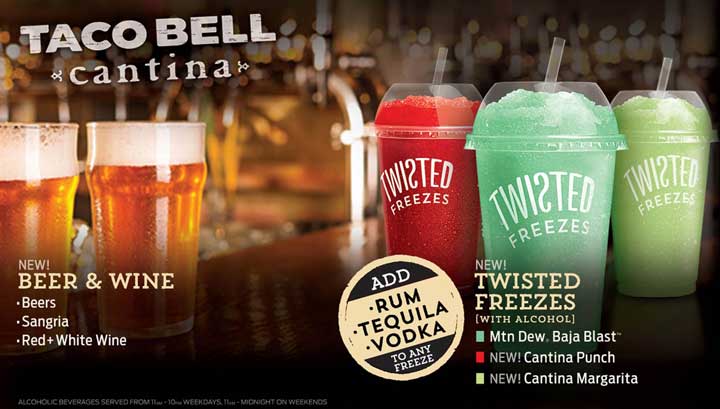 Customers going gaga over fast food and booze isn't as new a phenomena as it seems; McDonalds outlets in South America offer small bottles of wine with their meals.
Of course McDonald's and wine make a match! The best fast food and #wine pairings: http://t.co/odkFSSmDmn pic.twitter.com/M48NR6CuUv

— Neighborhood Nosh (@NoshRewards) August 14, 2015
However, with Burger King and Taco Bell jumping on the wagon, can we say that a new fast food fad has been born? Perhaps.