Board The Ayna Express and head to Kashmir with The Hilton
Food straight from the "Paradise on Earth."
Ayna at The Hilton is celebrating the last leg of their culinary express and they're ending it with food from Paradise! The Kashmiri food festival has been the talk of the town for some time now and we were quite excited to find out what the noise was about.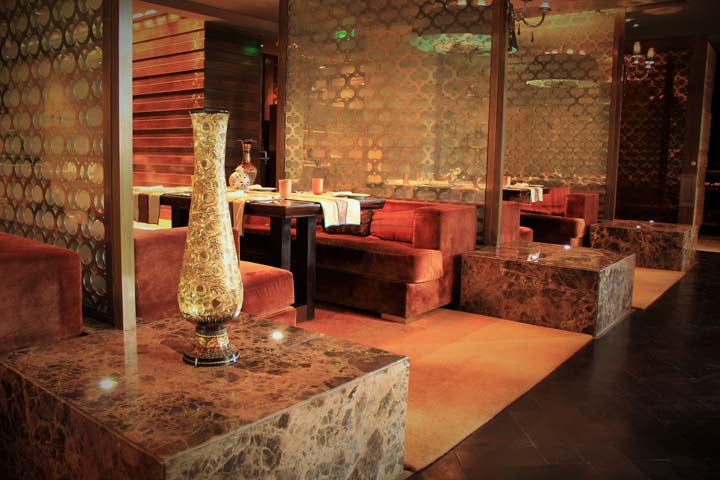 Before I start talking about the ambience, I'm going to stop for a while and talk about service. Right from the moment we got out of our car, we were treated like nothing short of royalty. The staff were very attentive to our needs and did everything they could to make us feel at home. At the end of it all, every person going to eat out, is not there only for the food but for the experience. A few genuine smiles go a long way in making the experience pleasantly memorable. The Hilton has done a marvelous job.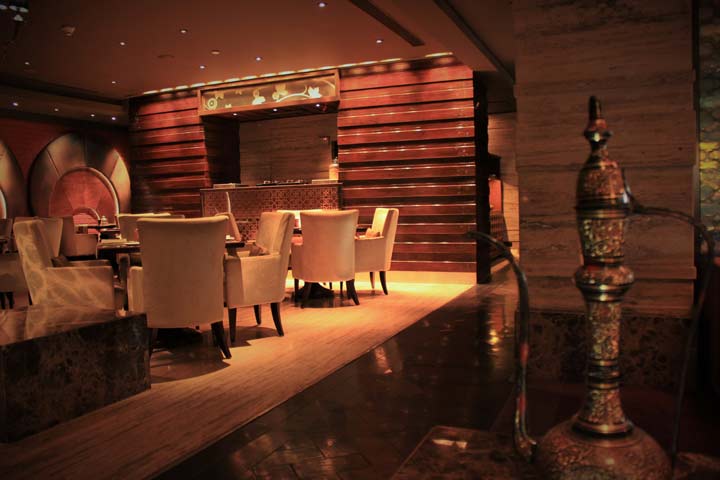 The friendly manager at Ayna, took us on a tour of the restaurant. The place has been very aesthetically designed with special focus on the festival. The waiting staff were dressed in kurtas and the place was like a little piece of Kashmir, by itself. They had the Vaazvan style seating arrangement for those who want a completely authentic Kashmiri experience.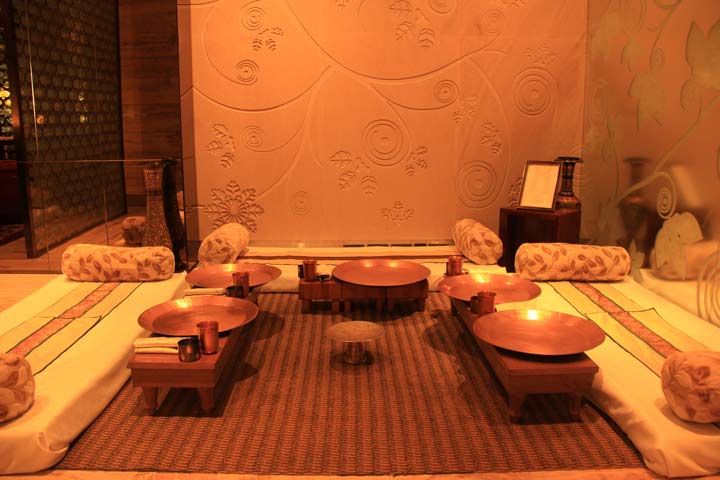 Chef Rehman was invited for the festival due to his expertise in Kashmiri cuisine. He has hand-picked the items on the menu and each dish has been prepared with great care to give you a traditional Kashmiri experience. The chef spoke to us, at length, about the various misconceptions about Kashmiri food. One of the primary misconceptions is that Kashmiri food is full of spices and that it tends to be sweet. The chef says that, this is only true of very few of the dishes. Most of them are full of flavour and we were soon to discover how right he was!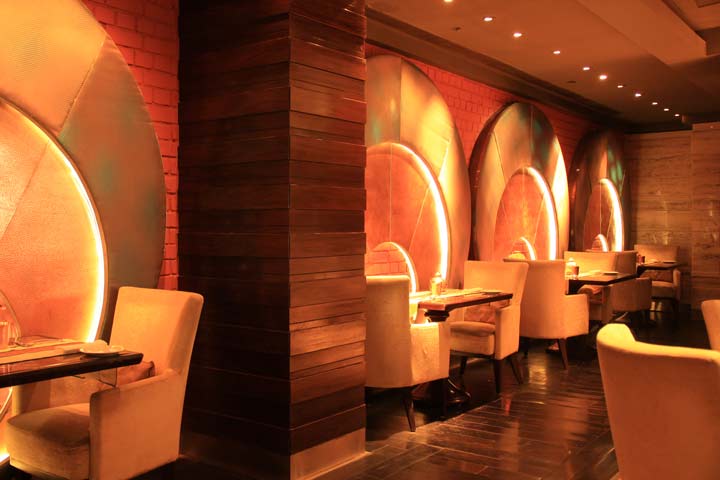 Starters

Vegetarian
Rajmah Akhrot Kababa
This is the first time I had Rajmah as a kebab and I loved it. It was one of those things that is crisp on the outside and soft on the inside. It practically melted in the mouth.
Urad Pudina Kababa
A little cream and mint goes a long way when used perfectly well with urad dal. The kebab was soft and delicious.
Kashmiri Tsaman Sarson Tikka
How soft was the panner? As soft as soft can be. Gorgeously marinated with mustard and garlic, this cottage cheese tikka is bound to be a huge hit with anyone who tries it!
Non Vegetarian
Tabak Maaz
Lamb ribs looked golden brown and stood out on the plate like a star. And it was no surprise that it tasted just as good as it looked. It was rich in spices like Cardamom and Cinnamon and had a hint of turmeric.
Maaz Seekh Kebab
Kashmiris love their lamb and they can make the lamb dance to their tunes. It was one tune that we enjoyed thoroughly. The minced lamb kebab was so flavoursome. We tasted this with a yoghurt dip that was served with their Pappad. It's a killer combination!
Kukur Dudhiya Tikka
This creamy chicken was an absolute delight. It had a hint of black pepper that gave it a lovely spicy flavour. We had this with a beautifully made apricot dip.
Main Course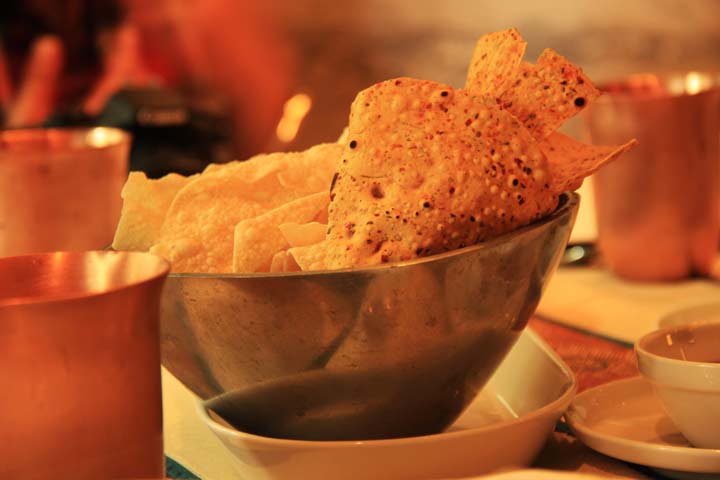 The starters had us quite stuffed and we were facing quite the dilemma here. To eat or not eat? But as the main course arrived, we realized that, that is NEVER the question.
The breads
Three different types of Kashmiri bread was served to us. It tasted nothing like the regular Indian breads, except a vague resemblance in the texture. Kashmiri Naan was soft and complemented several of the side dishes very well, Sheermal was a tad like puff with an ever so slight crispy exterior that went well with the Spinach side dish and Bakarkhani is a white flour bread with a few poppy seeds on top. It tasted quite unique on its own and went well with the lamb curry.
The Rice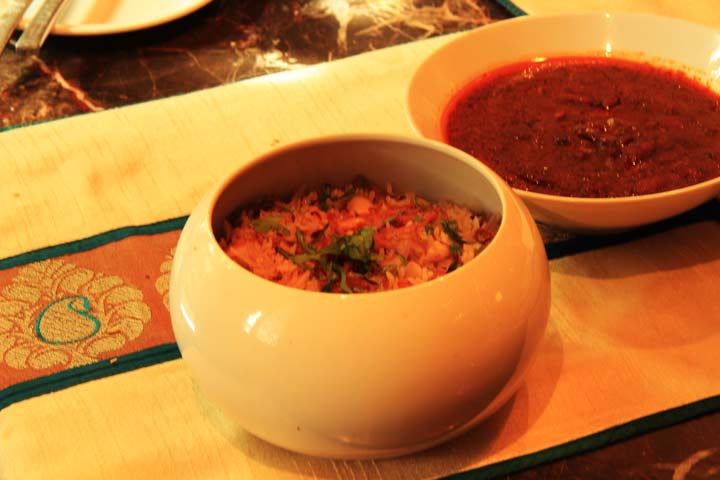 Gucci Pulao
The aroma of the basmathi rice filled our senses as this dish was brought to the table. Having heard songs written about Kashmiri Pulao, this was one of the most anticipated dish. This vegetarian rice pilaf with gucci morels tasted like a dream.
Kashmiri Maaz Pulao
How do you 'wow' someone who is already wow-ed by the pulao? Why, Maaz, of course! Perfectly tender lamb complemented this dish just right.
Sides –
Vegetarian

Haakh Kashmiri
Kashmiri spinach has a taste of its own. An authentic experience of Kashmir is incomplete without tasting Kashmiri Spinach!
Nadur Yakhni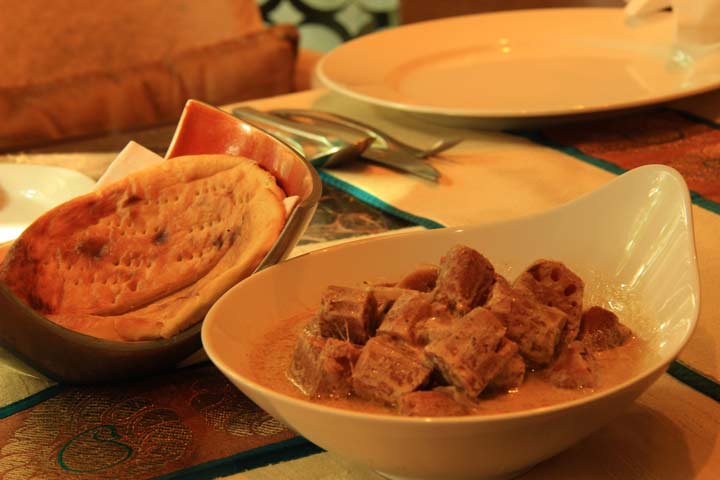 This is one dish that we can guarantee that a lot of people would never have tried. It is unique and light on the palate. It has a variety of health benefits and when wrapped in a gravy of yoghurt flavoured with cumin and mint powder, we're not complaining!
Kashmiri Rajmah
Kidney beans have been cooked in several different ways. So one would imagine, that you are familiar with the taste of the dish. And yet, when the dish comes across as a surprise, there is no better feeling. It is spiced flawlessly and tastes divine.
Dum Aluv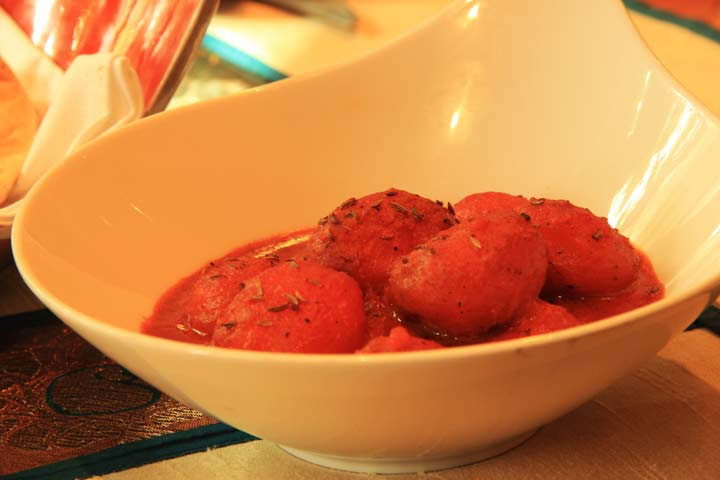 Baby potatoes are cooked in delicious red curry here. The baby potatoes are easy and light to bite into. It goes very well with all the Kashmiri breads.
Non Vegetarian
Rovganjosh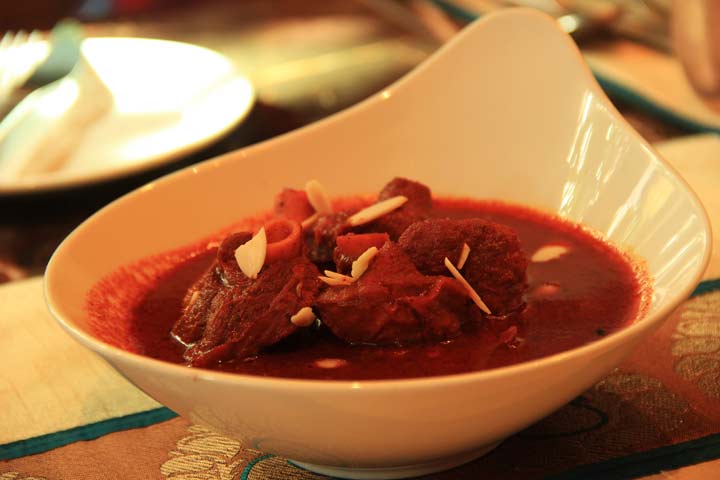 This red lamb curry was, by far, the absolute best that we've tasted in the city. The dish works very well for your palate when served with the Kashmiri Naan.
Gushtaba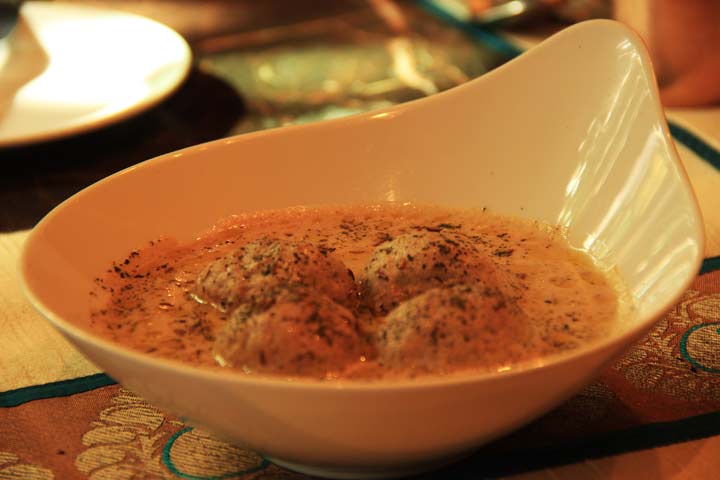 It is a delicacy in Kashmir and has lamb minced with spices, shaped into balls and cooked in a flavourful yogurt gravy. The lamb meatballs used for this dish are the freshest that you can procure as the meat here is hand-beaten.
Kukur Dhaniwal Korma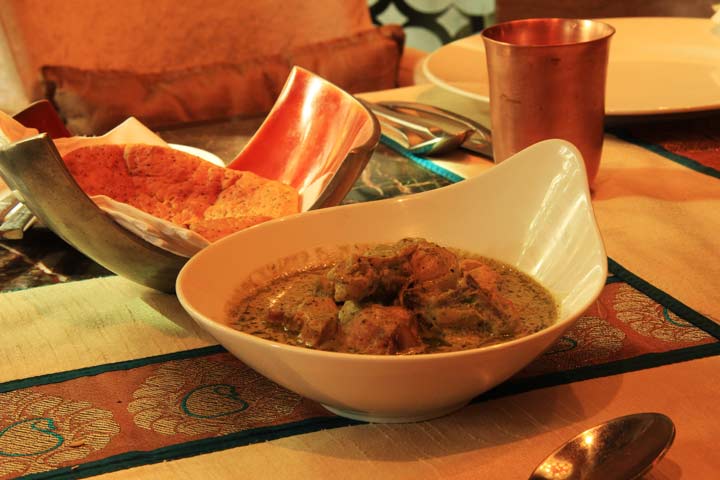 Yoghurt is becoming our new favourite thing, because this is another masterpiece cooked in yoghurt. The chicken was succulent and tasted perfect. It complemented the pulao, wonderfully.
Desserts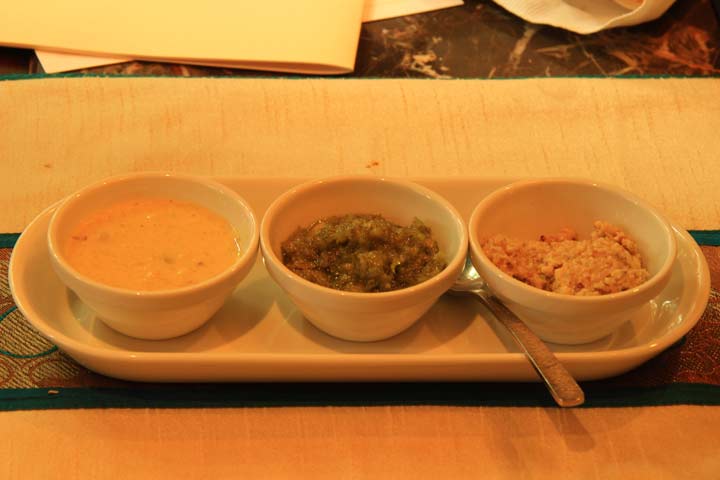 After that long list of main course items we were quite certain that we would have to be wheeled out of the restaurant. And then this famous trio were served to us and there was no turning back.
The Shufta was a lovely cottage cheese and dry fruits mixed halwa. The Chilgoze Piste ki Phirini, believe it or not, is actually flavoured rice with pistachio and pine nuts. It tasted quite memorable and had a lot going on. The highlight of our desserts was Chef Rehman's speciality – Mirchi ka halwa. This is so unique in its creation as it uses capsicum as the primary element. It will make you get up and notice it, hands-down.
The Kashmiri Festival is on only till the 12th of July, so you might want to call in early! Find The Hilton at 124/1, J.N. Salai, Guindy, Chennai.