Biscuits With Cream Gravy, Sausage and Scrambled Eggs Recipe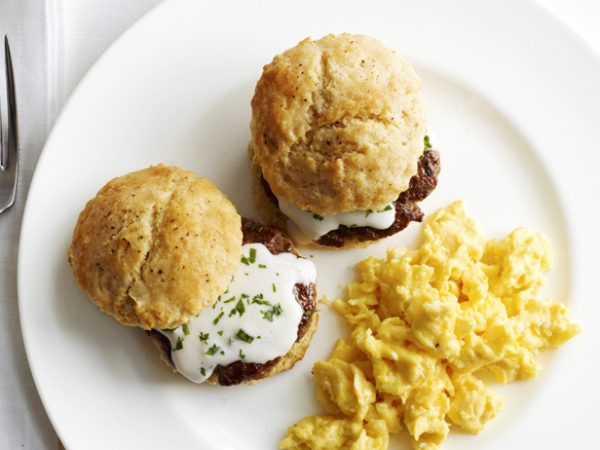 | | |
| --- | --- |
| | |
Slice each biscuit in half and put a sausage patty on the bottom half of each. Top with cream gravy and parsley. Serve 2 biscuits per person with eggs on the side.
Combine the pork, garlic, onion powder, sage, thyme and oil in a large bowl and season with salt and pepper. Cover and refrigerate for at least 30 minutes and up to 8 hours to allow the flavors to meld.

Form the mixture into 8 patties, each 1/2 inch thick. Heat a nonstick pan over medium-high heat. Cook the patties until golden brown and just cooked through, about 5 minutes per side.
Melt the butter in a small saucepan over medium heat. Whisk in the flour and cook for 1 minute without browning. Slowly whisk in the warm milk. Raise the heat to high and continue whisking until the sauce begins to thicken and the raw taste of the flour has been cooked out, about 5 minutes. Season with 1 teaspoon salt and 1/4 teaspoon pepper. Serve warm.
Black Pepper Buttermilk Biscuits
Preheat the oven to 450 degrees F. Line a large baking sheet with parchment paper.

Combine the flour, baking powder, baking soda and salt in a large bowl. Cut in the cold butter using your fingers or a pastry cutter until the mixture resembles coarse meal. Add the buttermilk and mix gently until the mixture just begins to come together.

Scrape the dough onto a lightly floured counter. Pat into a 10-by-12-inch rectangle, about 3/4 inch thick. Use a 2-inch round cutter to cut out biscuits. Press together the scraps and repeat.

Place the biscuits 2 inches apart on the baking sheet; brush the tops with the cream and sprinkle with pepper (use 2 teaspoons total). Bake until light golden brown, 12 to 15 minutes. Brush the biscuits with the melted butter and transfer them to a wire rack to cool at least slightly.