Bhuna gosht is a very popular Indian meat preparation. 'Bhuna' translates to 'roasted' or 'sautéed', while 'gosht' means meat in Hindi. And true to its name, the dish, which finds its roots in the Andhra region – essentially consists of chopped meat – usually goat meat – pieces sautéed along with strong and aromatic spices like turmeric, garam masala, caraway seeds, and red chili powder among other. The meat dish is utterly dish and takes just under an hour to cook.
The recipe to make the bhuna gosht is extremely simple and requires the simplest of ingredients, which may very well already be sitting in your kitchen. Usually a gravy-less preparation, it is served with breads or further used in making dishes like biryani and pulao. Follow this recipe to make an absolutely delish bhuna gosht!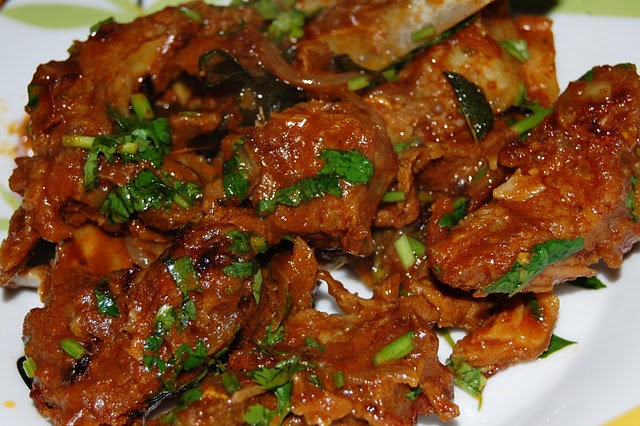 Bhuna Gosht Recipe
Prep Time: 15mins | Cook Time: 45mins | Total Time: 1hour
Serves: 4
Ingredients:
500g mutton
2 tbsp oil
5-6 medium onions (chopped)
1 tbsp caraway seeds (shahi jeera)
2 tbsp ginger-garlic paste
5-6 curry leaves
1 tbsp mustard seeds
2 tbsp garam masala powder
2 tsp turmeric powder
2 tsp red chili powder
Salt to taste
Fresh coriander leaves (chopped, for garnish)
Instructions:
Heat two tablespoons oil in a non-stick pan.
Add onions and sauté till the onion turns brown in color.
Add mutton and sauté for 6-8 minutes.
Add shahi jeera, curry leaves and mustard seeds and sauté for more five minutes.
Add ginger-garlic paste, salt, turmeric powder, red chili powder and garam masala powder and mix well.
Cover and cook till the mutton gets cooked, about 15 minutes.
Serve hot garnished with chopped coriander leaves.
Image: pakirecipes
Feature Image: Swati's Kitchen