Top 10 Best Wet Grinder In India 2019 – Updated
The Elgi Ultra Grind+ comprises of conical grinding stones along with a strong and powerful motor. Apart from that, it offers a noiseless as well as vibration-free working. The conical grinding stones have been patented and offer the finest batter and durability to the stones.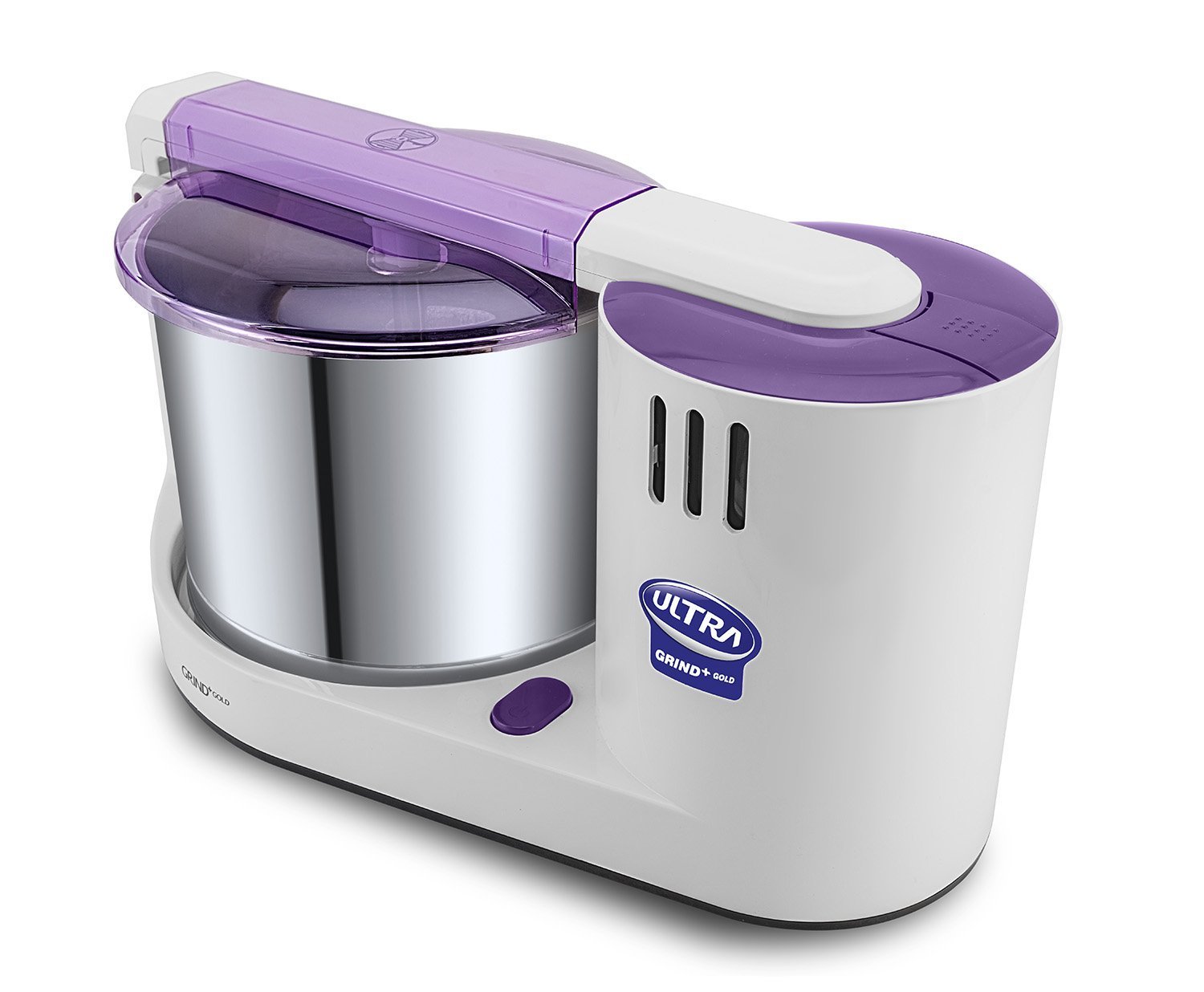 Specification
Patented Conical Stones for effective grinding and low batter temperature
AISI 304 Rust Resistant food-grade Stainless Steel for healthy food
2 L Capacity
Dish Shaped Multi-utility drum – Batter can be stored in the same drum after grinding
150 Watts Motor – Powerful 150 Watts Motor for better grinding
ABS Body – Lighter Weight, Longer Life and Great Looks
Batter Cleaner for easier cleaning of the conical stones
The butterfly rhino wet grinder is a budget model but still a very good buy. With a capacity of 2 litres and at half the price of the best models many people recommend this product. The motor is quite powerful and it doesn't take that long to make a nice fluffy batter.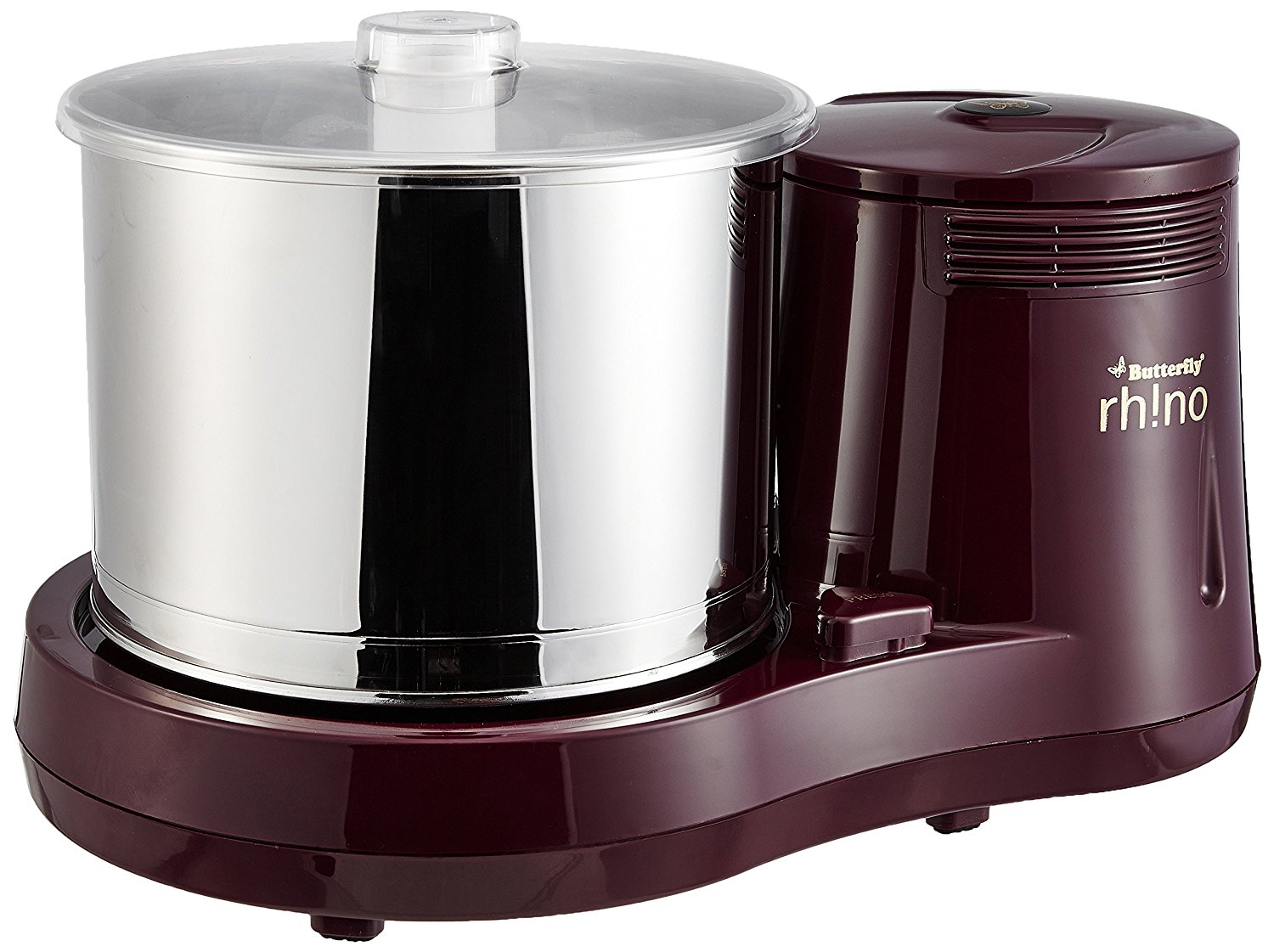 Specification
Package contents: 1-Piece table top wet grinder (2 Litres) and 1-piece grinding stone
Aesthetically designed body, body made of high quality ABS material, portable and in a convenient size
Uniform grinding pressure, most hygienic and easy to handle
Sturdy high torque single phase motor, detachable stainless steel drum and roller stone assembly
Capacity: 2 litres
Warranty: 5 years on product
Maharaja Whiteline is a brand that focuses on offering the finest home and kitchen appliances for your house. The range of products it manufactures is very wide but the product being discussed here is the wet grinders for making the finest batters in minutes. This wet grinder from Maharaja Whiteline comprises of a stainless steel drum along with non-slip feet to avoid any slipping of the unit.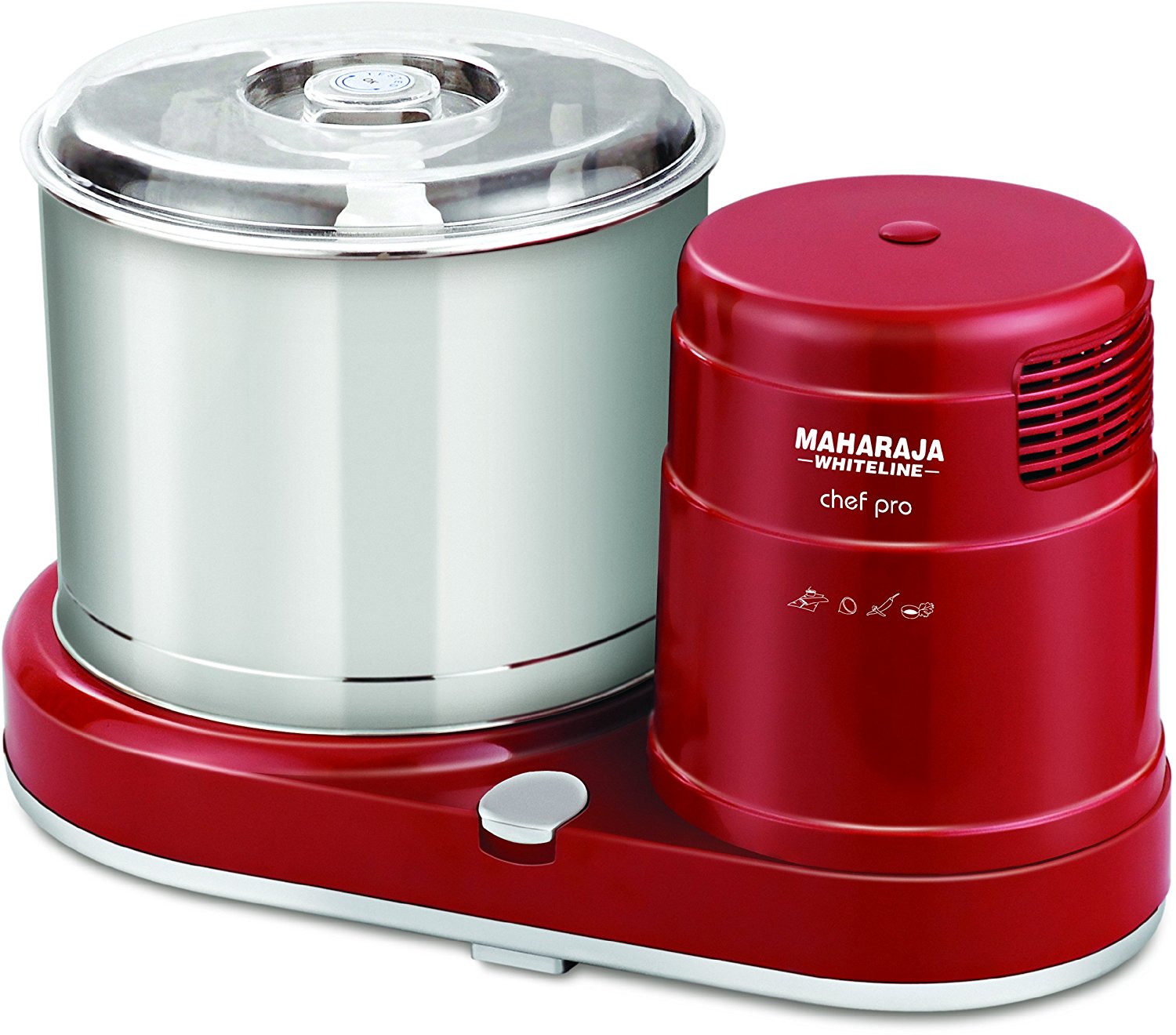 Specification
Comprises of a stainless steel drum suitable for kneading Atta
Comes with a non-slip foot to keep the appliance stable while it's working
Offers a 2-liters capacity ample for making loads of batter or chutney
Covered with a 1-year manufacturer's warranty on the product
Operates with a power rating of 150Watts hence doesn't consume a lot of energy
This tabletop wet grinder from Premier is a very effective wet grinder and is faster, smaller, and better. Its 95 watts motor rotates clocks 1440 rotations every single minute for grinding really faster. The container has been formulated with stainless steel and high-class stones for grinding.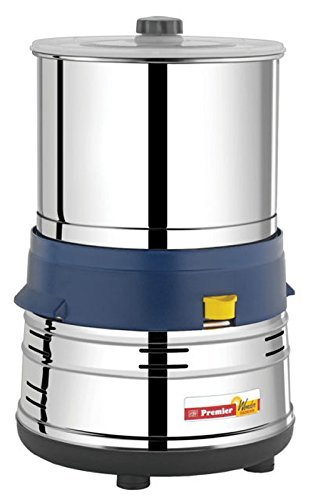 Specification
Premier Tilting Grinder – Table Top Wet Grinder
Capacity 2 Litres
Material Of Basic Unit: Stainless Steel Material Of Drum
1440 Rpm Motor 220/230 V
Prestige wet grinder is made from high quality materials and at a very affordable price.The drum is made of stainless steel which means it won't rust and will last a good while. This product has 200 Watt motor making fluffy vadas or soft idlis is no problem.
Specification
High Quality ABS Body & Stainless Steel Drum.
200 watts Motor.
New and Improved Model.
Capacity 2 Litres Motor : 200 watts 130 RPM of Drum.
Accessories Included in Box : Coconut scraper attachment & Atta kneader attachment.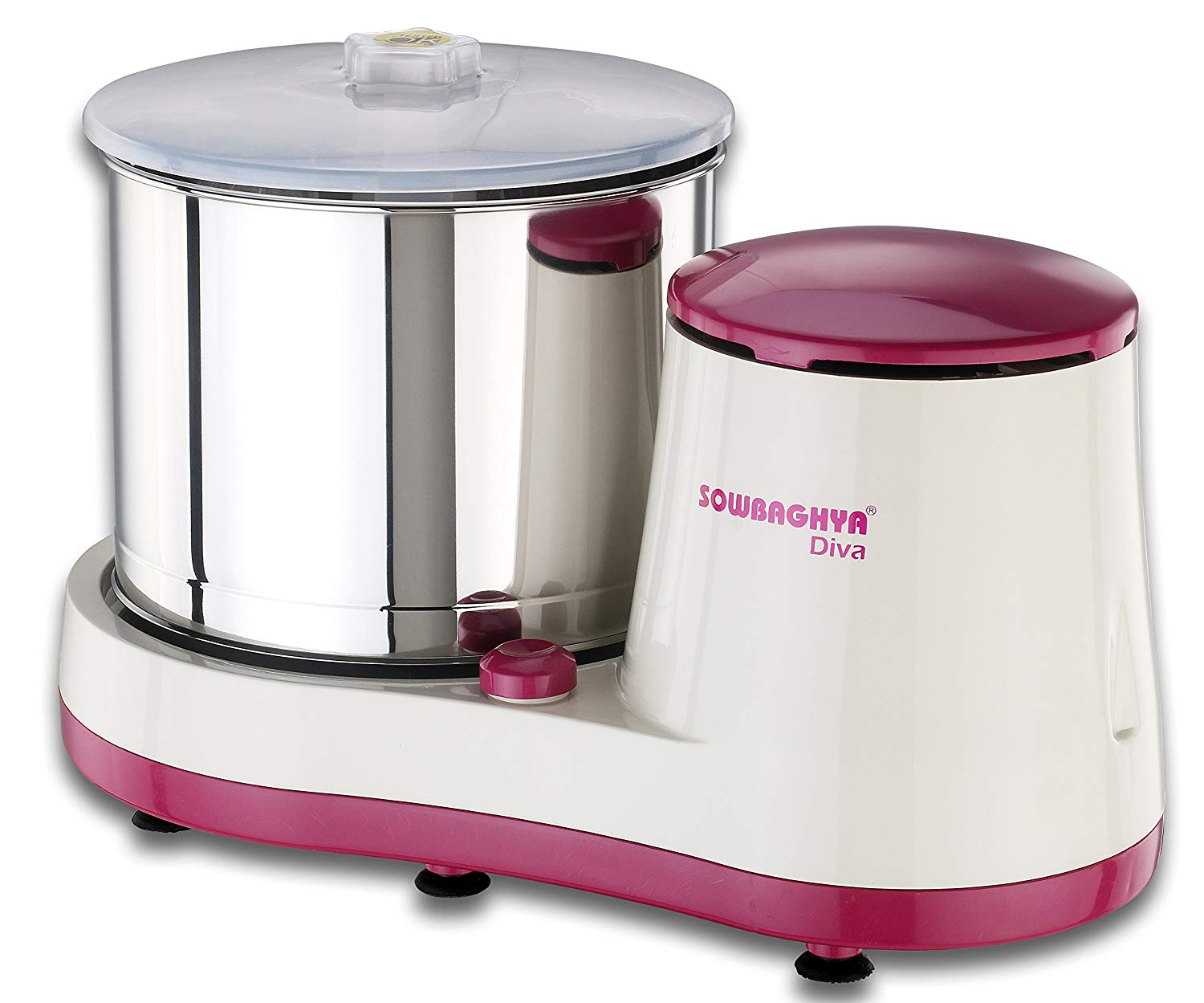 Specification
R.P.M – 960 R.P.M
Voltage – 220 V Ac 50 Hz
Lock : Thread Type
Stone : 2 nos Black Stone
Stone Shape : Cylindrical Type
Bajaj wet grinder of theirs comes with a 2 litre drum and a very good performing motor. Simple to use and very easy to clean this is a contender for the best budget wet grinder in India.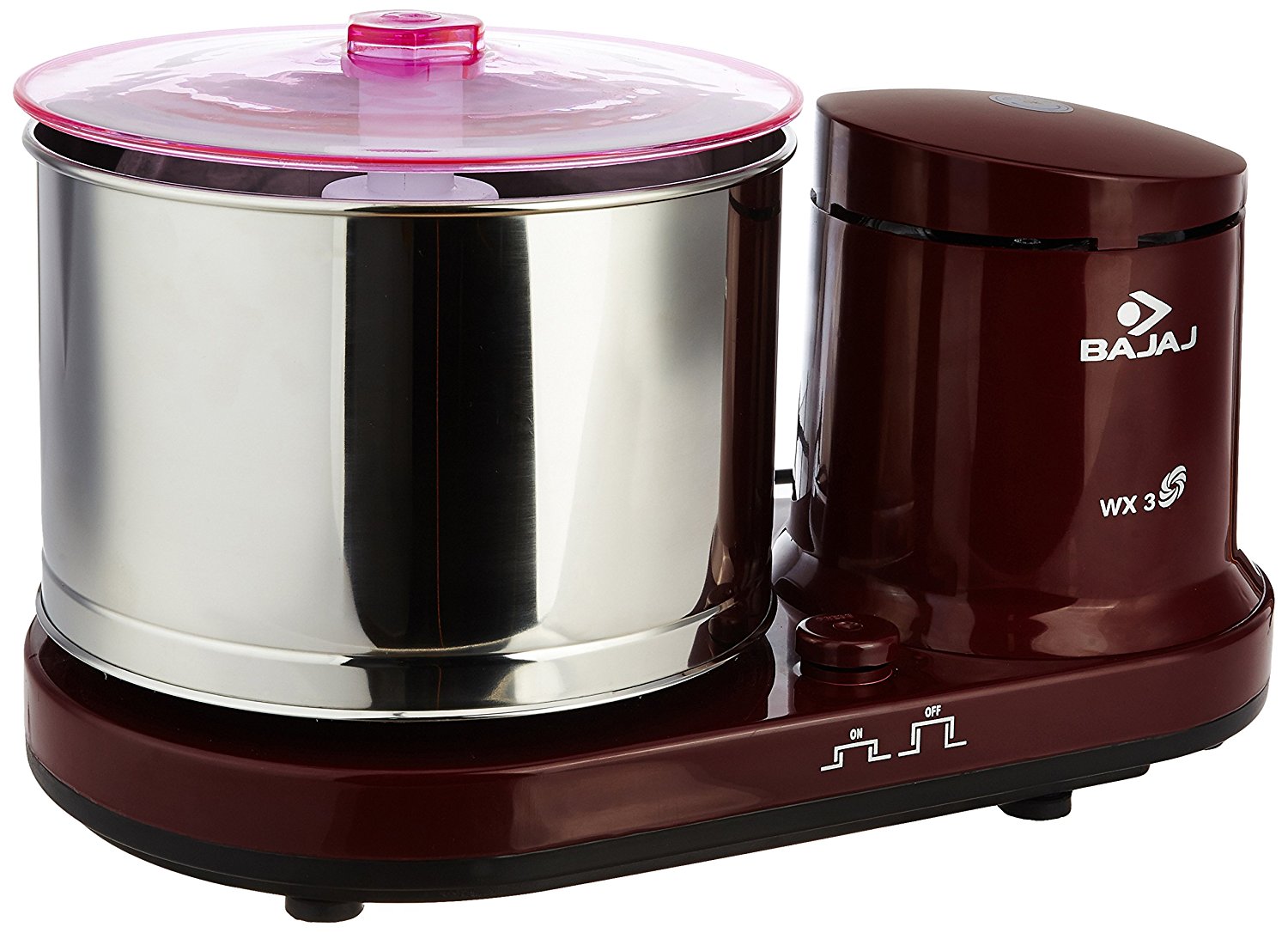 Specification
2 Litre stainless drum with poly carbonate lid
High performance induction motor
Efficient and durable grinding stones
Motor overload protector
Super clean surface finish
Spatula for mixing and easy removal of batter
Optional stainless steel coconut scrapper and atta kneader
Ponmani Power Plus is a really effective wet grinder for those who are often making batter for preparing food. It has the ability to knead atta, scrap coconut, and many other products. This tabletop wet grinder from Ponmani is very sleek yet powerful having the LHLR Technology motor which can grind anything very easily.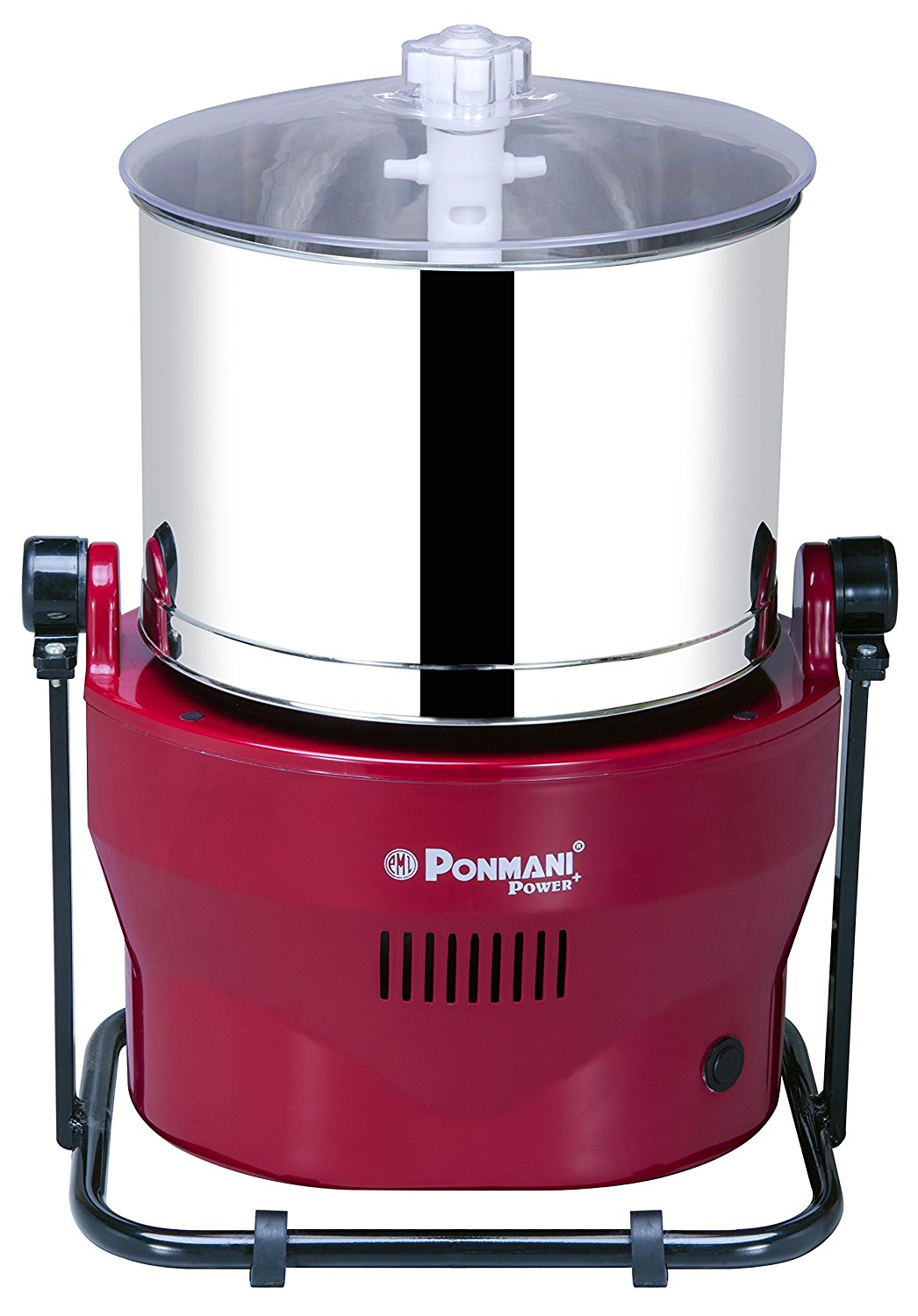 Specification
3 Lit Table Top Wet Grinder
The Powerful – LHLR Technology Motor
Single Hand – Smart Tilting System
Panasonic MK-SW200BLK Wet Grinder is a good example of the brands quality. Built from food grade stainless steel like all of the best wet grinders this model will last for years. There is a 250 Watt motor which is one of the most powerful on the market. This motor makes light work of mixing batter and reviews say the consistency is perfect.
Specification
Stainless steel 304 grade steel drum
Transparent cover
Capacity: 2 liters
Warranty: 5 years on heater, 2 years on product
Power: 240 watts
Includes: Wet grinder, Drum, Stone roller, Measuring cup, Spatula, Lid, Instruction manual and Warranty card
Specification
Virgin ABS shockproof and rust proof body
Non Absorbing, non contamination stone
Double side ball bearing motor
Unbreakable food grade poly carbonate lid
Detachable stainless steel drum for easy operation
Includes two attachments atta kneader and coconut scrapper
Capacity: 2 liters
Warranty: 5 years on product
Power: 150 watts; Operating Voltage: 220 – 240 volts
Includes: one grinder , atta kneader and coconut scrapper