Best Sandwich Maker in India Available to Buy Online – Updated
Sandwiches are the simple quick go-to food for any time, be it breakfast, lunch, dinner or even a mid-day snack. The sandwich recipes are so vast and can be made as healthy as possible. To make things easy, convenient and time efficient, sandwich makers are your perfect choice. Buying the sandwich maker can make your work easy. Here let's see the features and guide to purchase the best sandwich maker in India.

Special Features
3 in 1 function

Adjustable temperature with barbecue grill

Warranty: 1 year on product
  Check the Best Price Now on Amazon
The Nova NGS-2451 grill can be used as a grill as well as a sandwich maker. If you plan to do a barbecue without the hassles of heating up the coal then this  device is the best design that you should be having! The grill lets you prepare all your favorite barbecued dishes in no time. Good food is only a switch away! The grill opens to an angle of 180 degrees and you can use both the sides to cook your food on. If you are cooking meat then you need not worry about the grease and the fat getting stuck to the grill. The grill channels make sure that all the grease and fat stays away from your food and is collected in a drip tray which also makes it easier for you to clean the tray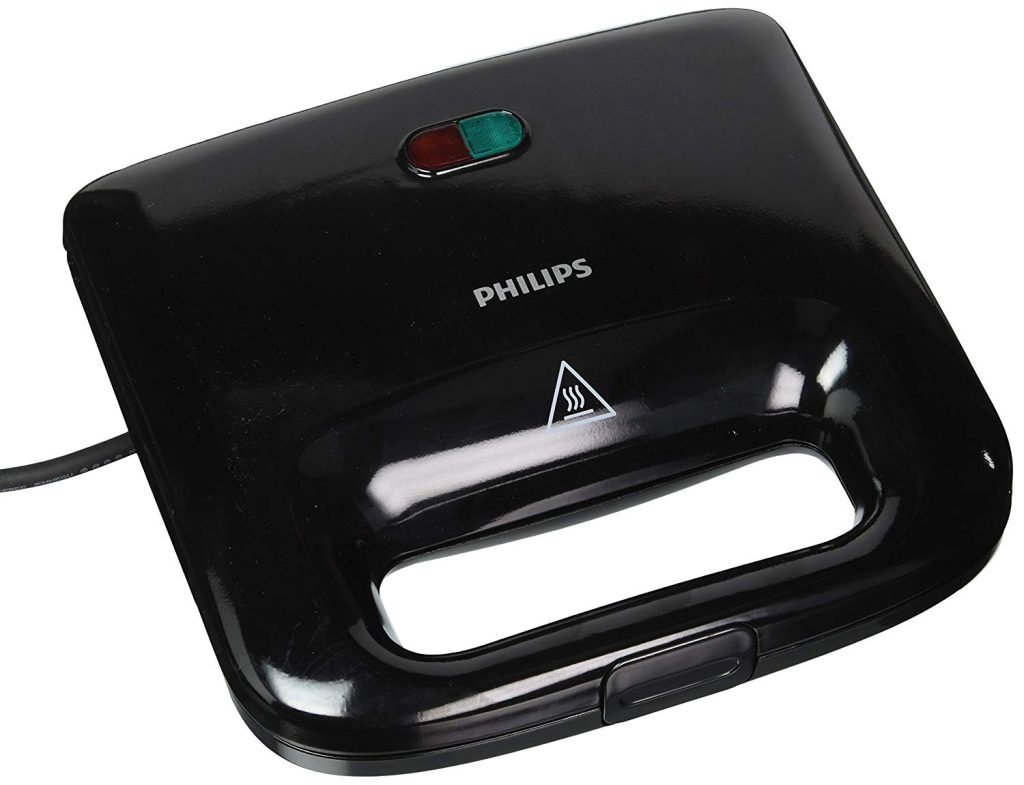 Special Features
Customer Service Number: 18001022929

Easy push down lock system and specially non stick coating makes cleaning easier

Vertical, compact storage and high power for fast heating up, ready to cook light

Cord winding facility, cool touch handle and rubber fit ensure it stays in one place

Power: 820 watts
  Check the Best Price Now on Amazon
With Easy Lock System and Vertical Storage Perfectly toasted sandwiches anytime with this hi-temperature, hi-power sandwich maker with cut and seal plates to seal ingredients inside. Easiest to use with easy lock system and easiest to store with vertical compact storage option.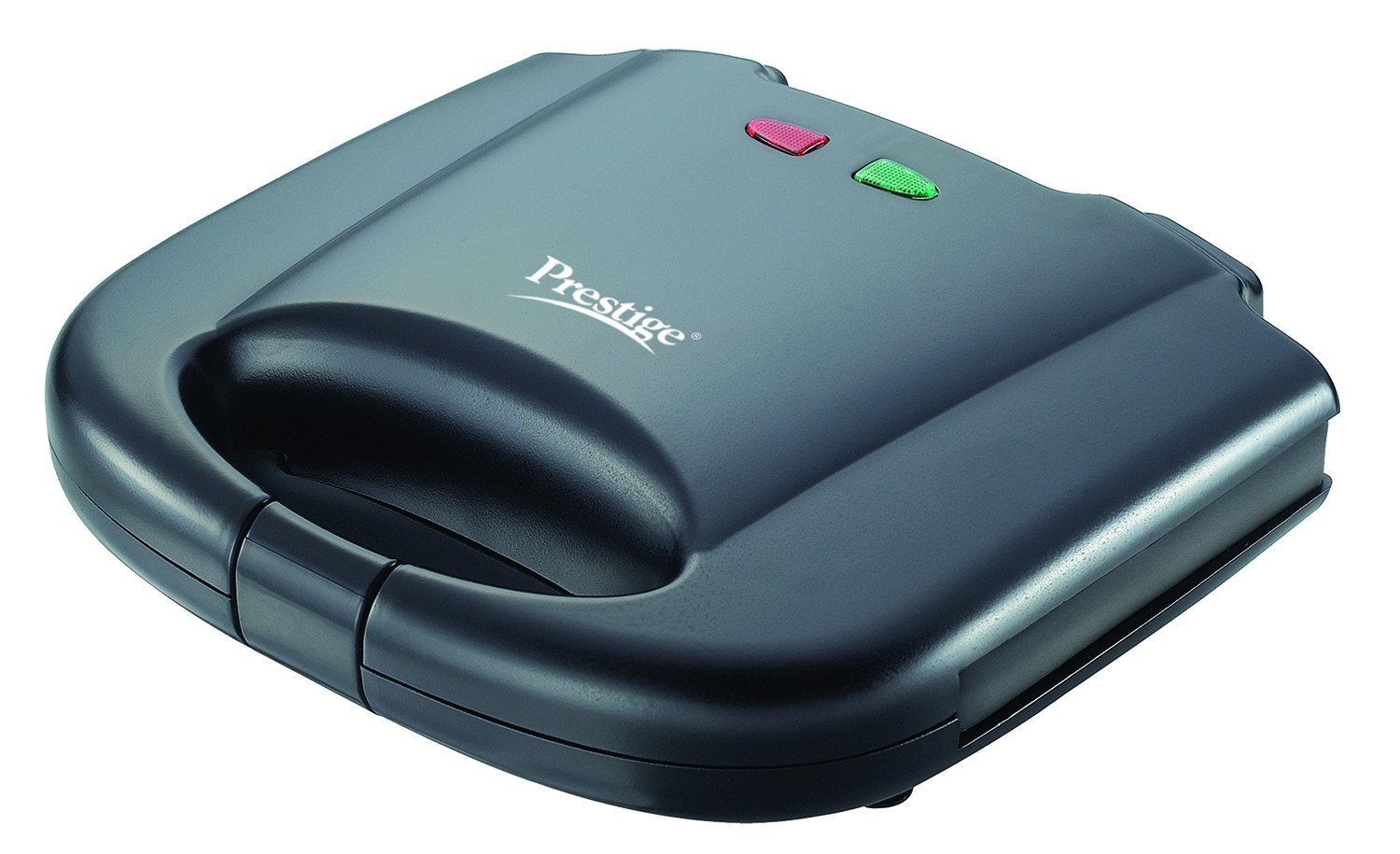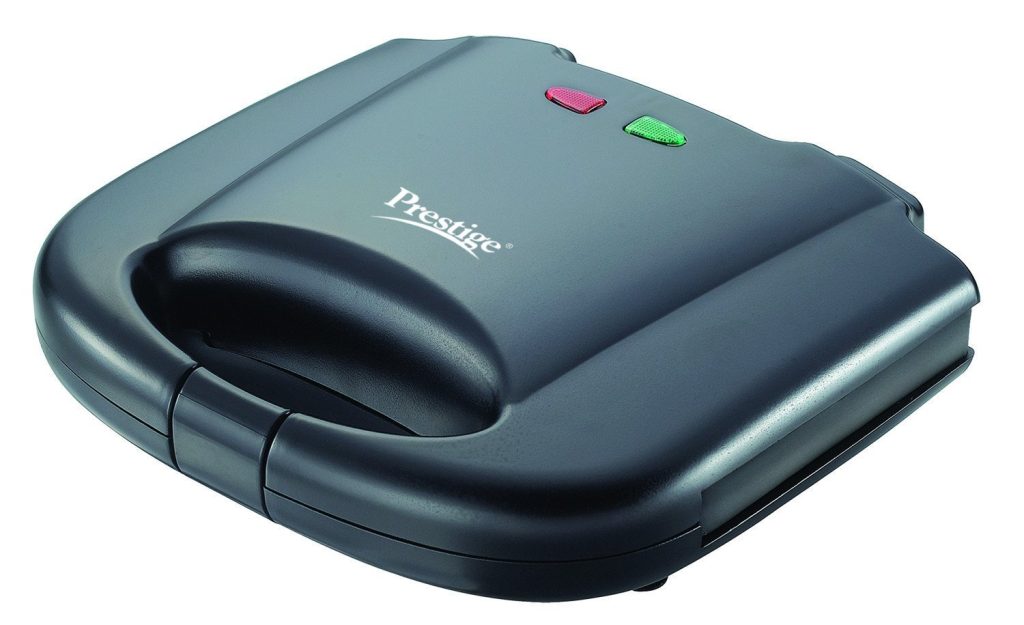 Special Features
Fixed grill plates

Non-stick heating plate

Elegant black finish body

800 watts power

One year warranty
  Check the Best Price Now on Amazon
Prestige sandwich makers – Delicious toasted & grilled sandwiches are now simple to make. Prepare healthy and tasty sandwiches in the convenience of your kitchen. The non-stick coated plates need less oil while toasting making the sandwich healthy and are easier to clean too. Choose from a wide range of Prestige Sandwich Makers to add a touch of class and convenience to your kitchen.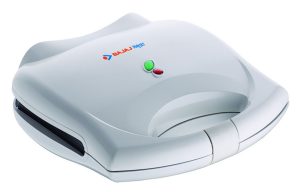 Special Features
Cool touch body

Non-stick coated cooking plates for easy cleaning

Stands upright for compact storage

Power on and ready to cook neon indicators

Base support for better stability

Warranty: 2 years on product

Power: 750 watts
  Check the Best Price Now on Amazon
Make yummy and healthy sandwiches and toasts ready in no time, with the help of this Bajaj Majesty New SWX 4 750-Watt Grill Toaster. Besides its compact and sleek styling, it also boasts of superior functionality. With this marvel, you can cut down on the time you have to spend in the kitchen.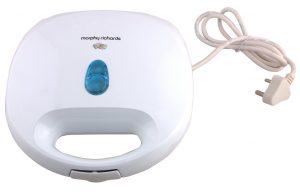 Special Features
Warranty: 2 years on product

Power: 750 watts; Operating voltage: 230 volts

Customer Service Number: 18001035963

Maximum power consumption up to 700 W.
Provision of non-stick plates for easy maintenance.
Inclusion of front-handle adds as a befitting storage preference.
Neon-lights for indication of toasting progress.
Even grilling with the help of grill plates.
Enabling of the preheating feature.
  Check the Best Price Now on Amazon
Morphy Richards Slice Grill Toaster, a ready-to-cook device to toast your breads. Occupying a handy space, this product is portable. Morphy Richards Slice Grill Toaster comes with non-stick plates. This product is easily cleanable, saving your time in taking long hours to cleaning. Neon-lighting is critical in simplifying the entire toasting process. While the green light disappears once the toaster is heated, the presence of both the red and the green lights at the commencement go on to indicate that the device is ready-to-use. The intermittent flickering of the green light during the toasting process is a sign that the toaster is in perfect working condition. To get rid of the uneven grilling issue, the device includes grill plates to bring uniformity in terms of the heating. The front-handle is placed so as to make the toaster get its storage requirements served easily.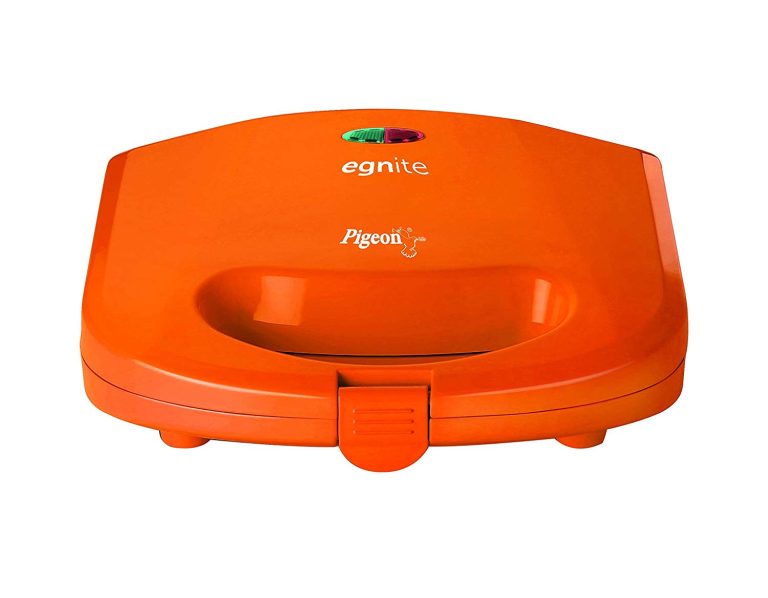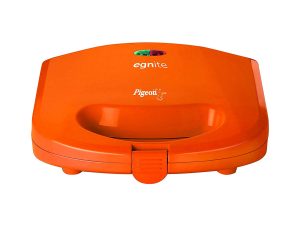 Special Features
2 slice capacity

Nonstick grill plates

Grilling function

Consumes 750 W

1 year warranty by manufacturer
  Check the Best Price Now on Amazon
The Pigeon sandwich maker helps you make 2 sandwiches at a time . The sandwich maker has grill plates with which you can get perfectly toasted sandwiches. The plates close together which seals the sandwich completely and encloses the fillings. You can fill your sandwiches with ingredients and make it crisp outside and soft inside. The non-stick coated plates in this sandwich maker makes the cleaning process simple and quick. The product consumes 750 W of power. The preheating function helps you to preheat the appliance for a minute and place the bread slices . This feature allows you to get the toasting done in lesser time. The Egnite sandwich maker has "Ready-to-Cook" and "Power On" neon lights, which alert you regarding when to place the bread slices for toasting.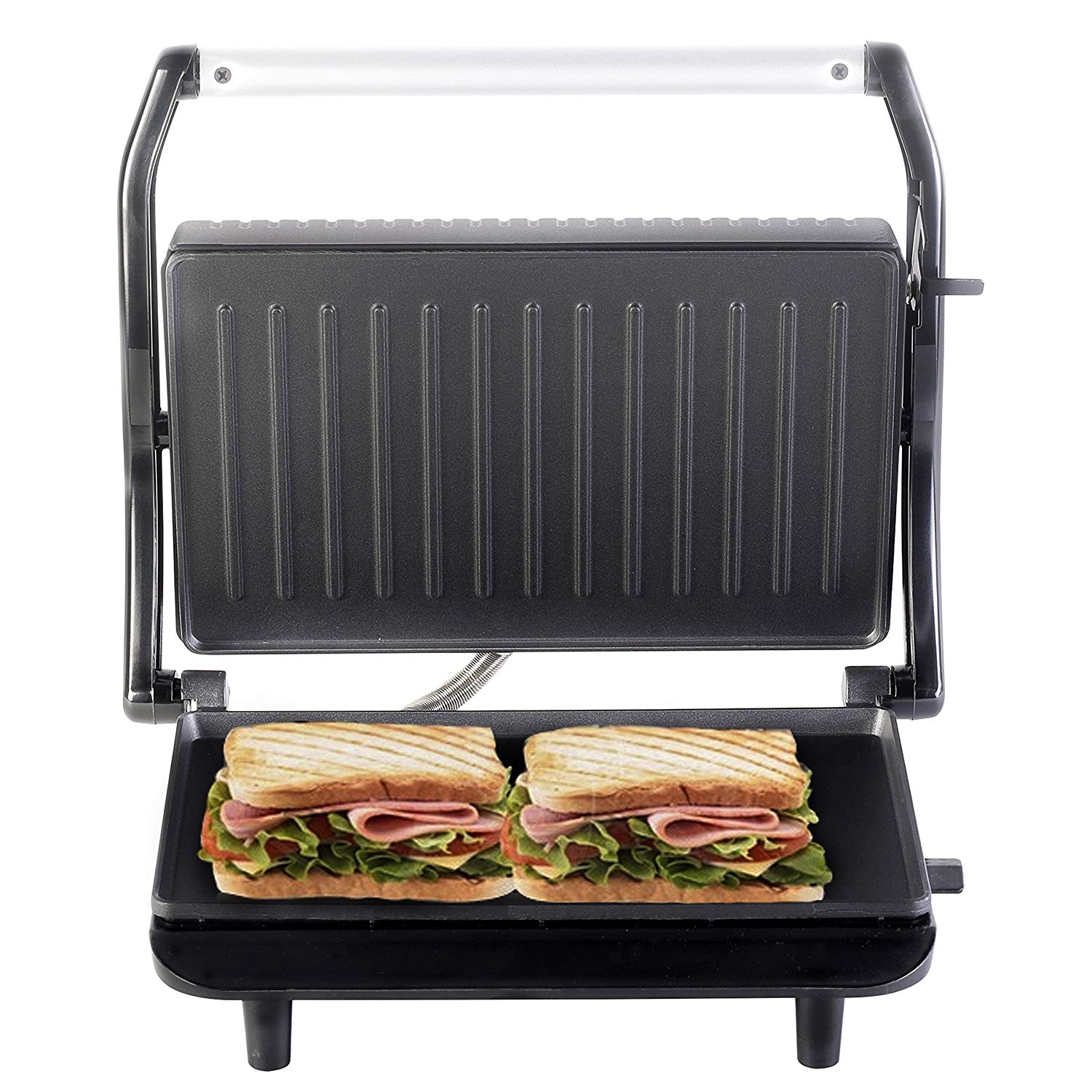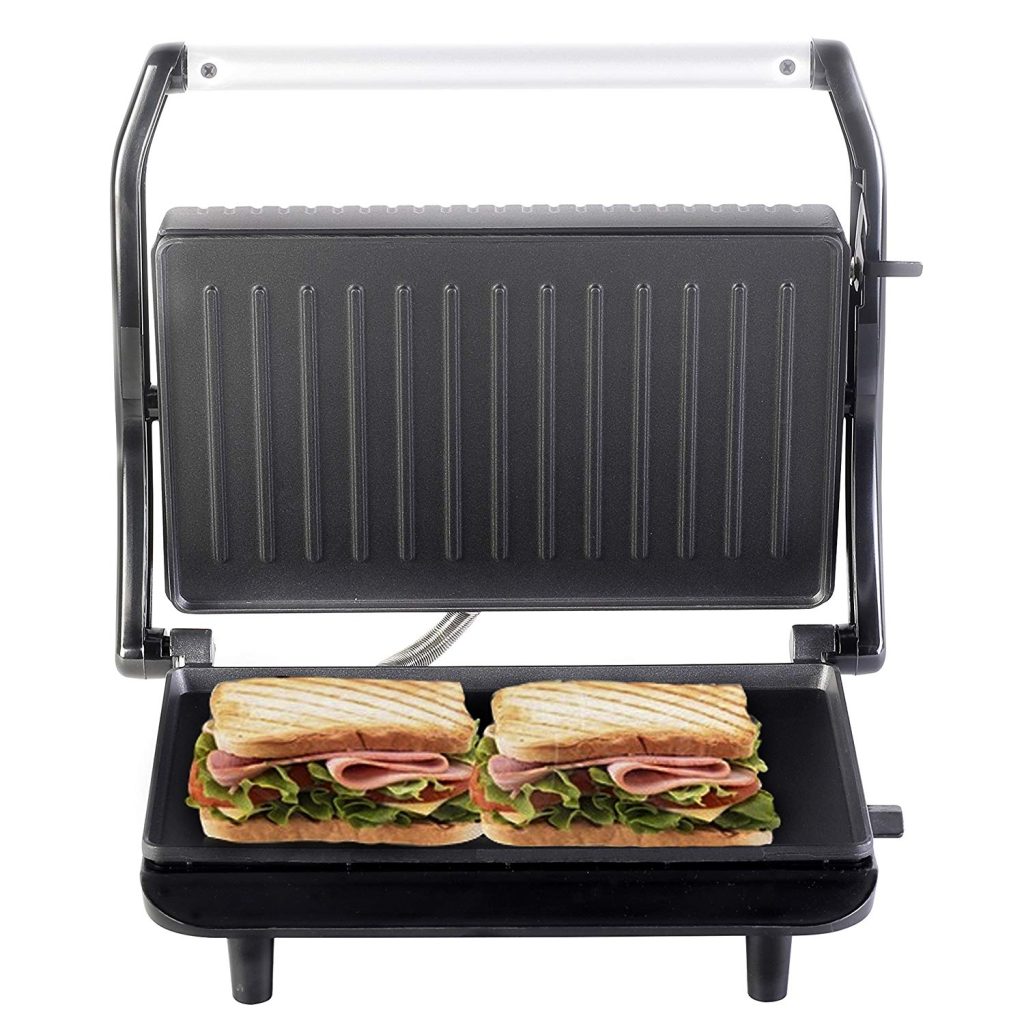 Special Features
Non-stick heating plates made with Teflon coating

Cool touch body

Power Rating of 900 watt allows for efficient toasting/grilling

Red indicator – Power on and ready

Long power cord for convenience

Compact vertical storage occupies minimal space in your kitchen

Easy to clean and maintain
  Check the Best Price Now on Amazon
Lifelong panini maker is the perfect answer for mid-day meals, snacks to pack for picnics and short trips with family. It makes crispy and delicious sandwiches without making much effort. The non-stick teflon coating makes deliciously grilled panini while also ensuring fast and easy cleaning of the utensil. Lifelong panini maker comes with a cool touch body so one doesn't risk burns under any cost. Safe to handle, simple to operate and easy to clean; it's a great deal for every user.
Special Features
Compact and easy to use with longer power cord,
Power and heating indicator, and
Double Teflon coating.
  Check the Best Price Now on Amazon
Thick or Thin, Flat or Curved, no matter the surface; Grillo features a Swivel Lid that cooks perfectly grilled Steaks, Sandwiches and more to your delight.