9 Best Roti (Chapati) Makers In India 2019 – Updated
Ever tried making perfectly round chapatis? Roti Makers have been created to make round roti in no time. A roti maker operates easily and smoothly and gives out delicious, hot rotis for you. This not only saves your time but keeps you healthy by using minimal oil or butter. Here we perfectly curated 9 best roti maker brands  in  India.
Prestige is one of the oldest and most trusted brands that need no introduction in the industry. The superiority of the product is known from the energy consumption and this model is known for being an energy saver. If you're new to this, then the makers have provided a demo CD as well in the package.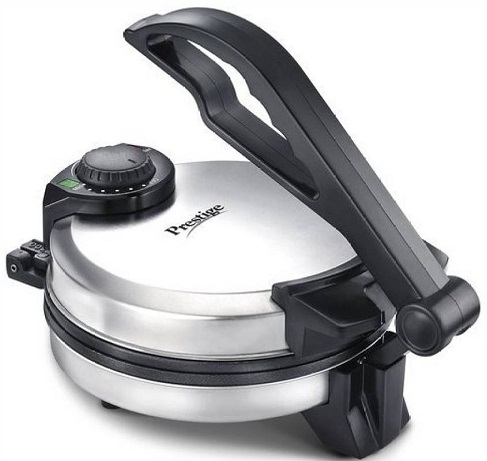 Specification:
Multi purpose Design ( Suitable for Roti, Omelette, Pancake, Uttapam, Thepla)
Granite Non-Stick coating with Easy Flip
Unique Curved Surface
Durable Stainless Steel Body
Adjustable Temperature Control Knob with Power Indicators
Price: ₹2,560 aprox.
This electric roti maker is used to make khakras, roti, chapattis, in no time. It is made with the superior tubular element. The tawa has been made from the best grade Teflon coated non-stick aluminum. Moreover, the durable outer body has been made of stainless steel. It is ultra-safe with shockproof body with heat resistant handles. It also comes with automatic cut off feature with LED indicator light, regulates the temperature. You can also make papad and paranthas.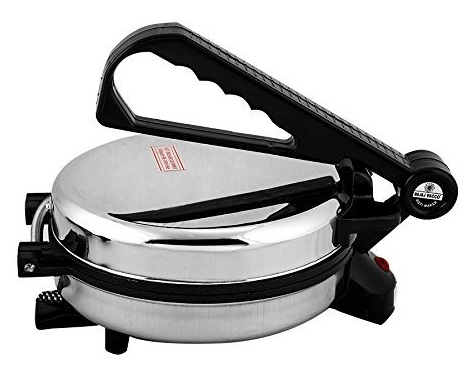 Specification:
Ultra-safe stainless steel body
Teflon coated nonstick aluminum
LED indicator light
Regulates temperature
Price: ₹1,984 aprox.
Sunflame is another important name in the home-based appliances, it is steel-oriented for a better sturdiness, and the coated plates offer oil-free cooking. The other top rated quality of the Roti Maker is easy lifts handle then power indicator.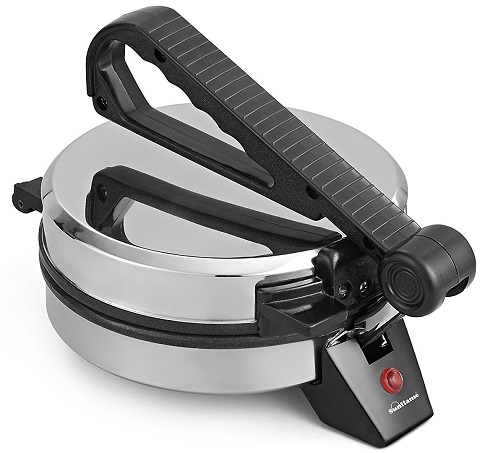 Specification:
Uniform heating, Oil free cooking
Food grade nonstick coated cooking plate
It comes with one year warranty period
It is powered by 900 W
Price: ₹1,518 aprox.
Eveready comes with the shockproof body, dual heating element, automatic indicator light, stainless steel body and many other unique features like that. Here's why it is famous among the users. It is powered by 900 W.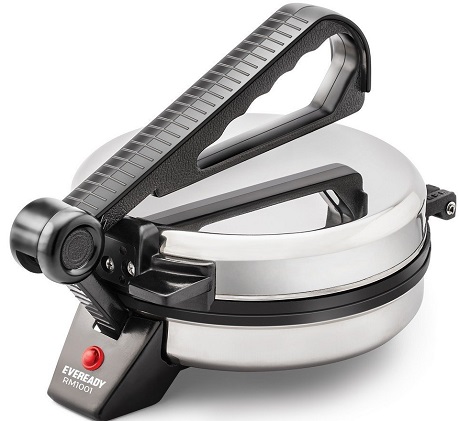 Specification:
It is powered by 900 W
Dual Heating element
Easy Large Handle for effortless operation
Non Stick coated plates
Automatic indicator light
Easy to make Chapathi, Thepla, Uttapam etc
The product comes with 2 years warranty period
Price: ₹ 1,599 aprox
Favy roti maker has a fully stainless steel finish with a touch of contrast by a black handle in the middle. The thing about this product that made me include it in this list is that it is really heavy duty and shock proof!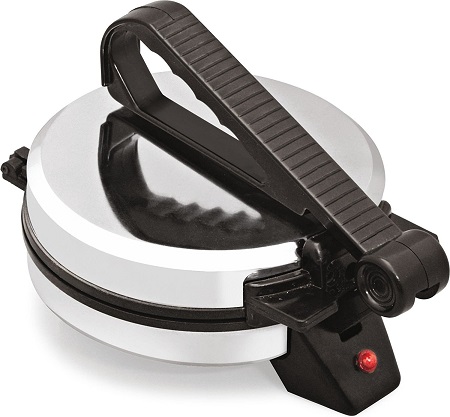 Specification:
Shock Proof
Heavy Duty
Non Stick
The package includes a demo cd
Price: ₹ 899 aprox
Molo roti maker has a unique look with a black charcoal finish which makes it perfect to keep in your house. You can make omlets as well as chillas in this appliance.
Specification:
Uniform heating,
Food grade non stick coated cooking plate
Oil free cooking
Price: ₹1,699 aprox
This roti maker is quite simple to use and easy to clean. The stainless body makes the product more stable and durable for usage. It is cost effective and shockproof and all these features make it the best option to go with.
Specification:
Handle to press the plates together and knob to lift top plate
Stainless steel cover of the plates
Mains "on" indicator red neon light and with mains cord
Grid, non-stick surface coated with "Greblon Gamma" from Weilburger Germany
Warranty: 1 year on product
Power: 1000 watts; Operating voltage: 230-240 volts
Price: ₹ 1,790 aprox
The feature that makes it so attractive & best working is the product's quality & finishing. Each and every part is designed perfectly. If you are fond of black coated utensils, this must be the perfect choice for you! This product comes with 1 year warranty and a cool handle.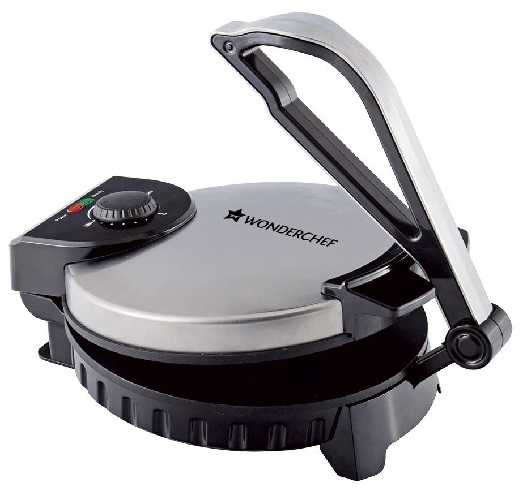 Specification:
Non-stick base helps in making soft, fluffy, round rotis hassle free everyday
Stainless steel housing
Compact size easy to store
Automatic temperature control
Overheating protection
Power and ready lights
Power: 1200 watts
Price: ₹ 2,873 aprox
Eagle roti maker is fully automatic and does everything for you on its own. Whether it be setting the temperature or applying the right pressure. It uniformly heats your roti to make it perfect for when guests bombard your house with their big appetite!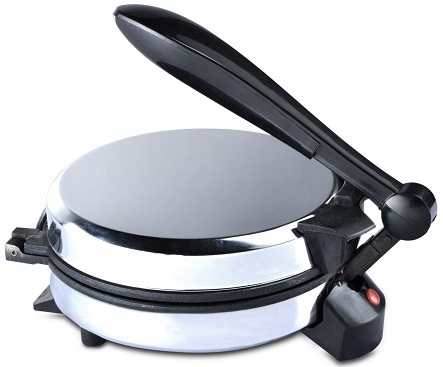 Specification:
Aluminium base helps to form non-sticky base
Stainless steel coating
Lightweight
Automatic on-off
Energy efficient
Price: ₹ 1,219 aprox.