Beat The Heat With These 7 Marvellously Cold Drinks From McCafés In India
According to weather reports, yesterday was the hottest day in Mumbai, and indeed most of West India, has seen this year. In other words the Indian summer has truly set in and we now need to battle sweaty commutes and sour tempers, thanks to the heat. If you're looking for a reprieve from the woes that summer brings, why not head to a McCafé?
With a relaxed vibe, an air-conditioned space and a whole host of cooling drinks paired with delicious light eats, the McCafé is the perfect place to take refugee from the sun and indulge in some much-deserved me time.
About McCafés
First came McDonald's, then came McDonald's brand extensions – Drive Thru's and McKiosks, then came McCafés in 2013. Started in 1993 in Australia, the McCafé highlights beverages – its product line includes the espresso, the mocha, the cappuccino, the Americano as well as cold beverages like the iced latte, the iced mocha as well as iced fruit smoothies.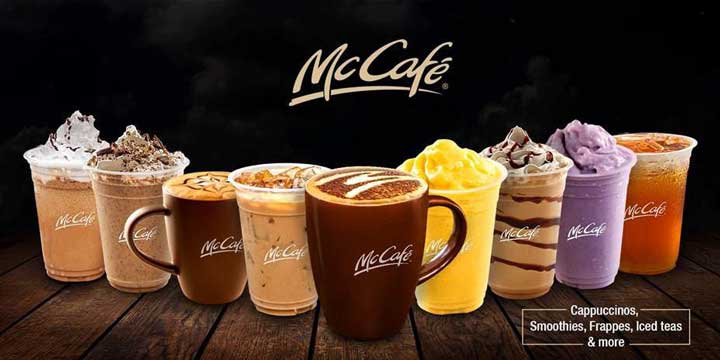 Commenting on the presence of McCafés in India, Smita Jatia, Managing Director of McDonald's India West & South said "We have rolled out 75 McCafés across 9 cities – Mumbai, Pune, Nashik, Kolhapur, Aurangabad, Ahmedabad, Vapi, Indore, and Bangalore since its launch in October 2013. McCafé is where good food and great beverages intersect – truly the best of both worlds."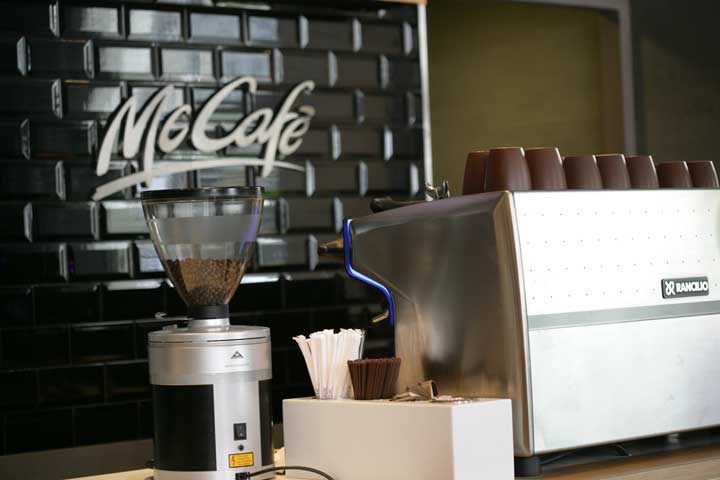 She added: "From Real Fruit Smoothies, to authentic espresso-based beverages, Indians are truly embracing our McCafé brand and telling us they're lovin' it. Our continued focus is on building strong beverage credentials and on gaining a greater share of the very sizeable non-carbonated beverage market in India."
As evidence of this commitment to creating a strong beverage portfolio, McDonald's has just announced the launch of the Iced Splash range in McCafés; a collection of three fruit drinks in Aam Panna, Kokum and Musk Melon crafted purely for desi palates.
While the Iced splash range of drinks are the latest addition to the McCafé beverage family in India, there's a whole list of drinks you can order to fight the heat. Take a look:
Iced Splash Range
The refreshing Raw Mango, Musk Melon and Kokum Iced Splash will quench your thirst and please your palate. pic.twitter.com/ZoreY9ViN2

— Say Cheeeeese! (@mcdonaldsindia) April 28, 2016
Yes, we already told you about them, but they deserve a place on this list. Priced at Rs.84 each (Rs. 70 if you get them with a meal) the drinks are tailored to tantalise the Indian taste buds; all three flavours are certain to take you on a nostalgic trip down memory lane as you remember having similar drinks in childhood.
Real Fruit Smoothies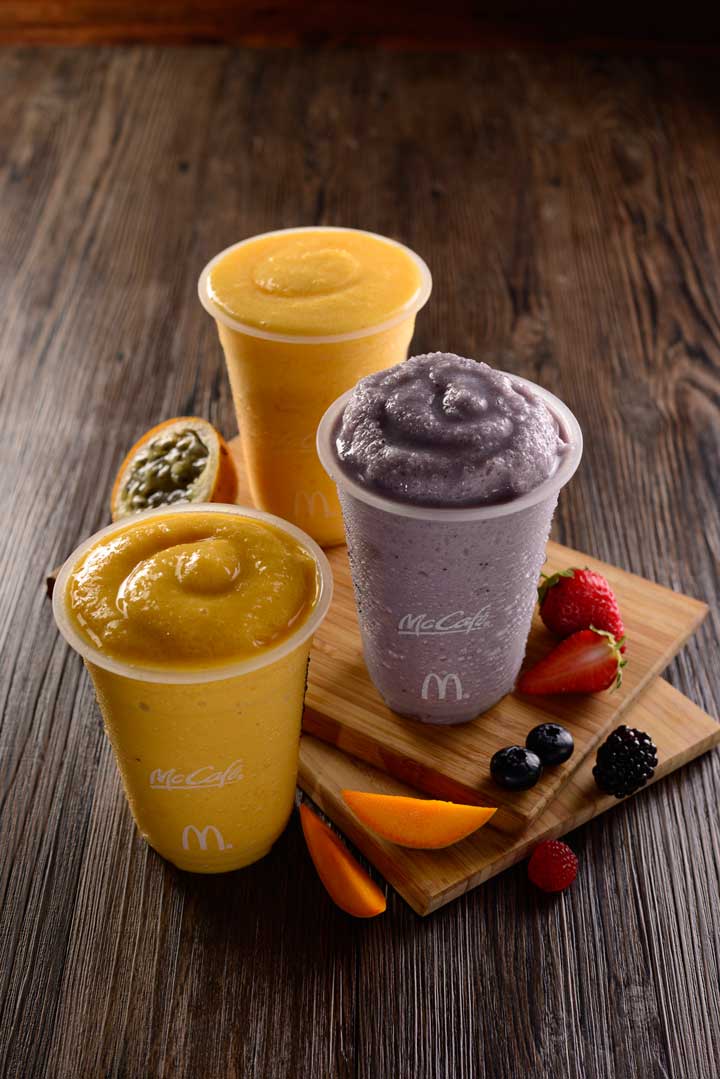 The Real Fruit Smoothies, which were launched across McCafés in 2015, are made with a blend of real fruit puree, milk and blended ice. Available in Mixed Berry and Mango flavours, the smoothies are a healthy, refreshing option.
Iced Coffee
The iced coffee is made with a combination of premium coffee beans (did you know that McCafés source their coffee beans locally from Chikmangalur), light cream and ice. To put a personal touch to your iced coffee, you can top it with caramel, hazelnut or vanilla.
Iced Mocha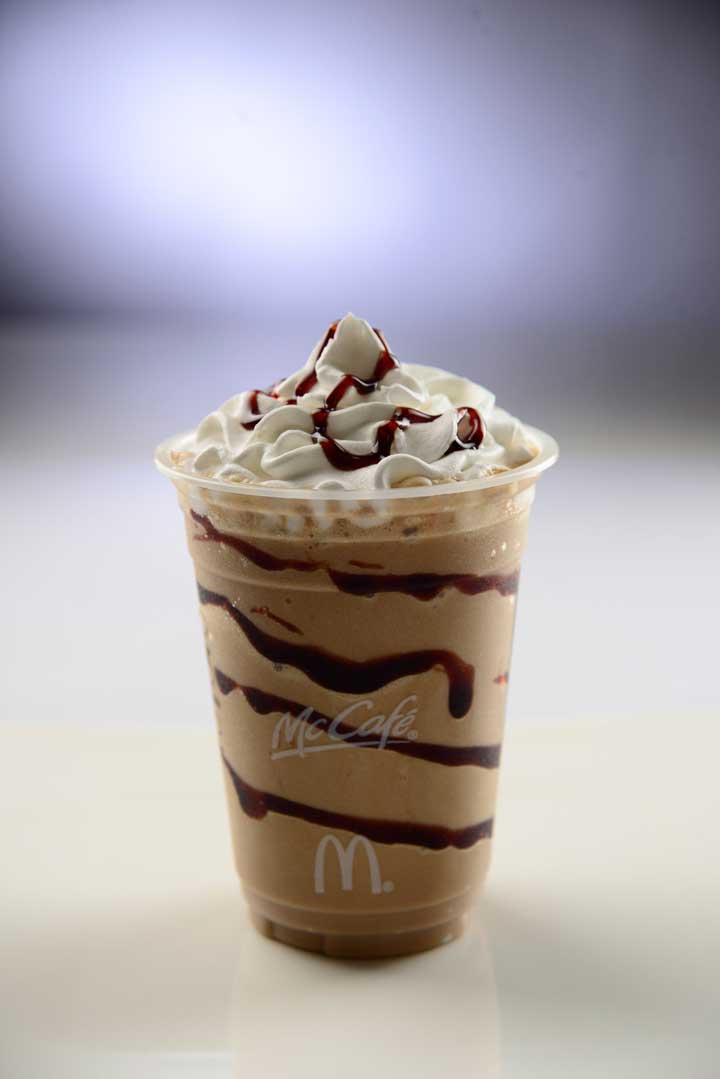 Got a sweet tooth? Call for the iced mocha, which blends espresso, cold milk and chocolate syrup with ice. Top your mocha with whipped cream and a dash of chocolate syrup.
Iced Latte
Espresso and steamed milk are combined and then served over ice and topped with caramel, hazelnut or vanilla.
Frappes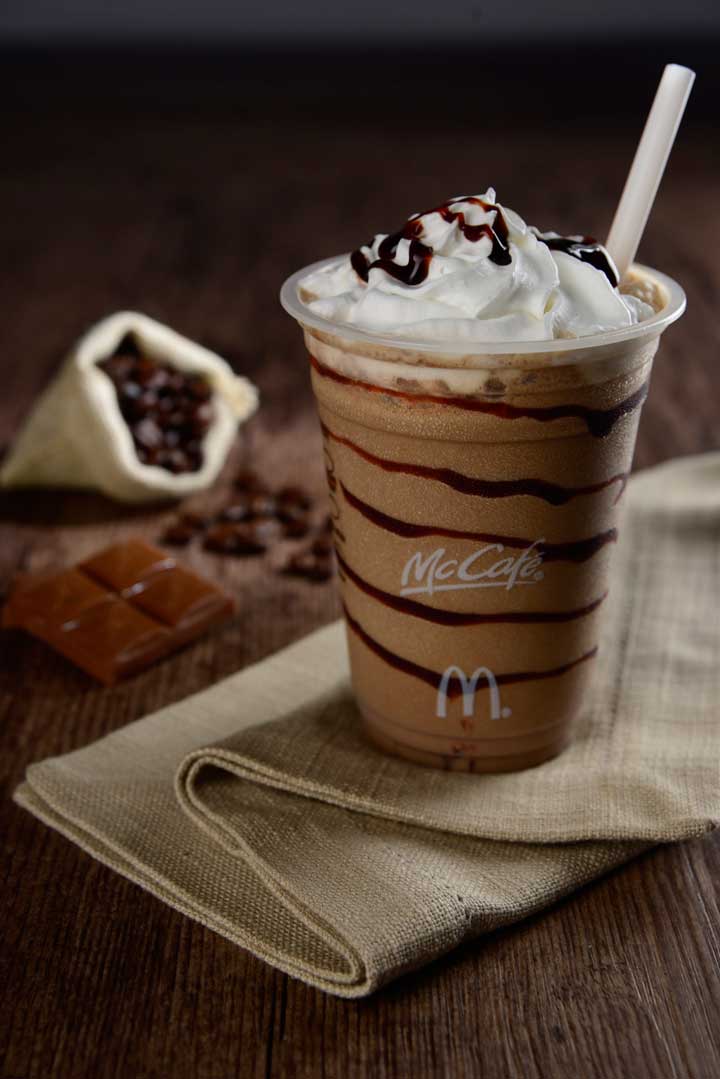 The Frappe blends coffee, ice and caramel, mocha or chocolate chips to create a luxuriously cold drink. Topped with whipped cream, it is elevated even further.
Iced Tea
If you're more of a tea person, have no fear – McCafés have a range of options for you. While the McCafé menu includes hot teas like Chai Latte, it also has iced teas available in peach, lemon and strawberry flavours.
No matter your taste preferences, McCafé has a cooling drink that will help ward away the summer blues. Pair the drinks with McCafés dessert options (including marble cake, cookies and muffins) and you're gold!