Bangalore, Mark your calendars because Bangalore Food Fete is coming to town this Weekend!
It's safe to say that nearly everyone in Bangalore is a foodie. Yes, we Bangaloreans love our food and we are not afraid to proudly adm(eat) it. You need to excuse us for that but we have got food in our heads. Why you ask? Because, Bangalore Food Fete is taking place this weekend and we are going bonkers over it.
What is the Bangalore Food Fete?
Bangalore Food Fete is a celebration of everything Bangalore – food, music, food, weather, food, you get the gist. The event has the city's top pubs and restaurants (28 of them) come together to give us a gala time.
What's in store for you?
Well, if we didn't have you at food extravaganza, there's more. The two day event will also play host to stand up comedians, live music and dance performances. For those of you who are gearing up for a family weekend, the event has a separate kids zone for your kids to hop, skip and jump while you gorge on some delectable gourmet food. Kids aren't the only ones who get to have fun, for the adults or teenagers who want to squeeze in a bit of arcade time between meals, there's a gaming zone for you too! If you aren't into that, there's also a DJ that will keep your food tapping while your mouths chewing. Need we say more?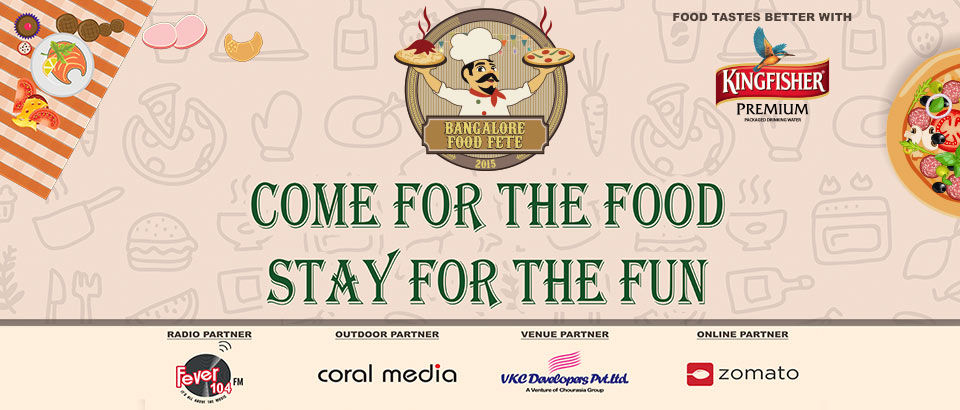 Psst, a little birdie tells us that there's a flamethrower too, so it isn't just the food that's going to spice up the evening. In case the flamethrower gets a bit too hot for you, cool off at the pubs that are serving up some of their in-house brews.
When and Where is the Bangalore Food Fete?
The event is set to take places this weekend i.e 8th and 9th of August. It will be taking place at Marathahalli and before you start cribbing about how far it is, take a look at the participating restaurants below!
Bootlegger

Smally's

49ParanthaGali
Wok
Punjab Grill
Sanchos
Tuckshop
Mani's
Khan Saheb
Go Italia
Mekong
Holy Flames
Dice N Dine
Chaipatty
Hungry Hogs
Just Shawarma
Art Blend
San Churros
Waffle Walle
Chetty's Corner
Bombay Chowpatty Kulfi
Oven Treats
Cup Cute
Hokey Pokey
SWAT
Fuel up
Mad over Donuts
That Roll Place
And no, this isn't a list of restaurants from Just Dial, this is actually what you are going to get to experience it the Bangalore Food Fete. Yes, all this and more in the same place at the same time. So what you waiting for? Grab those jogging pants, a bottle of water and a big appetite and head to the Food Fete. Wait, did we mention all this is just at Rs. 150/-. Yes, foodies, Christmas just came early!
Booking Link: https://in.bookmyshow.com/bengaluru/events/bangalore-food-fete/ET00032366
Price: Rs. 150
Venue: VKC Pride: Bengaluru,
Behind Cessna Tech Park, Outer Ring Road, Marathahalli, Panathur Post, Behind Cisco, Bengaluru, Karnataka 560103, India
When: 8th and 9th August