Ashvita Bistro And Tasty Tales Gives Chennai A Taste Of Bengal This Weekend
One of the great things about Chennai is that food lovers in the city are always open to trying new cuisines and experiencing new things as often as possible. It's rare that one restaurant in the city would put so much effort into being part of that experience. But Ashvita Bistro – and Ashvita Nirvana – are doing that and so much more. Since early last year, the bistro in Alwarpet has been bringing chefs from different parts of the country to give Chennai folks a taste of something new. Just recently, we attended the Nepalese Food Festival which was put together by the bistro's very own chefs. This month, they are doing something similar, but totally different at the same time.
The latest food festival is in collaboration with Chef Priyadarshini Gupta of Tasty Tales from Mumbai. Ashvita Bistro is giving you a chance to enjoy a deliciously big fat Bengali meal that you won't get anywhere else. Why you ask? Because it's not a traditional kind of meal in the sense that there are elements from different festivals put together on one plate. As always, you get to pick between vegetarian and non-vegetarian thalis that celebrate all the festivals of Bengal.
Chef Priyadarshini Gupta runs Tasty Tales in Mumbai, out of her home, where she gives food lovers in the city a chance to experience different kinds of cuisines in the comfort of her home. Priyadarshini serves Bengali, Anglo-Indian, Bihari and Odia. If you live in Mumbai or know of anyone who lives in the city, get them to sign up for these meals and have a full experience with Priyadarshini, unlike any they've had before.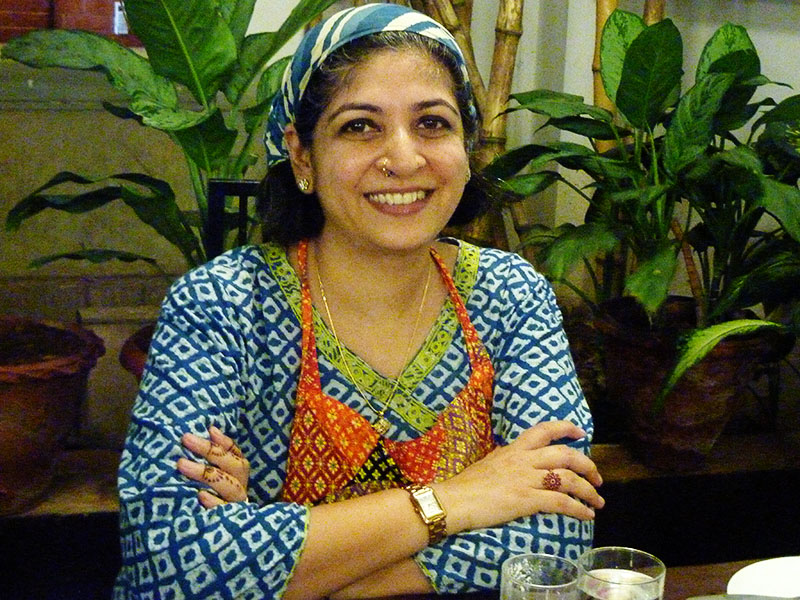 One of the main questions everyone had was why the infamous Mishti Doi wasn't on the menu and in response, Priyadarshini said, "You get Mishti Doi everywhere!" And then she went to elaborate on how she plans and sets up her pop-ups, "In most of my pop-ups the idea of me cooking my food is recipes that are just going under the carpet, which are not really cooked in hotels and restaurants. I don't make the Mishti Doi or Rasgulla because there is so much more to Bengali food than those two dishes."
Instead, Priyadarshini has added something quite special to the thali – the Chanar Payesh, which is basically a payasam with paneer. "This sweet is something you won't really get in any restaurant, it's a very 'home food' type of dish. This is a recipe from my grandmother, as are some of the other dishes because I didn't want to make dishes that everyone already knows."
We were started off with a glass of Buttermilk, which is not like the buttermilk we're used to, because it's got a little sweetness to it and a little lime. It has the same elements as buttermilk we make at home, but the lime and sugar adds a little something more to it.
Then came the thalis. Most of the dishes were the same, except for two where there was a clear divide in which is the vegetarian and the non-vegetarian. The common dishes were the Luchi, which is much like a puri, and to be eaten with the Begun Bhaja or the Cholar Dal. Both thalis also had the Labda, which is a mixed vegetable dish, the Makha, which is potatoes and pumpkin mashed together, the Ghee Bhath, the rice dish, the Tomato Chutney, which is made with tomatoes and dates and of course the Chanar Payesh.
For the vegetarians, the two dishes that were different were the Eachorer Dalna (raw jackfruit cooked much like a mutton curry) and the Phulkophir Dalna (cauliflower and a vegetable dish that is made during Lakshmi Puja).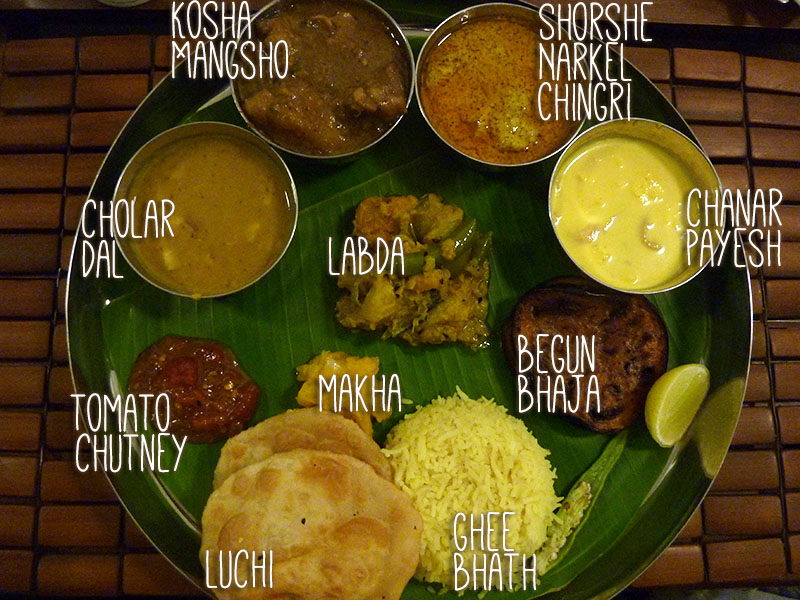 For non-vegetarians, there's the Kosha Mangsho (slow cooked mutton with caramelised onions and curd) as well as the Shorshe Narkel Chingri (mustard prawns which are steamed with a paste of mustard and coconut).
The Festivals of Bengal will be at Ashvita Bistro from February 24th to 26th. It's available during lunch (12pm – 4pm) and dinner (7pm – 10pm), but it is best to make reservations right away. You can contact them at 044 42109990 or 9791088189.