Apps Every Wine Enthusiast need to download – Free Download
Embora o vinho possa não ser tão popular quanto a cerveja ou o uísque, na maioria dos círculos, ainda é uma bebida que muitas pessoas apreciam. Muitas pessoas assumem que aqueles que bebem vinho são mais extravagantes do que outros, mais ricos que os outros ou muito chiques para a pessoa comum. Mas a verdade é que o vinho pode ser uma bebida de classe superior à maioria, mas isso não torna os entusiastas e fãs de vinho mais sofisticados do que aqueles que bebem outros tipos de álcool .
Mas mesmo os bebedores de vinho mais comuns podem não saber tudo o que há para saber sobre o vinho. Na maioria das vezes, as pessoas compram o vinho que bebem regularmente e nunca se aventuram além desse pequeno círculo. Mas existem tantos vinhos semelhantes que as pessoas nem sabem que existem e é aí que entra o maravilhoso mundo dos aplicativos de vinho para o seu telefone.
Portanto, quando você compra seu vinho e deseja saber mais informações sobre sua seleção, mas não precisa de ninguém para perguntar, esses aplicativos são úteis. A maioria desses aplicativos exige que você escaneie o rótulo e tudo aparece, incluindo com que comida o vinho vai bem. Só é preciso pressionar um botão e pronto, todas as suas perguntas são respondidas.
Corkz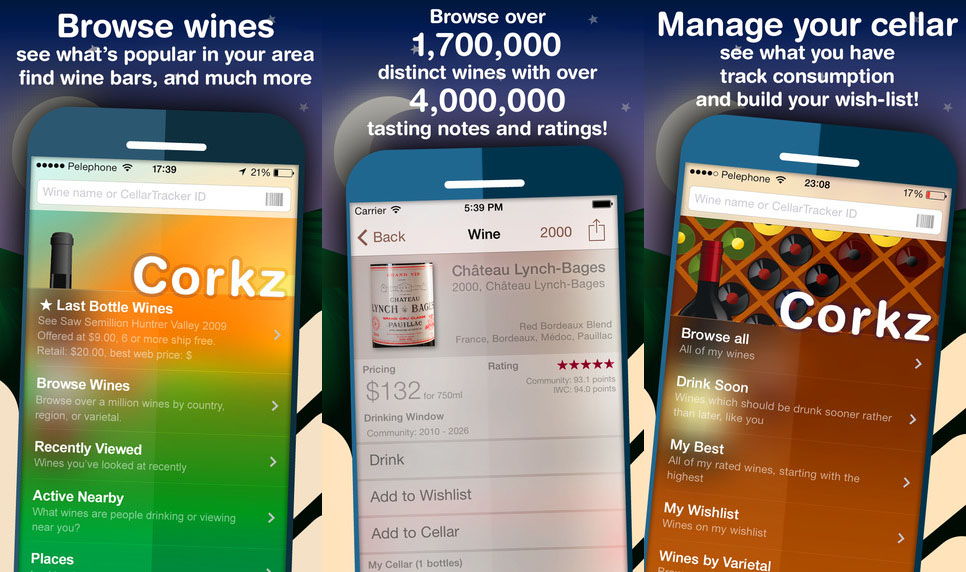 Este aplicativo está vinculado ao banco de dados de vinhos do CellarTracker, portanto, obviamente, quando você escaneia o código de barras da sua seleção de vinhos ou digita o nome na pesquisa, pode ler mais de 2 milhões de notas de degustação, fornecendo todas as informações que você deseja e deseja.
Disponível no iOS (Rs. 120) e Android
Delectable
An extremely easy app to use, Delectable lets you take pictures of your wine bottles and gives you user reviews, pricing and ratings from different people connected to the app. And you can even keep track of the wines you've had just in case you want to go back and try something again.
Drync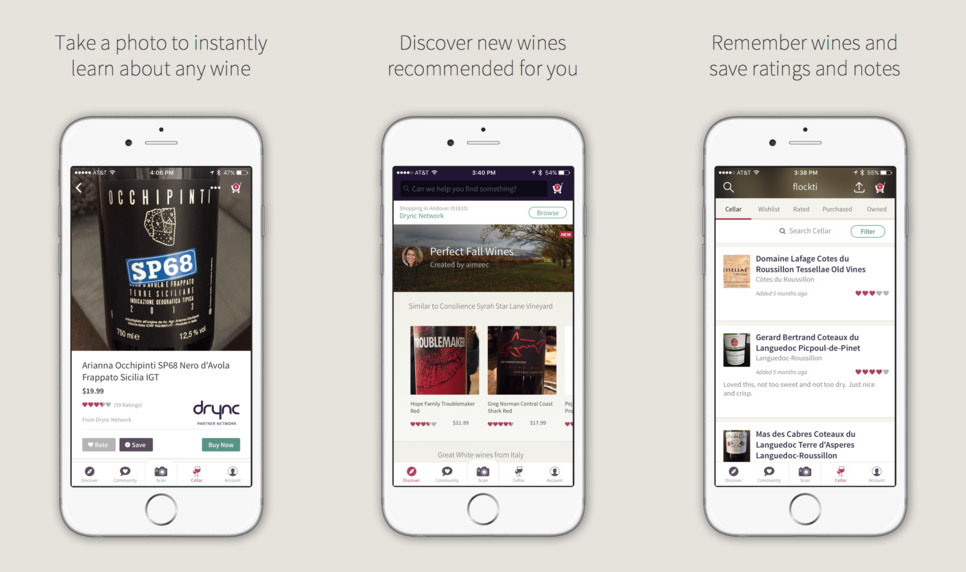 This is an extremely popular app and if you don't have it yet, you probably need to get it pronto. Snap a picture of the label and instantly get recommendations for similar wines and other wines that you might enjoy. And depending on which part of the world you're in, you can even order your wine through the app.
Hello Vino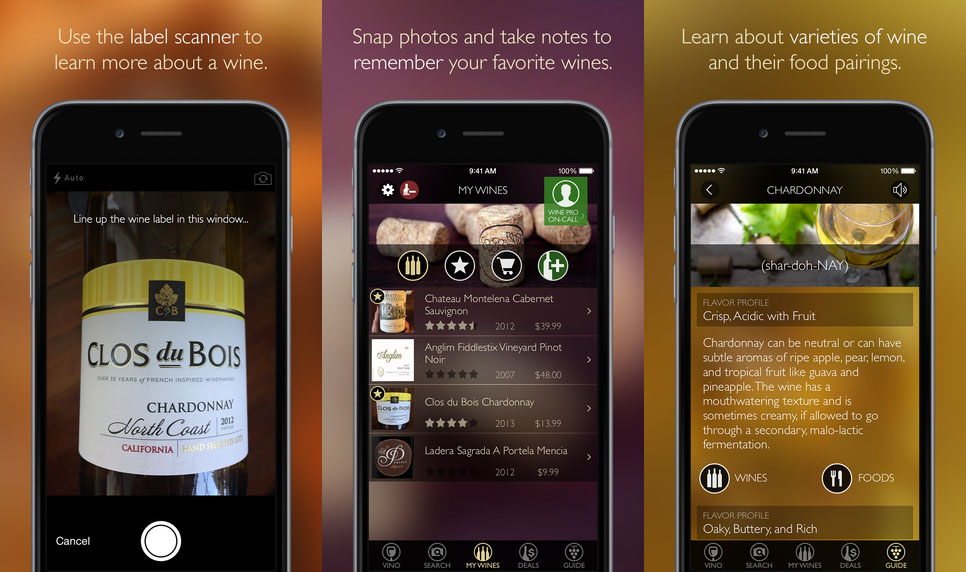 Think of this app as your personal wine assistant. Take a picture, save it and store it and add your personal notes to the favourites. And obviously what every wine lover wants is to know what food their favourite wine would go well with.
Wine Maps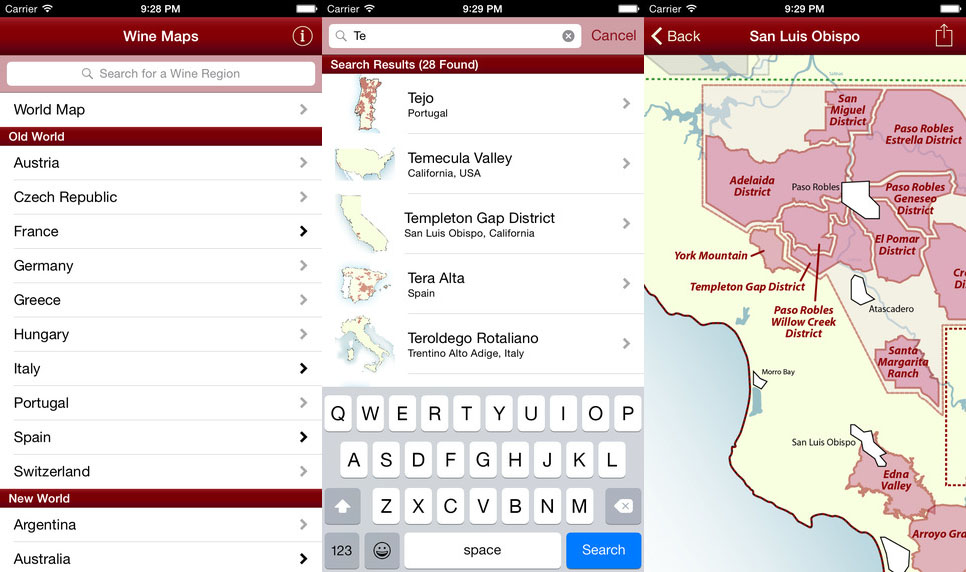 This app features 1300+ maps of the world's wine regions, allowing you to explore the topographical nuances of different wine countries. And you can learn the difference between different kinds of wine and if that's not enough, you can print these maps for a later use! Think of it as a geographical wine experience.
Available on iOS
Plonk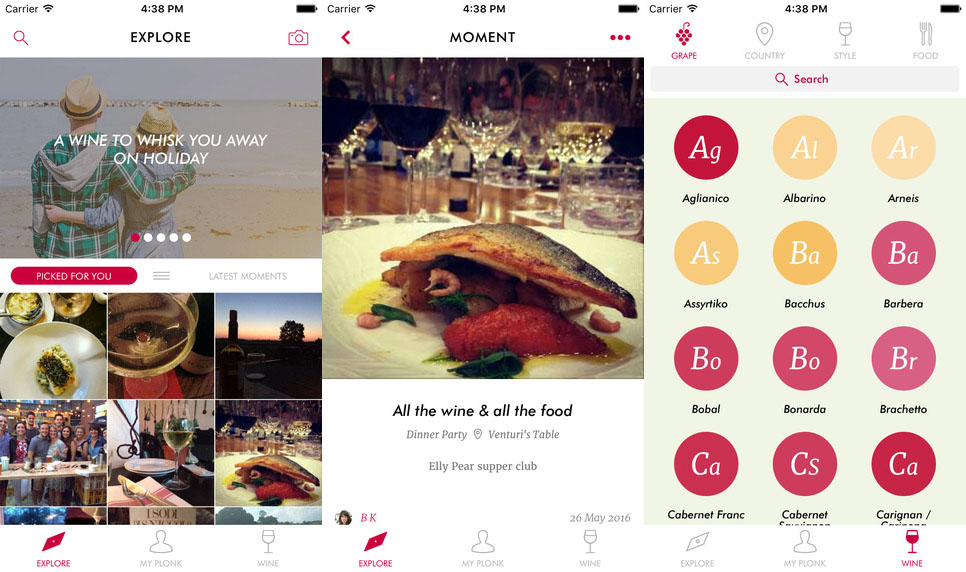 Calling all beginniners, this is the perfect app for you. It includes an overview of grape varieties, wine styles and food pairings, along with more information about the country where the wine is from. And if you're trying to master the art of being a wine expert, they even have an audio option that helps you learn the proper pronounciation of the wine.
Available on iOS
Vivino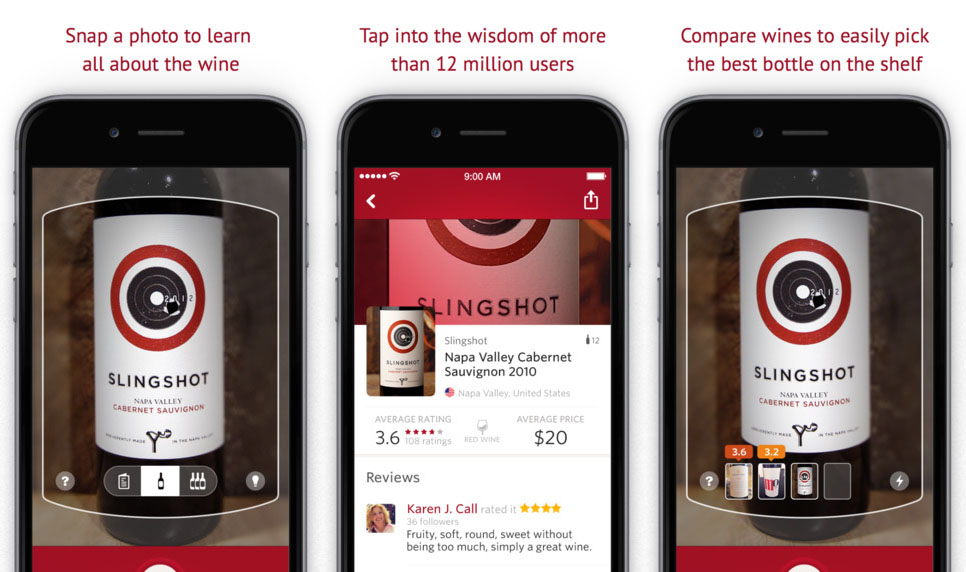 Digitalize o rótulo do vinho e todas as informações aparecerão instantaneamente, incluindo comentários, classificações, notas de degustação e muito mais. Se o aplicativo não conseguir identificar automaticamente uma determinada safra, a equipe de especialistas em vinhos da Vivino ajudará a identificá-lo para você. Você também pode navegar no banco de dados de aplicativos, salvar seus vinhos favoritos e obter recomendações.
Disponível no iOS
Pesquisador de vinhos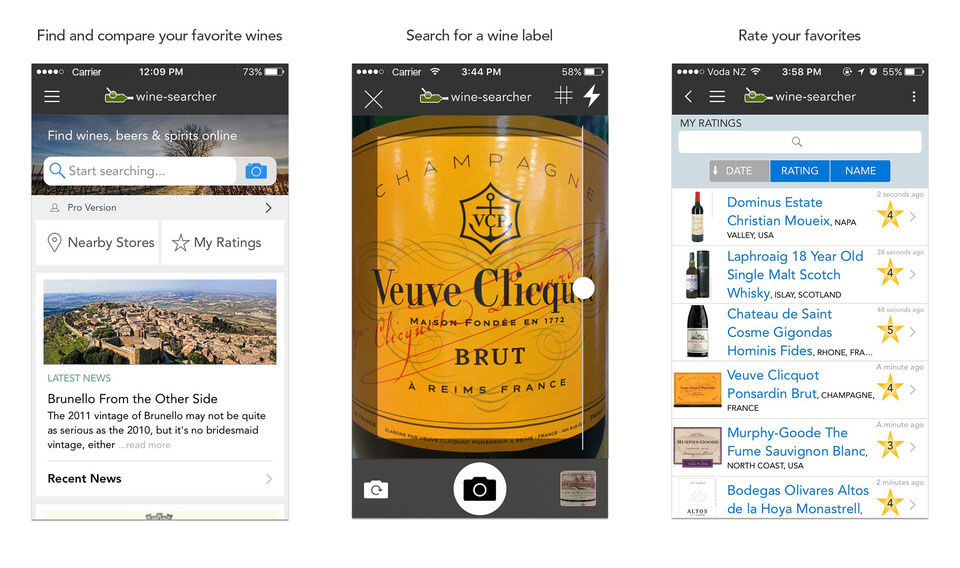 Este aplicativo é focado puramente na pesquisa de seus vinhos por nome ou em tirar uma foto do rótulo. O aplicativo puxa informações sobre o vinho, que inclui classificações e preços e onde você pode encontrar o vinho!
Disponível no iOS