Appreciating The Individuals Behind Our Coffee At India's First Tata Starbucks Coffee Championship
In 2012, Starbucks, a worldwide coffee café giant came to India. Over the past three years, it has quickly expanded from its flagship store at Horniman's circle in Mumbai to Delhi, Pune, Bangalore and Chennai.
The Partner Behind The Counter
Across the country, Indians have happily adapted to the coffee culture; rushing into the store, hurriedly placing their order, tapping their feet as the order is made and rushing out of the store again. Sounds familiar, right? However, how many of us pause to appreciate the staff that are making our coffee? It's not simply operating a machine; the staff who make your coffee go through months of rigorous training learning about all there is to know about coffee before they are handed that green Starbucks apron that you know so well.
Some partners, which is what Starbucks acutely calls its dedicated staff, take it a step further and go through five levels of training to become a true coffee connoisseur and be called a 'Coffee Master.' As proof of their extensive knowledge of coffee, these partners are given a black apron to wear.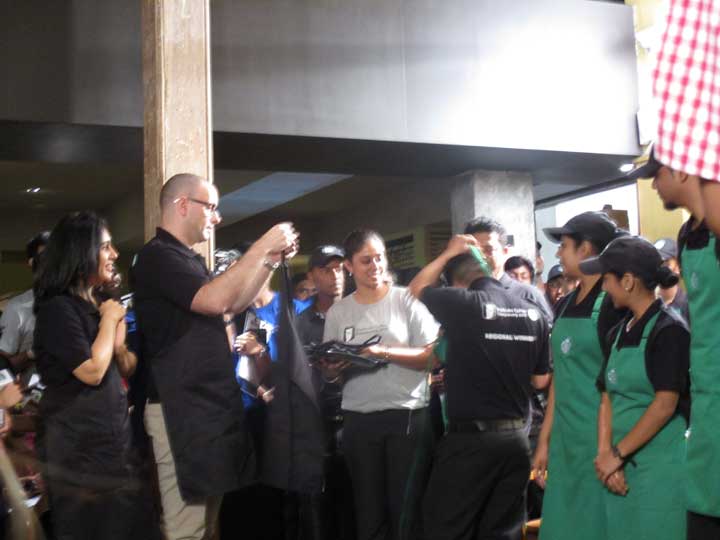 In a move to appreciate these individuals that live, breathe and dream about coffee, Starbucks holds an annual Coffee Championship, where partners worldwide compete to be named the ultimate Starbucks Coffee Master. On August 27th, India held its first Starbucks Coffee Championship at its flagship cafe at Horniman's circle.
A Plethora Of Coffee Lovers
We stepped into the store on that muggy Thursday morning to find it bustling with activity with the beautiful aroma of coffee permeating the air. That in itself is not unusual. On this particular Thursday, however, the store was closed to the hoi polloi and was instead packed with excited coffee partners from all over India.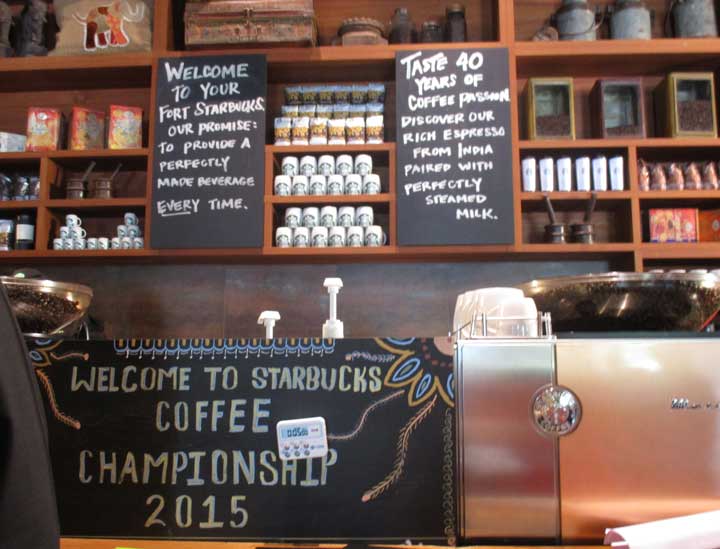 These partners were there to cheer on their six colleagues; partners Shikhar Hali, Atul Inderyas, Rubina Quershi, Geetu Mohnani, Manjoy Bhaisora and Saili Rane, who were waiting with anticipation to compete against each other in the Grand Finale of the Coffee Championship in India. The winner of this finale would participate in the Starbucks International Championship.
The event began with a dance performance by some of the partners, which was followed by an introduction to the judges. Judging the event was Avani Davda, the CEO of Tata Starbucks Private Limited, Manmeet Vohra the marketing director of Starbucks in India, Mark Ring, the senior vice president and general manager of Starbucks Asia- Pacific, Brady Brewer, the Senior vice president of marketing in the Asian Pacific region, Jon Lietchy, the director of operations at the Tata Starbucks, Sumit Zaveri, the chief financial officer of Tata Starbucks and Shaheen Rajguru from the Operations Services at Tata Starbucks. In short? Both the judges and the partners present at the event that day could dance circles around us with their knowledge of coffee.
Juggling Bar Skills, Quizzes, Blind Tastings and Pour Over Rounds
As the event progressed, several rounds of the competition were simultaneously taking place. Luckily, we were served oodles of frappucinnos that allowed us to be in two places at once. Well – almost. In one area of the café, a partner was displaying his coffee artistry skills, by making a round of coffees and decorating them for the judges. In another, the partner was being quizzed on anything and everything to do with coffee, from its history to its ideal growing conditions. In yet another area three judges were seated in front of a partner, who made a round of Pour Over Coffee for them.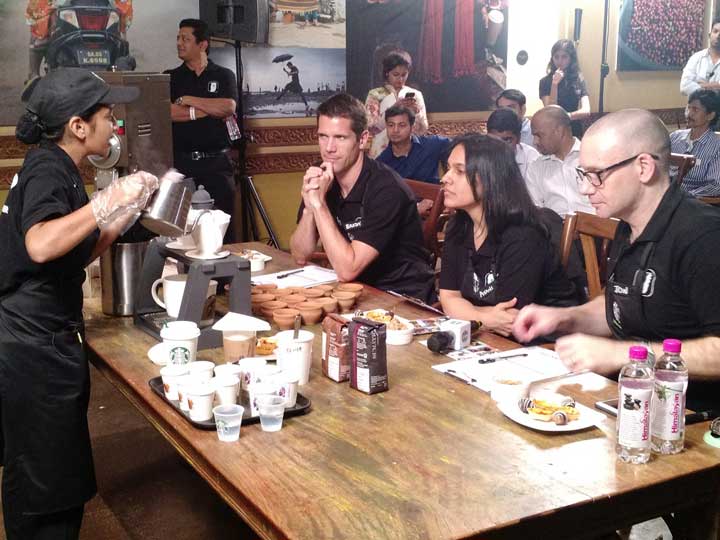 What's Pour Over coffee, you may ask? So did we. Our queries were soon put to rest when Geetu Mohnani, one of the partners took her place behind the table. While she was making the pour over coffee she bantered with the judges, explaining that pour over coffee involves pouring water over ground coffee nestled in filter paper to extract pure coffee. She also told the audience the story of Melitta Bentz, who created paper coffee filters that facilitated Pour Over coffee.
The next partner to carry out the Pour Over coffee round displayed the same knowledge and enthusiasm about the history and the benefits of Pour Over coffee. This enthusiasm was seen as we wandered over to the other rounds as well; Saili Rane enlightened the judges about the history of Ethiopian coffee while displaying her coffee artistry skills while Rubeena Quereshi drew upon anecdotes of her own Starbucks experiences during the blind tasting.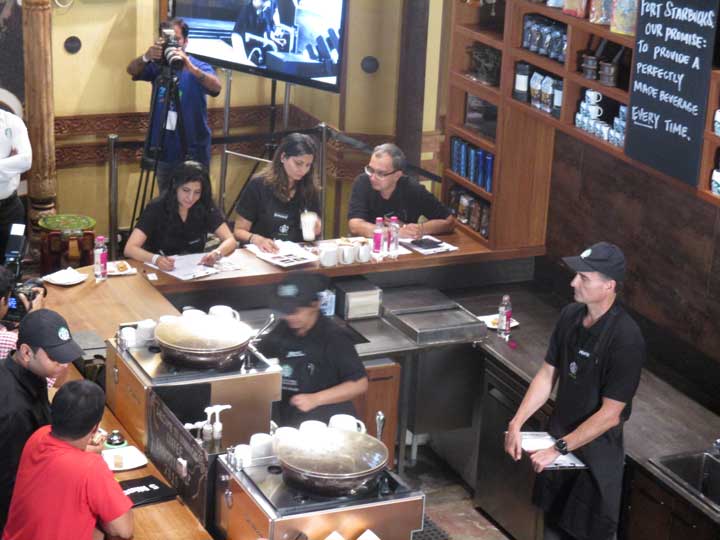 The partners' enthusiasm convinced us that they do not see their job at Starbucks as a mere job, but rather an experience that allows them to delve deep into passion for coffee. When asked what two famous people they would like to have coffee with, five out of the six replied that they would like to get a cuppa with Howard Schultz, the CEO of Starbucks worldwide – an answer that speaks volumes about their love for the brand.
"The feeling would be similar to the one an astronaut would feel while landing on the moon. It is as important to me as it was for Edmund Hillary to climb Mt. Everest," said Atul Inderyas on what it would mean to win the competition. "I will be on cloud 9! Winning would enable me to inspire more women partners to be courageous, come forward and achieve the highest form of glory," said Geetu Mohani in reply to the same question.
As with any competition, however, only one partner was crowned champion. After the quiz round and the blind tasting round, the judges tallied their scores and announced the winner.
Meet The Starbucks India Coffee Champion 2015
Saili Rane, a partner at the Mumbai Domestic Arrivals Starbucks was crowned Coffee Champion 2015 in the late hours of the afternoon. She had come a full and glorious circle revealing that she had started her Starbucks career at this very store. Rane will go on to participate in the International Coffee Championship in South East Asia later this year.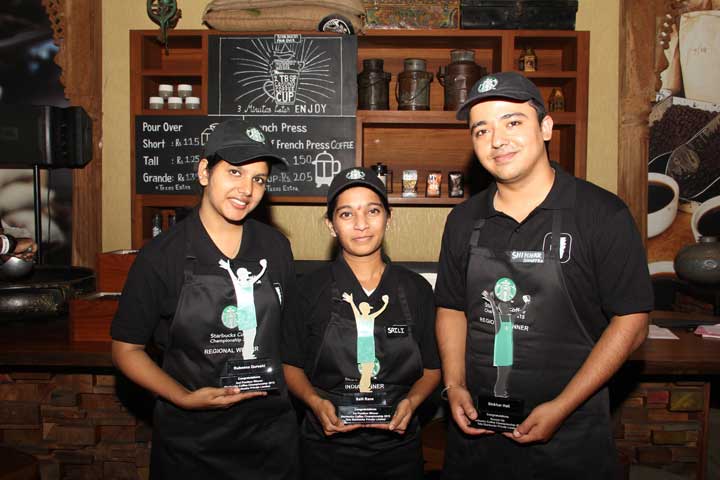 The competition had ended and the winners' names were revealed. However, we took a lot more away from the competition. We took away an understanding of how Starbucks as a brand works and cares for its employees. We took away bucket loads of appreciation for the partners who give us our daily coffee each day and the knowledge that they hold. Pay a visit to your nearest Starbucks soon and pay attention to your partner. You'll learn something new; we guarantee it.