Anthony Bourdain Is Working On A Comic Book & We Can't Wait To Get A Peek!
Author and food expert Anthony Bourdain developing something super fun brewing at his work desk – a chef-centric comic book series called Hungry Ghosts. Yep, gone are the days of scouting the streets of Vietnam with the POTUS and writing cookbooks.
However, as fans of Bourdain's work would know, this isn't the Part Unknown host's first time working on a comic book. Back in 2012, he released a graphic novel christened Get Jiro!, which revolved around a sushi chef who beheads customers who dare to order California rolls, and even followed it up with a 2015 prequel called Get Jiro: Blood and Sushi.
Much like his previous novels, Hungry Ghosts will also be a multi-part series with four books. According to Vulture, "The series will be a riff on the Japanese Edo-period game 100 Candles, in which samurai would try to one-up each other with stories to freak each other out. Here, the tellers won't be samurai; they'll be chefs from around the world, and their stories will be united by their focus on food."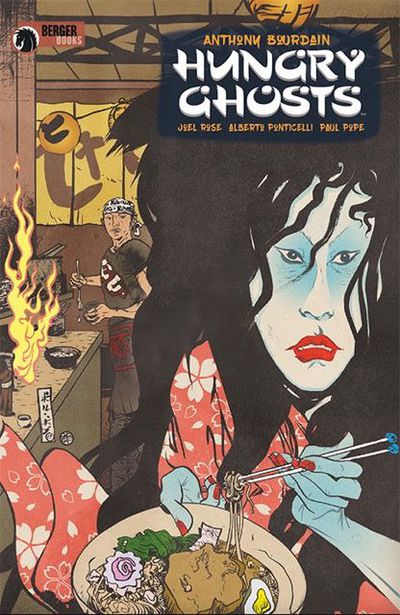 Image: Berger Books
Bourdain explained in an interview with Eater in 2015 that writing for comics is dramatically different than the kind of work he does on Parts Unknown, and he enjoys the challenge: "I find plot difficult. I like characters, I like atmospherics, and I like the details, what the room smells like. How to get the characters up a tree and then back down is tricky for me. It's fun because we're working within an established and understood genre; there are certain conventions that I really like and enjoy."
Hungry Ghosts is scheduled to release in 2018 on the new Berger Books imprint of indie comic book publisher Dark Horse, reports Eater.