An Exclusive Interview With Saurabh Saxena, Founder & CEO OF Holachef in Mumbai
I have a friend who is a tiny bit obsessed with Mumbai meal curating and delivery service, Holachef. A certain closet in her house opens up to reveal hundreds of gaily coloured Holachef bags, each of which held a meal, cooked by one of Holachef's massive team of chefs and sent by Holachef's delivery system. Whenever we tease her about it she retorts "I have no idea how to cook, and their food is cheap and homey."
It's these qualities, along with its extensive range of meals and easy to use system which has made Holachef a popular source of daily meals across Mumbai. A busy Mumbaikar just has to head over to the Holachef website, or app and sift through their range of dishes for each meal (they recently expanded into serving breakfasts and evening snacks). Once they select a dish, they put in an order, specify a time of delivery and voila – the freshly made meal will arrive at their door. The service coordinates with large range of chefs throughout the city who innovate and create new menus each day to ensure Holachef's customers always have novel dishes to choose from.
Are you intrigued by the burgeoning phenomena that is Holachef? So were we. So, we decided to track down Holachef's founder and CEO, Saurabh Saxena to find out all we could about the venture. Take a look:
On Saxena's Story and Holachef's Origins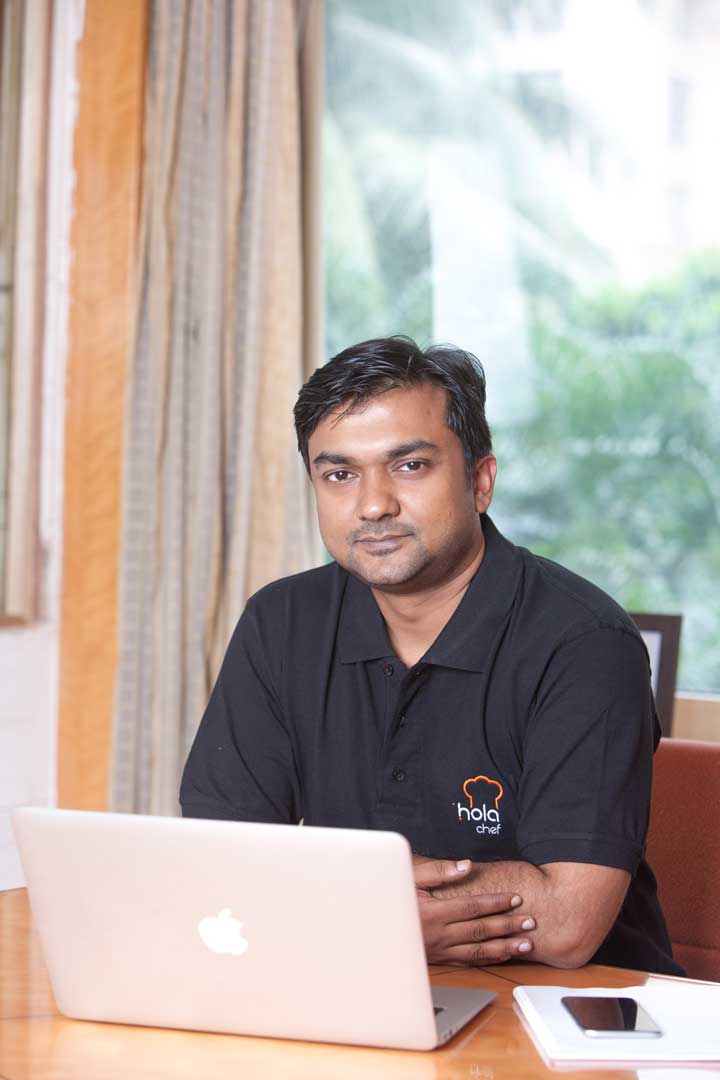 Tell us a little about your background.
"I am an IIT Bombay alumnus. I have been a part of the startup ecosystem in India since 2006 – as an entrepreneur as well as an angel investor.
My first entrepreneurial venture, Aakar Knowledge Solutions, built educational products & services that reached out to 2000 schools in India and 10 countries abroad under the brand name iKen. The company was acquired by Mexus Solutions in 2008; within two years of its launch. I headed the Sales & Marketing division of Mexus Solutions for over 5 years. Since then I have been an Angel Investor for 4 Indian startups and I am a core member of Powai Lake Ventures, an angel investment group.
I have formulated and executed the go-to market strategy for Toppr.com, a one of its kind adaptive platform that helps IIT-JEE and Pre-medical students with their exam preparation. I wore the visiting professor's hat for the renowned Rustomjee Business School in Mumbai, where I shared my entrepreneurial insight and knowledge of technology management with the students.
In September 2014, I founded Holachef.com, a unique platform that connects food prepared by the top notch chefs from across the city to food enthusiasts. The portal lists a new menu of world cuisine every day and home delivers the same.
I grew up in Udaipur and now I live in Mumbai with my wife and daughter."
What was the inspiration behind Holachef?
"When we started Holachef, it was to provide a great solution to a very basic problem in our household – what to eat today and where to get it from? Being a working couple, we ended up ordering food from outside very often (4 days a week, to be precise). While it was a convenient option – we knew we could not sustain it for long. After all, who wants to eat restaurant food every day – it wasn't doing any good to our health conscious mindset. The idea to start Holachef was exciting and since day 0 my vision for the brand was very simple – we can serve to others only the food that we can eat – on a daily basis."
What is your relationship with food like? How did it play a role in establishing a food start up?
"I can't eat the same food every day. Variety in cuisines and taste is really important for me. I have always been experimental with my food choices and have loved exploring new places through their food. Travel across India or abroad has revolved around local cuisine and best joints for authentic food of the region. In fact, long ago when I was still a student, I used to talk about innovating in the food space with my professors and peers. Although it didn't happen immediately after I finished college, I did find my way to this space eventually. And I couldn't be happier.
This passion for eating something new and exciting every day and the fact that I am a finicky consumer blends in well in building the proposition for Holachef. I understand customers' feedback and reviews which has in fact become the culture of Holachef. We monitor each review very closely and loop it into the product. In fact, our menu is largely based on user ratings. If you want something on the menu more often, give it a high rating and vice versa."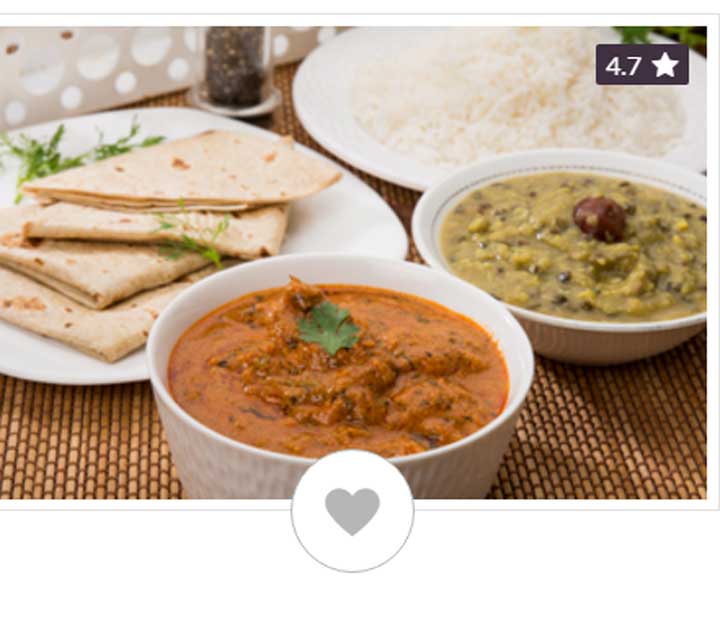 Rank these in order of importance when it comes to a good meal; taste, ingredients, presentation, price.
1) Ingredients
2) Taste
3) Presentation
4) Price
On The HolaChef Journey And The Road Ahead
How do you select chefs to work with? Have you learnt anything from these chefs?
"Our chefs are experts in select cuisines with tons of experience and passion. They bring in their unique flavor that sets their respective dishes distinct from the rest. When customers come back to us saying they have been missing 'Chef Ramani's South Indian food' or 'Chef Nishant's Mediterranean platters' while these chefs are on a break for a few days, we know that we have touched the right chord.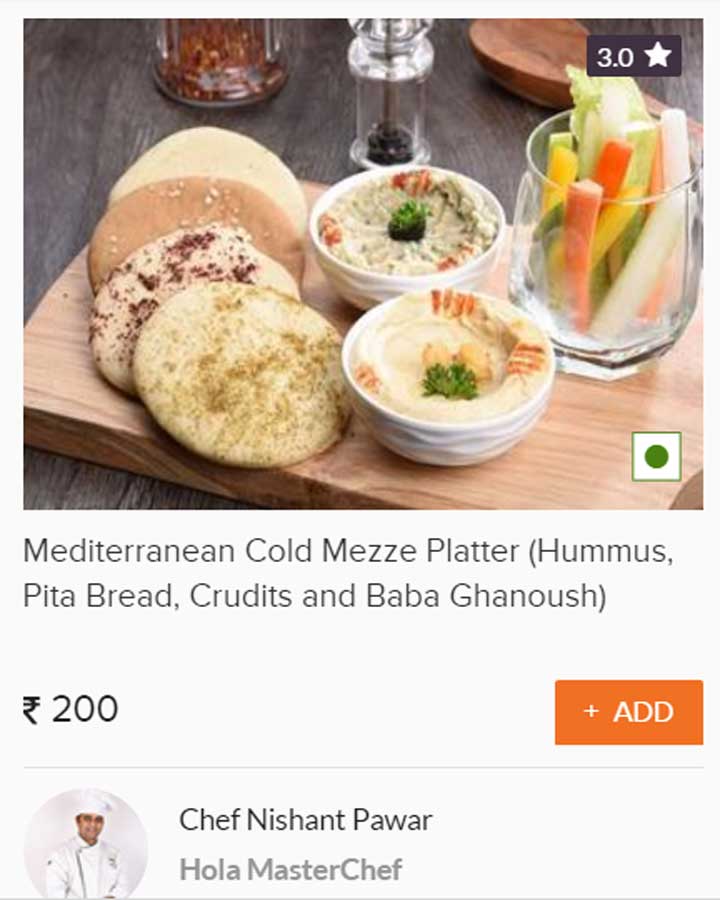 Our chefs are the crux of Holachef. Our consumers tell us what they want and our chefs work on making it available. Their passion for getting the food perfect right from getting ingredients to presentation is contagious. We love the way they connect with our consumers through food – it's kind of a romantic food journey which continues to inspire us."
What have been some of the most rewarding moments in the Holachef journey?
"Reaching the 1 million mark was a very rewarding moment. It was a very encouraging milestone for us to know that we had served 1 million meals in Mumbai in less than 18 months of our existence. It sums up our exciting journey so far very well."

Where do you hope to see Holachef a year from now? Five years from now?
We plan to expand consolidate our operations in Mumbai and Pune this year and prepare for other cities as well. In 5 years from now, we would have expanded most tier 1 and tier 2 cities in India."
Do you regularly enjoy meals from Holachef? If so, what are your favourite cuisines?
"I eat from Holachef every day because it lets me try something new daily – that's why Holachef came into existence in the first place. My favorite cuisines are Mediterranean and elaborate Mughlai delicacies.
Facts And Figures: On Mumbai And Holachef
Through Holachef, have you learnt anything about Mumbaikars' taste preferences (in terms of cuisine, ingredients and so on)?
"Yes, and we continue to learn. Some of the interesting findings are:
• Mumbaikars love to indulge in exotic preparations on weekend lunches but weekdays are all about simple Indian food
• They tend to order healthier options for dinner – because usually dinner orders are with family at home.
• Sunday dinner preference is that of 'light' meals – to gear up for the week ahead and to make up for the indulgent weekend they have just had
• Weekend lunch orders are preferred later than usual – because perhaps they wake up late or have a more elaborate breakfast compared to a week day
• 75% of total orders from Mumbai are for vegetarian food
• Mumbaikars order desserts when they are eating with friends or family (bigger orders)"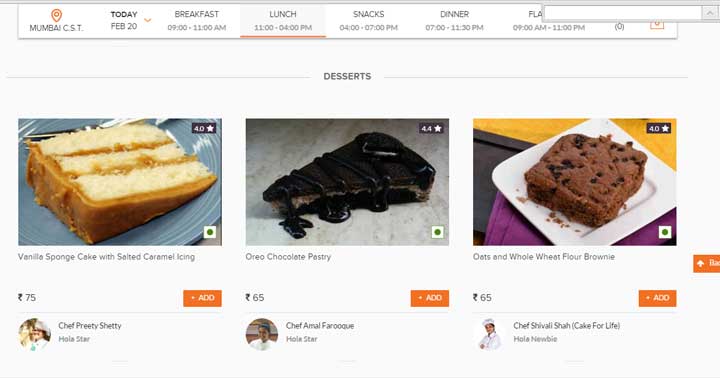 And finally – Describe Holachef's aim in 1 sentence.
"To be an extension of one's home kitchen."
Visit Holachef's website here.