An Exclusive Interview With Aditya Sanghavi, The Founder Of Snackible, Which Creates Unique Healthy Snacks
This year, the food focus at the popular Kala Ghoda Arts Festival revolved around fresh, organic, healthy fare, inspired by the health food trend that is rapidly taking over Mumbai.
While a plethora of restaurants from salad focused eateries to juice bars have popped up to cater to this trend, a busy Mumbaikar finds that there are very few snack options that allow them to adhere to their healthy diet plans; supermarket shelves are still typically overflowing with chips, sugary biscuits and chocolates.
Enter Snackible, a brand which creates healthy, tasty snacks and delivers them right to your door. We caught up with Snackible's founder, Aditya Sanghavi to talk about why Snackible could be the healthy answer to your demanding snack cravings.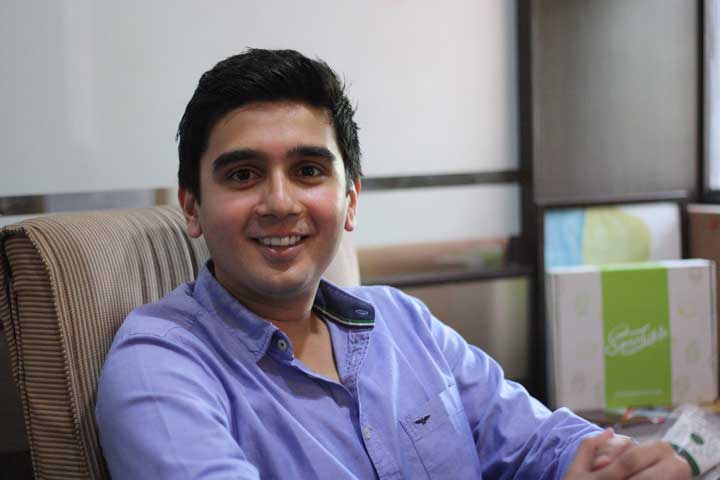 Snackible: The Origins
After having completed his education at Cardiff University in the UK, Aditya joined Themis, a consulting company in India that focuses on start-ups. Even before joining it, Aditya knew he wanted to start something of his own; it was while observing the mid-afternoon habits of himself and his co-workers that he hit upon the ultimate idea.
"Between four and five thirty everyone would be munching on one thing or another. Snacking has been a part of our lives since childhood… it is so inherent but there's no nutrition there," he says.
Armed with the knowledge he gathered from consulting for start-ups and his idea, Aditya began sketching out a plan for Snackible.
Starting Steps
After putting together a collection of healthy snacks (hold your horses, we're getting to them), Aditya began testing the market with a lean model; a Google form for ordering and online and word of mouth marketing.
"I think the sign of a great business is when word of mouth is more powerful than marketing," he says recalling an instant where they got 30 orders from a major law firm after one of the lawyers in it tried their snacks.
After being met with open arms from a variety of customers, Snackible soon expanded from their subscription model (where customers received a box of curated snacks every week) to include an a la carte option (where they can order required quantities of specific snacks).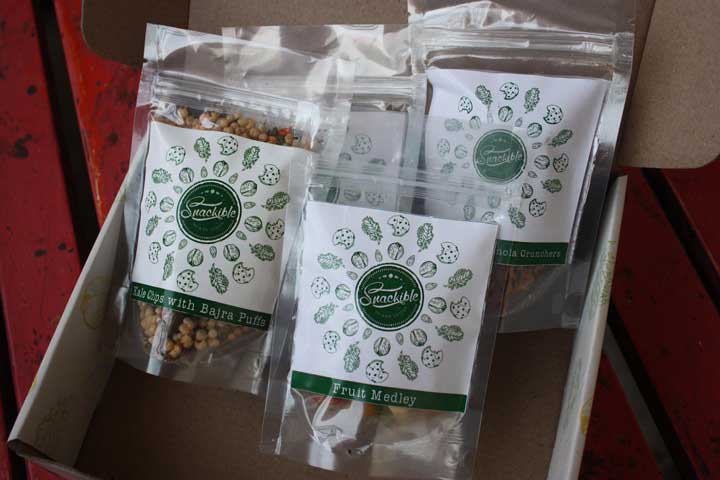 "We became like a Flipkart for snacks," Aditya says laughing, adding that today customers can order the snacks online, call Snackible operators or even Watsapp them their orders.
So what exactly does Snackible do to put together snacks that are both tasty and healthy?
"They (The snacks) are created by food technologists, nutritionists and us," says Aditya, adding that after the snack recipes have been given a gold star from the nutritionists (for the health aspect) and Aditya and the Snackible team (for both health and taste), they are given to a manufacturer who follow the recipe to the T.
As with conceptualising the snacks, the Snackible team plays a large role in sourcing the ingredients, wandering all over India to find the best ingredients they can get. Aditya gives us an example-
"We know what you get where. Take our Himalayan black salt apple chips, for instance – we went to Himachal Pradesh; that is the best source for apples. We found a small farm that is growing organic apples. Nearby, we found a manufacturer that bakes different products and exports them. We linked him with the farm guys, gave him our recipe and have him manufacture the chips."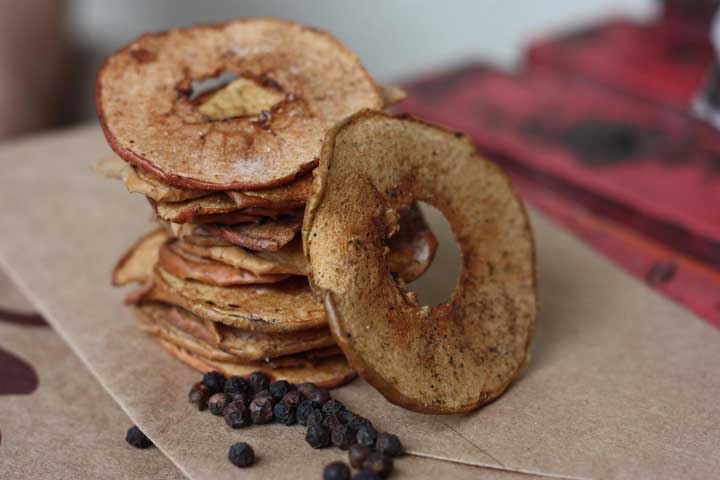 Additionally, he adds that "none of our snacks have preservatives," explaining that snacks typically have a long shelf life and are packed in nitrogen packs that increase their shelf life.
Talking Taste And Tasting The Talk
As expected, we begin to feel those all too familiar hunger pangs begin to set in while we talk to Aditya (even through its just past noon and we have just eaten lunch).
So, we click out way through the website and try to work out which snacks we will be ordering. On a side note, we notice that the prices are reasonable, all under Rs.100.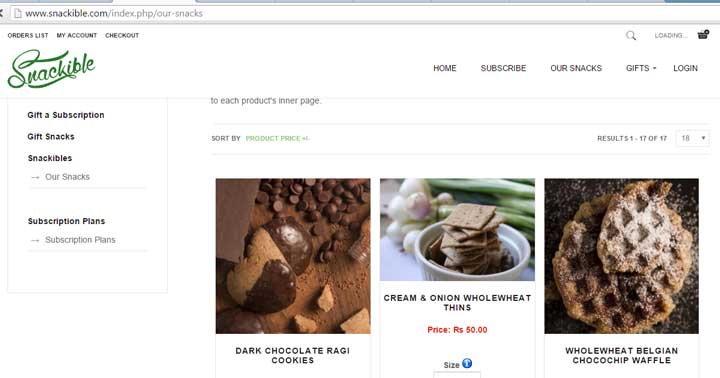 Meanwhile, Aditya gives us an insight into the importance that is placed on the taste saying "India as a market is not going to compromise on taste. We mix Indian snacks with Western elements to make our snacks unique. Take the kale and bajra puffs; "in India our palates are not used to bitter chips. We mixed kale with bajra puffs, which became an amazingly innovative snack."
He goes on to add that the kale and bajra puffs are one of his personal favourites from the Snackible portfolio. Indeed, when we tried the kale and bajra puffs we found that the faintly salty bajra puffs did leech out any bitterness from the kale, making it a tasty, slightly spicy snack for guilt-free munching.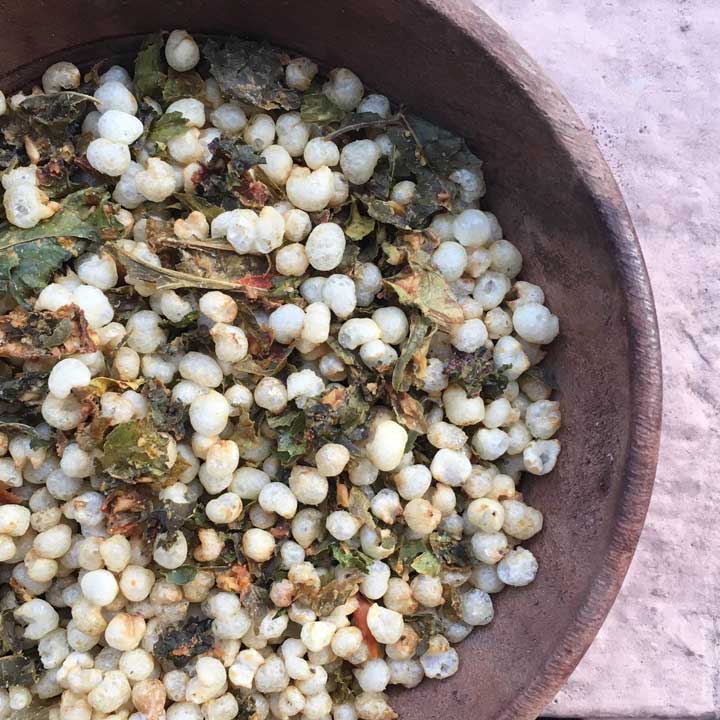 Intrigued by his story about their sourcing, we went on to try the Salted Black Pepper Apple Chips which combined the sweetness of apples with the crunch one may expect from a bag of chips, making them another satisfying yet healthy treat.
Out of the range of snacks we tried, we also particularly enjoyed the Cream & Onion Wholewheat Thins, which are newly launched; thin squares of wholewheat combined with flax seeds and were coated with cream and onion flavouring. Another hit was the Maple & Honey Granola Crunchers, which combined the uber healthy chia seeds with sweetened granola and a mix of seeds. We also loved the Seedy Trail Mix which was very seedy indeed, in a good way, with a combination of roasted watermelon seeds, pumpkin seeds, flax seeds and sunflower seeds with a tinge of sweetness.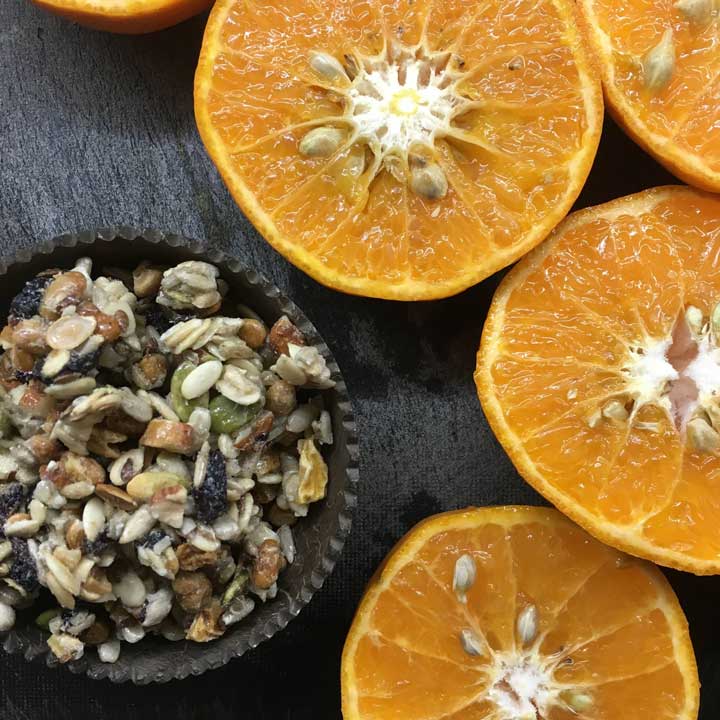 Snackible: The Future
At present, Snackible's portfolio includes 17 snacks. Using their range of snacks, Snackible can tailor snack boxes according to customer presences. (For instance) "If you're a protein junkie mention it to us and we'll put together a special box for you. We have an algorithm that we can curate our box based on preference," he explains. Aditya goes on to reveal that they will rapidly be adding more snacks to their portfolio, which will give customers even more customization options.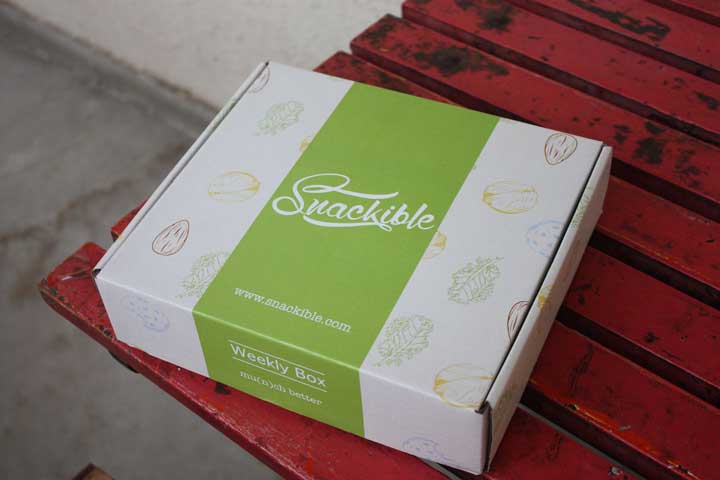 Additionally, he tells us that he wants to bring the Snackible brand into grocery stores saying "we are a brand that is devoted to healthy snacks. We want to make healthy snacks completely accessible. We're going into retail which will give us access (to stores) just in Mumbai."
Just before he signs of, we ask him to comment on the health food scene in India in general. He replies "The health food market is growing at a very fast pace," again adding that "At the same time, India as a market is not going to compromise on taste."
However, when it comes to Snackible, since they are ticking off all the right boxes in terms of taste and are entering a market that demands healthy food, we predict an exciting road ahead. Want to try some of the snacks yourself? Head over to their website and get ordering; they deliver all over India!