Amazon To Set Foot In The Meal Kit Delivery Market
Just a couple days after announcing the USD 13.7 billion acquisition deal with Whole Foods, Amazon has set out to tick off yet another goal off its bucket list. The Seattle-based company is planning to foray into the meal kit delivery space, giving direct competition to existing major players like Blue Apron.
While laying down the paperwork for its new venture, Amazon is also looking to trademark the slogan "We do the prep. You be the chef". The company filed for a patent earlier this month on 6th July, reports the US Patent and Trademark Office. The application further declares that this fresh venture will provide customers "prepared food kits … ready for cooking and assembly as a meal".
In US, the meal kit market is currently led by Blue Apron, which sits as the biggest meal-kit provider in the country, followed by Germany-based HelloFresh. The former, however, has reported tumbling share prices over the past few weeks, with the market closing at an all time low USD 7.36 per share last week.
Meanwhile, Amazon is gearing up to take any and every competition head on, a task that should be a piece of cake for the giants given the many feathers in its food service hat including AmazonFresh, the company's grocery delivery service.
In fact, according to recent reports, some of Amazon's new meal kits are already on sale and are available for purchase to its Prime members in USA. A Seattle-based Prime member said that the Amazon service currently offers 17 different meals and is delivered in a box that is easy to recycle save for a few plastic bags, reported CNBC. Take a look!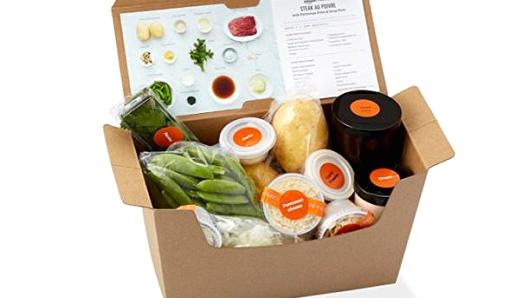 Image: CNBC
Feature Image: Civil Eats