Amazon Launches Grocery Delivery App In Bengaluru
E-commerce giants, Amazon, has entered the local hyper-delivery sector with the release of Amazon Now, an app selling products across multiple categories such as groceries, snacks and personal healthcare products. Amazon Now was quietly rolled out yesterday for consumers in Bengaluru and will provide a stiff competition to Grofers, Big Basket and Peppertap in the hyper-local delivery segment in India.
Early Launch
Amazon's venture into grocery delivery started in March of last year when they launched Kirana Now, a partnership with the local neighbourhood grocery stores for home delivery. With the release of the stand alone app, Amazon Now, the company has expanded its reach to customers by partnering with retail stores such as Big Bazaar, Reliance Fresh, Godrej's Nature Basket and Food World. Speaking of the launch, Samir Kumar, vice-president, category management at Amazon India, said, "We are encouraged by the learnings from Kirana Now. Customers can now choose more than 6,000 products from the ecosystem of kiranas and other favourite local stores and get these delivered using express delivery in two hours or scheduled deliveries."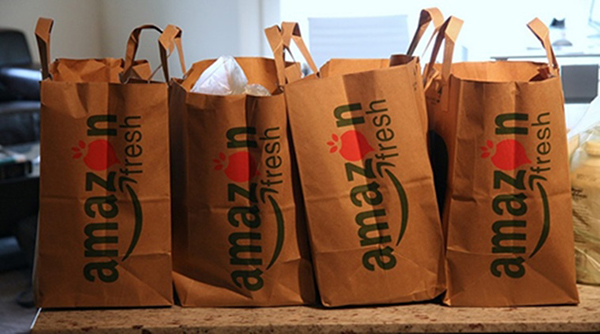 Logistics
The plans for the stand-alone app, Amazon Now, was launched last month with development of logistics and infrastructure to venture into grocery delivery. The hiring of delivery personnel to carry out the order delivery will be part of the existing Amazon's logistics service to ensure the transaction process remains consistent. Currently, Amazon Now will service customers in Bangalore alone with further expansion to 10 cities in the near future.
Online Grocery Shopping
Grocery shopping takes up nearly half of retail consumption in India, according to a report released by Kotak Institutional Equities. The number of Indian customers shopping online for groceries is also on the rise and is expected to reach nearly 100 million by 2020 from its current 8 million consumers. Due to the growing online-based models for various services, companies have continuously targeted this sector for revenue. Larger e-commerce players like Snapdeal, Flipkart and PayTM have invested or partnered with existing companies to venture into the market. The launch of Amazon's own service puts high pressure on existing players like Grofers and Big Basket to compete with the e-commerce giant.