All That Goes Into Keeping Up With Meghan Markle's Fabulous Form
Eyes from all around the World are getting increasingly mindful of the next big Royal couple, actress Meghan Markle and Prince Harry, which is all set to tie the knot on 19 May 2018 at Windsor Castle in England. So while we wait to drown ourselves into every last detail of the Royal Wedding, let's take a quick look at all the food, drink, and sweat that goes into putting Markle in the fab form that the to-be Royal bride is in.
The Smart Royal
We're aware of just how well balanced and smart Markle's eating choices are (check out her daily diet here), and so don't blame us if we want to know more about the 36-year-old's dietary nitty gritties! So, here goes.
Though a staunch non-believer of green juices and extreme diets, Markle does abide by the vegan style of living during weekdays, and goes easy on weekends, "When I'm filming, I'm conscious of what I eat. I try to eat vegan during the week and then have a little bit more flexibility with what I dig into on the weekends", she explained. That said, she keeps herself from "feeling deprived". A strong believer in "lifestyle eating", the actress also doesn't shy away from the occasional bowl of fries or pasta.
Moreover, she doesn't hold back when it comes to spirits that she loves. "Of course I'm going to have that glass of wine—it's delicious and I enjoy it," she said. "Do the things you enjoy within reason. Know your body and what works for you and you'll be fine." Truer words haven't been said.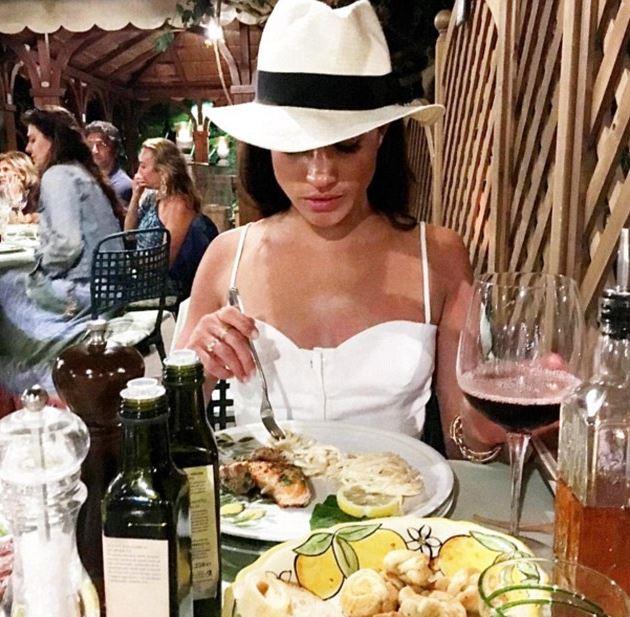 Image Source
Work It, Princess!
In addition to all the clean, green, and healthy eating, the former Suits star regularly practice Yoga, which she claimed during an interview is "in her blood". "I love an intense vinyasa class—and even better if it's blasting hip-hop and done in a dark room with candlelight. The best!" she added. Furthermore, Markle is also an ardent runner and believe that it greatly helps to clear her head and keep in shape.
In addition to running and yoga, Markle has two really cool workout and well-being tips up her sleeve – one, she's a big believer of working out with friends; and two, she strongly feels that it is important to make time for oneself. "We are all so incredibly busy and juggling so many things but I always take an hour to just decompress, watch mindless TV, snuggle with my dogs and enjoy a glass of wine. That's all part of the investment. It's a balance", she said in an interview.
So there you have it, the secret to working towards a fit and fine form!