Did The Aam Aadmi Party Just Host a 5-Star Lunch Using Public Money?
Recently Delhi's Chief Minister Arvind Kejriwal came under the scanner for allegedly blowing off over INR 3 crore worth of public money for his legal hearings. And while the Capital was still getting over their "non-corrupt", "simple" and "aam" CM's financial hiccup, the BJP has slammed the Aam Aadmi Party with yet another accusation. And this time they are demanding Kejriwal's resignation.
So what happened? Turns out that a Delhi government company has paid some ridiculously exorbitant bills for catering services at Kejriwal's residence last year on the occasion of the first anniversary celebration of the government, terming it as a misuse of public money. Or so the BJP alleges.
To support their claim, the party even produced paperwork stating that a five-star hotel presented a bill of INR 11 lakh for serving food to 80 people at the event on February 11th and 12th to the Delhi Tourism and Transport Development Corporation Limited. "The average cost per plate for the February 11 celebration was INR 12,800. For the next day, it went up to Rs 16,000," Union power minister Piyush Goyal told reporters at the BJP headquarters on Saturday.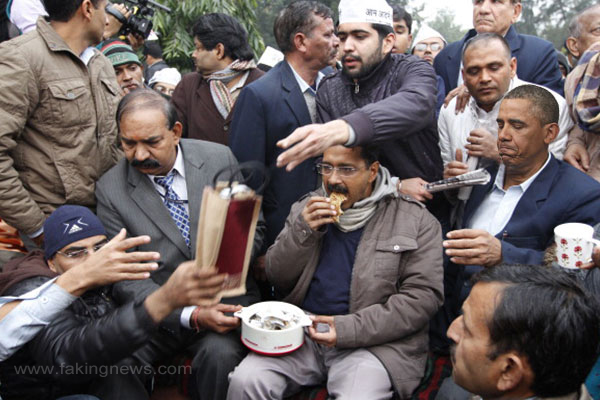 Image: dekhdekh
However, AAP trashed all allegations and deputy chief minister Manish Sisodia said that the BJP was simply trying to malign their competition's public image ahead of the April 23 municipal corporation elections in the city. Sisodia also clarified that he had refused to sanction the so-called food bill around a year ago and the file had been lying with then Lt. Governor Najeeb Jung for almost six months. He took to Twitter and in a series of tweets even challenged BJP to "leak" the documents with his refusal note.
Goyal countered AAP's argument saying that the bills have not been paid as yet. "Once you have eaten food and the company has billed you for that, there is no way to avoid the payment," he argued, while referring to a report that suspected an INR 1 crore outlay to serve refreshment in the office and residence of the chief minister and his six ministers.
Opposition Leader in the Delhi Assembly, Vijender Gupta, also alleged that a leading five-star hotel had made the catering arrangements for the lunches at Kejriwal's residence. He revealed that the permitted limit under financial rules is INR 1,250 per person for hosting a lunch in non-five star hotels. "No formalities or financial rules were followed before placing the orders. Two bills were raised by DTTDC for a total amount of Rs 11,04,357," Gupta said, showing the copies of the bills in a press conference.
In other news, Kejriwal is wondering why he didn't host the party at the AAP canteen.
Feature Image: The Huffington Post India