A Delicious Italian and Pure Vegetarian Feast at Sky View Café in Mumbai
Of late, Lower Parel has seen a large collection of vegetarian restaurants opening. The newest addition to the vegetarian bandwagon is Sky View Cafe, brought to Mumbai from the owners of Spices & Flavours and Bottle Bar. Spread over an expansive space, Sky View Cafe has an indoor restaurant, a shisha lounge and a (yet to be opened) terrace eating space.
Eclectic Interiors
After over-indulging on way too much mithai during Diwali, we decided it was time to put ourselves on a vegetarian cleanse, which made Sky View Cafe a perfect destination late last week. Stepping in, we were immediately taken aback by the decor; the walls are wallpapered with photographs of large, bulky rocks while, on the other hand, a shelf above the billing counter holds a collection of traditional earthen pots. Meanwhile, the tables, chairs and flooring were wooden. The overall effect? An earthy ambience made modern with the rocks on the wall.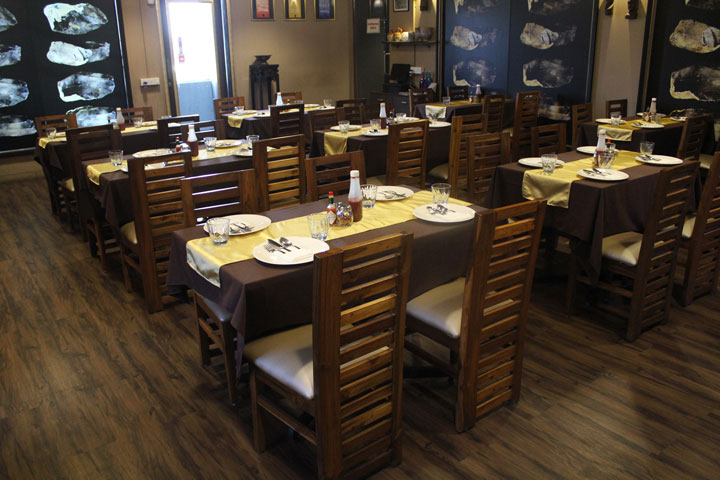 Does the menu of Sky View Cafe fall into the same traditional yet modern category as its decor? A brief glance at the menu quickly answered the question; while we spotted some traditional Italian favourites like gnocchi in a lemon butter sauce and ravioli in marinara sauce, we also saw items like a pizza fondue (drool) and a mac and cheese flat bread (double drool) gracing the menu.
Before we got down to some serious eating, we decided to try out the restaurant's mocktails; we especially loved the Passionate Basil which, with lime juice, passion fruit, basil and a dash of sprite, was incredibly refreshing and zangy.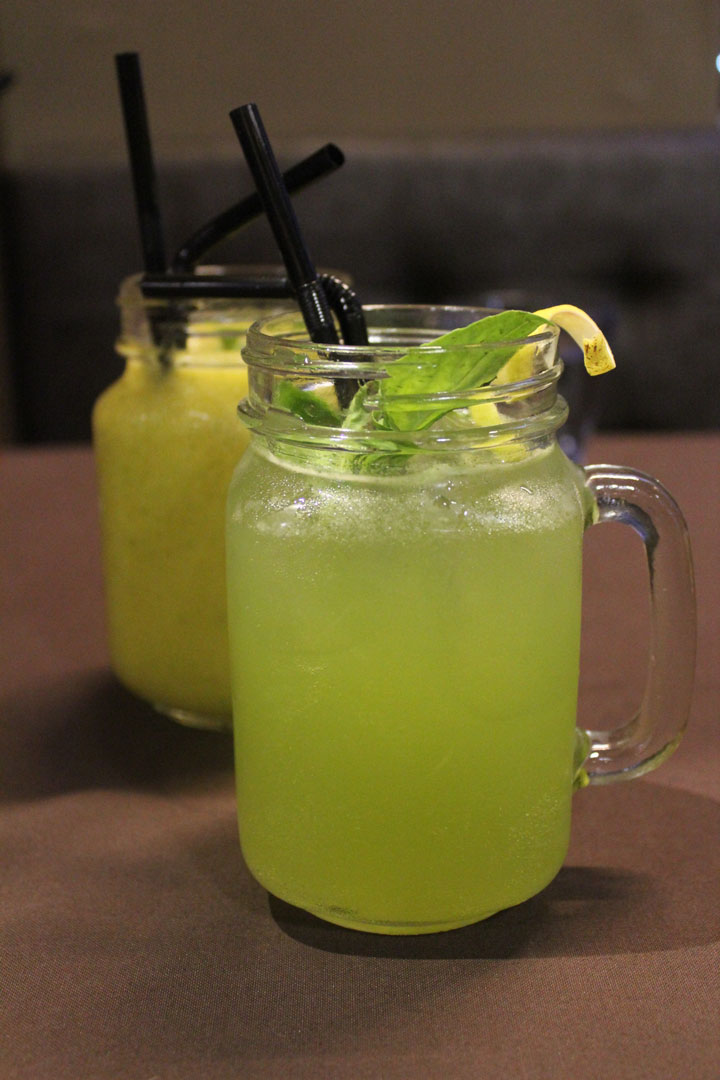 We then moved on to a bowl of mushroom soup, which was creamy yet light with a generous amount of tender mushrooms.
Serious Eating
After the remnants of our soup (i.e empty bowls) were whisked away we tried out three of the restaurant's starters; the Mini Mexican Tostadas, the Squash Roulade and the Zucchini Feta Bites.
We're big fans of zucchini, so we were suitably impressed with the Zucchini feta bitas which combined tender pieces of zucchini and crumbled feta cheese with a fiery sauce; the perfect blend of healthy, cheesy and spicy. We loved the Squash Roulade, which also strongly featured zucchini; strips of the lovely, tender vegetable were rolled around a broccoli, bell pepper and baby corn stuffing making it a light, yet nutrient packed appetiser.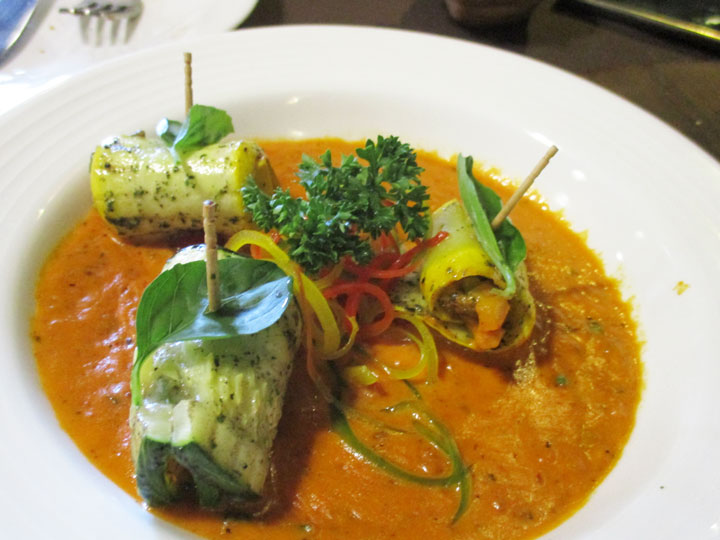 We then moved on to the flat breads; while the Mac & Cheese flat bread had an interesting texture, we much preferred the Veg Pesto flat bread which had a wonderfully fresh infusion of pesto along with zucchini again (yay!), broccoli and tangy sun dried tomatoes.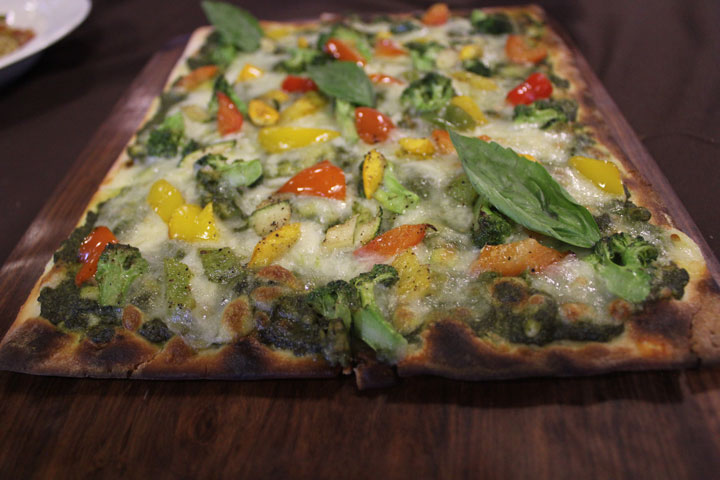 Meanwhile, three more dishes arrived at our table; the Ravioli with Marina & Cheese sauce, the Gnocchi With Lemon Butter Sauce and the Risotto Contadina. Our favourite was the ravioli, which was cooked to a perfect not-too-soft-yet-not-too hard-texture and served in a subtly spiced marinara sauce.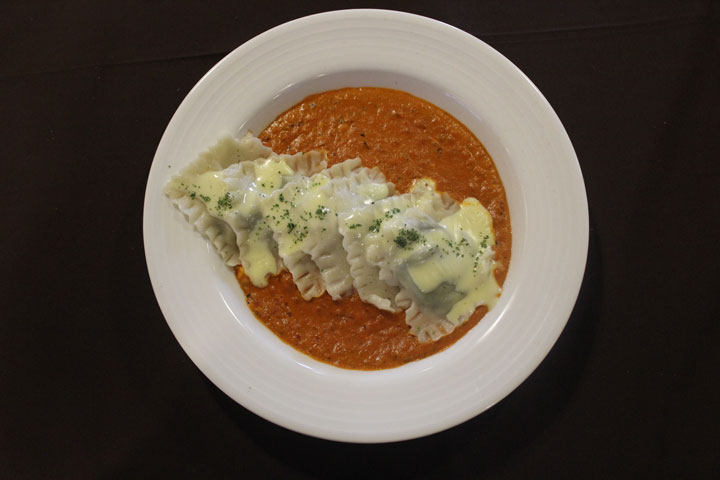 The risotto is ideal if you're looking for a well-executed rice dish with a cheesy and white sauce base, while the gnocchi would work well if you're looking to indulge yourself, as it comes nestled in a rich butter sauce.
Finally, we polished off our meal with a generous bowl of chocolate mousse that was soft, light and broken up by crunchy pieces of chocolate.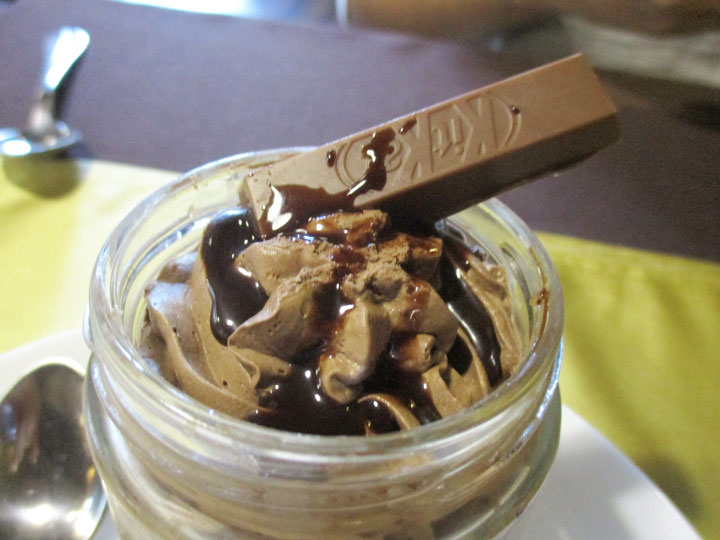 After taking a peek at the shisha lounge, we waddled out of the restaurant with satisfied stomachs. Despite being complete carnivores normally, we didn't feel like there had been anything missing from our meal; sky View Café manages to convert even die hard non-vegetarians with a range of dishes with delicate, well balanced flavours and a finesse in their execution. Why not put down those greasy kebabs and try some delicious Italian vegetarian fare instead?