8 Street-Style Egg Dishes From Delhi To Dish Out On World Egg Day
In Delhi, we're big on food. In fact, if it's edible, we're big on it. Parathas, tikkas, kebabs, Maggi, chowmein, momos, you give it to us and we'll gobble it up in record time. And that inevitably leads us to our ability to do anything with everything. Our most versatile muse being anda (egg). So this World Egg Day, celebrate the food in true Dilli style. Here are 8 popular egg-based street foods from the Capital and how to make them!
Anda Paratha
There's paratha and then there is the fluffy paratha with a spiced egg filling. Don't confuse it with the regular egg roll though because this one has egg between the paratha layers.
Anda Maggi
A lot of you may not exactly be excited by the combination, but take it from someone who's also equally fond of the classic masala, the bhurji and masala mix is a sheer delight!
Bread Omelet
This may sound like something very ordinary but that doesn't make it any less fancy for Delhi streets. Hyderabadis will know what I mean. Not only is the omelet a mix of fluffy eggs and spices, but there is also a special technique to make these. Watch and learn.
Egg Roll
Egg Rolls don't need an introduction. The perfect roll-up of omelet, spices and sauces inside a maida (rice flour) flatbread, can get even the pickiest of eater relishing it in minutes.
Boiled Eggs
Before you think I need serious help for listing boiled eggs as street food, hear this. Boiled eggs may not be street food but when the same is topped with some salt, pepper, chaat masala, chopped onion, and coriander leaves, it does become a bonafide street grub.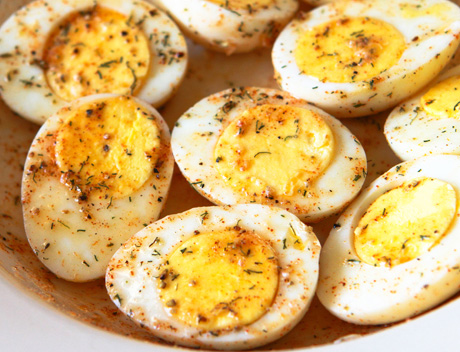 Dimer Devil
A special from Kolkata, the dimer devil or dimer chop literally means devilled eggs with a dash of India. Need we say more?
Masala Bhurji
A quick spicy snack that can be eaten with bread, pav or even paratha, the masala bhurji is essentially scrambled eggs with a heavy dose of desi masalas (Indian spices) and chopped veggies.
Mughlai Paratha
Another Bengal (read, CR Park) special, the Mughlai paratha, stuffed with shreds of chicken and layered with maida and egg, the dish spells out indulgence!
Now you know egg-xactly what we mean.