7 Electric Lunch Boxes to Keep Your Food Warm all Day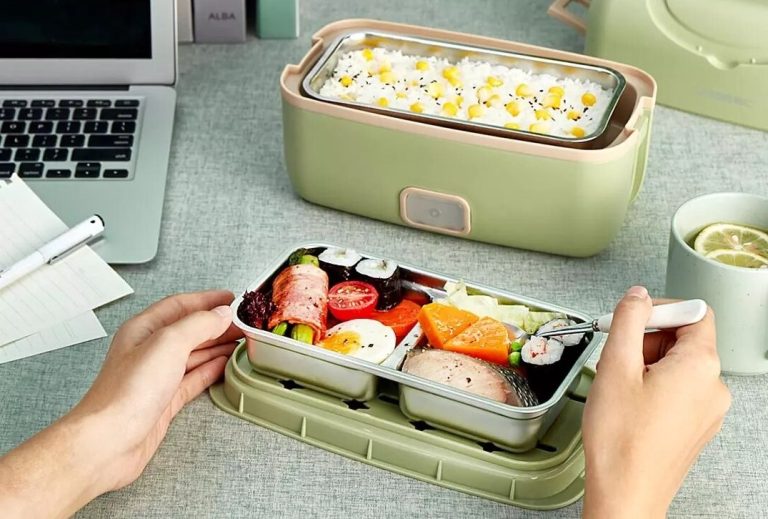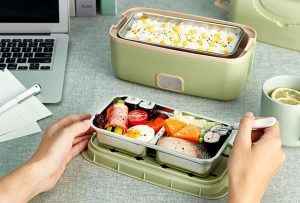 Sitting down at the dining table that is filled with numerous dishes, serving yourself a plate of hot and well-cooked food, and enjoying your lunch with your family is one of the happiest moments a person can have in their everyday life. Unfortunately, this isn't something that people get to do on a regular basis, and it is mainly because of school, colleges, or offices. We are all sitting in our cafeteria, staring at our lunch boxes, trying to gulp down the cold food to ensure you aren't hungry for the rest of the day at work. That isn't an ideal way to eat. Even though you won't get to enjoy lunch at the office as you do at home, food tastes better if it is warm, and good food makes your day great.
Say 'No' to Take-Out Food and Enjoy Hot Food On the Go with Electric Lunch Boxes
People who are fed up with the cold and squashed food in their lunch boxes decide to buy take-out food. But take-out food can never be a good substitute for homemade food. Buying take-out food every day can turn out to be very expensive, and an average person will not be able to afford to purchase food from outside daily. Hygiene is also of concern when it comes to take-out food. You never know how the food is cooked at hotels and during times like these, where the pandemic is head over heels, it is better to eat healthier food. So, even if it isn't comparatively tasty enough, it is better to take your home-cooked food in a lunch box to your office every day.
The Perfect Solution for Cold and Dry Food
There are numerous different types of lunch boxes available including insulated containers that keep your food warm for a few hours. However, what none of these boxes can do is, heat up your cold food a few minutes before your lunchtime to offer you a fresh and warm lunch experience. Electric lunch boxes can do exactly that. An electric lunch box is a container in which you can fill your food and plug it in somewhere at your office desk for 30 minutes to two hours to have your lunch piping-hot, just like you wish to. Electric lunch boxes are the solution for your cold and dried-up food. Here are some of the electric lunch boxes to keep your food warm all day.
Milton Flatron Electric Lunch Box
A compact lunch box that is more than enough to hold lunch for one person. It has an overall of three containers that are 100% leak-proof and can hold both dry and semi-dry food with ease. These compact lunch boxes could easily fit into your bag and don't weigh much too. It has a detachable power cord and can reheat your food within 15 minutes. So, you do not have to wait for a long time to enjoy your warm lunch with these electric lunch boxes.
Milton Flatron Electric Lunch Box Set of 3 (400 ml x 1 & 200 ml x 2) – Rs. 1,109
Torsion 1-Litre Electric Lunch Box
This electric lunch box is of exceptional use, as you can power it up in a car or a standard wall outlet. So, you can even heat your lunch up on the way to your office. This lunch box has three compartments for you to keep your dishes separate, and a light to indicate that your food has been heated. Made up of food-grade plastic, and a stainless steel food tray, this lunch box is very reliable.
Electric Lunch Box – Torsion Dual Use Car/Truck and Work – Rs. 3,122
Hot Logic Electric Lunch Boxes
This is a much bigger lunch box than the other two and has a capacity of 1.5 liters. This lunch box works more like an oven where you can place your storage container inside this oven and plug it into a wall or any other kind of supply. Your food will heat up soon and the heat remains for a longer time because of the insulated tote in it. These lunch boxes come in nine different colors including black, purple, and blue.
Hot Logic Mini Portable Oven – Food Warmer and Heater – Rs. 3,262
Mixen Electric Lunch Boxes
Unlike the other lunch boxes, where you can only heat up the box, the Mixen lunch boxes come with a thermal lunch bag. So, the temperature of your food remains regulated until the time you decide to power up your lunch box and heat your food. These leak-proof electric lunch boxes are made of food-grade plastic and stainless steel and have separate compartments to keep your food distinguished.
Mixen Electric Heating Bento Box – Rs. 2,999
Crock-Pot Food Warmer
This is a brilliant lunch-box choice if you want to carry soup, stew, or oatmeal. The dishwasher-safe stainless steel lunch box container can hold up to 20 ounces of food and also has a warming base. You can plug this container into a wall and continue with your work as your food heats up. The cord also wraps around the lunch box easily, offering you more storage.
Crock-Pot Lunch Crock Food Warmer – Rs. 5,878
Borosil Electric Lunch Boxes
This is a tiered lunch box and is designed to steam your food for a fresh and hot meal. This works in a different way than the other lunch boxes. You need to pour some water into the base and plug it into a wall outlet to initiate the heating. An indicator light automatically turns on when the lunch is heating and the heating will stop on its own when the water in the container steams off completely.
Borosil – Hot-N-Fresh Stainless Steel Insulated Lunch Box – Rs. 2,845
Ecoline Electric Lunch Boxes
Purchase this electric lunch box and put an end to cold food at work. You can plug in this lunch box to the wall and also to a car or a truck. These leak-proof lunch boxes are made of food-grade plastic and stainless steel and are easier to wash. With a capacity of 1.4 L and separate compartments, you get to have lunch at your workplace just like you do at your home.
Ecoline Q4, Electric Lunch Box, Capacity 1400 ml – Rs. 1,210