Sushma Swaraj Turns Messiah For Starving Indians In Saudi Arabia
In a stomach rumbling turn of events, over 10,000 Indian workers in Saudi Arabia have been denied wages and food in Saudi Arabia and Kuwait. This development followed the falling oil prices and retarded economic growth due to which thousands of Indian workers were laid off.
Denied of money even to travel back to India, these workers finally turned to the Indian government for aid. Foreign Minister Sushma Swaraj brought the matter to light on Twitter.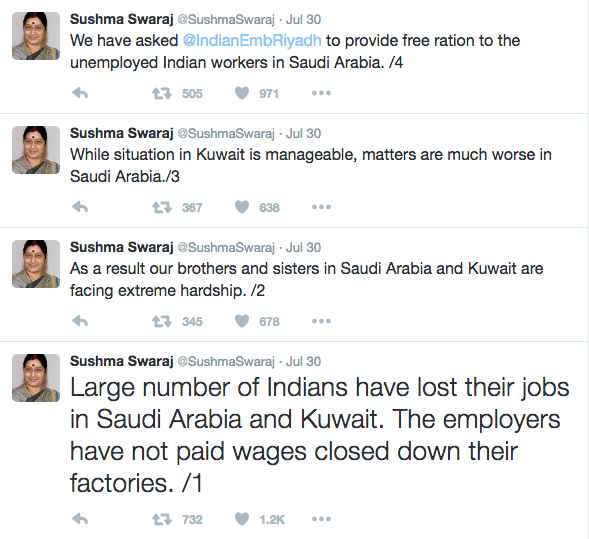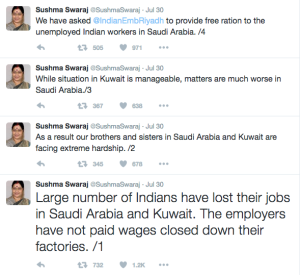 I assure you that no Indian worker rendered unemployed in Saudi Arabia will go without food. I am monitoring this on hourly basis.

— Sushma Swaraj (@SushmaSwaraj) July 30, 2016
The workers have now been supplied with 16,000kg of food from the Indian government. This food was distributed by an Indian community in front of the Indian consulate in Jeddah.
Following up on the matter, Swaraj asked the Indian consulate to not let any unemployed person starve and further monitor the situation.
Food stff being delievred at Sisten/ Macrona pic.twitter.com/rAJhXsJZ8Z

— India in Jeddah (@CGIJeddah) July 30, 2016
Investigations revealed that local company Saudi Oger had not payed wages to thousands of employees for over 7 months! "For the last seven months these Indian workers of Saudi Oger were not getting their salaries and the company had also stopped providing food to these workers," confirmed Indian Consul General Mohammad Noor Rehman Sheikh.
Further, the Indian Government is working on rescuing and evacuating the 10,000 Indian workers in the foreign country.