6 Places In Chennai Where You Can Celebrate Onam 2018 With A Lavish Sadya
Looking for places to relish a traditional Onam Sadya in Chennai? Worry no further, because we've listed down 6 places in Chennai that serve authentic and elaborate Sadyas that will have you smile down happily at a clean banana leaf. It's Sadya-time, Chennaiites, so get your taste buds ready for lavish flavors from God's own country this Onam 2018!
Savya Rasa is celebrating the festival of Onam with cultural activities, traditional decor and an elaborate Sadhya. Guests can savor the taste of a traditional and ethnic sadhya spread of over 28 dishes like Aviyal, Eruserry, Pulsery, Olan, Kalan and Ada Pradhaman.
Indulge in an exotic feast on:
15-24th during Lunch @799++
25-26 during Lunch and Dinner @999++
*Reservations recommended and takeaway available on pre-order
When: Mon, 13 August 2018 – Sun, 26 August 2018 · 04:00 pm – 11:00 pm
Where: 2/10, Gandhi Mandapam Road, Kotturpuram, Chennai.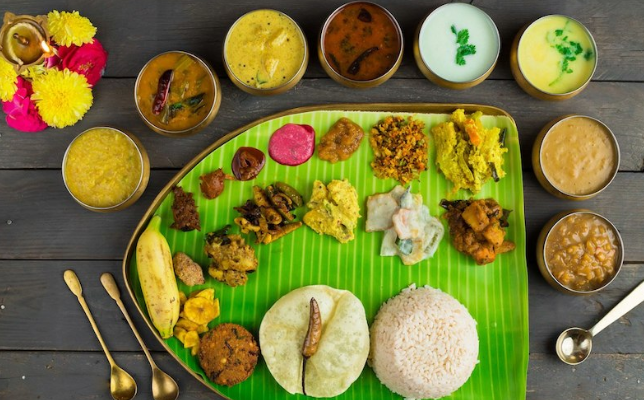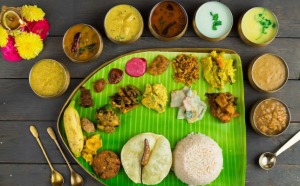 You celebrate the rustic culinary finesse from God's own country at Svar – Turya with their lavish Onam Sadya. They serve a specially curated lunch & dinner buffet that is set to excite your senses to the Kerala style of culinary poetry.
For reservations contact: 044 6697 0000, +91 73580 32223.
When: Tue, 14 August 2018 – Fri, 31 August 2018 · 06:00 pm – 07:00 pm
Where: 144/7, OMR, Rajiv Gandhi Salai, Kandanchavadi , Perungudi, Chennai.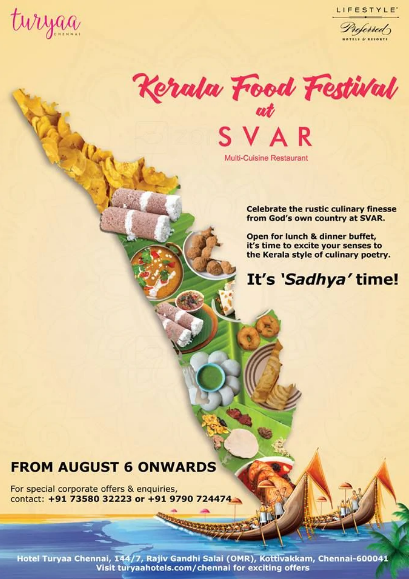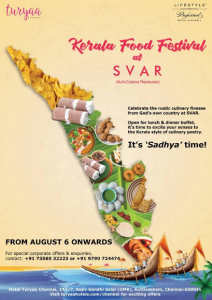 With an Onam Sadhya boasting of more than 25 items on the platter, Savoury Sea Shell is all set to enthrall you this Onam 2018. You can indulge in authentic sadya dishes brought straight from the kitchens of Kerala.
When: Tue, 21 August 2018 – Sun, 26 August 2018 · 10:00 am – 11:45 pm
Where: 3, E Block, 3rd Avenue, Anna Nagar East, Chennai.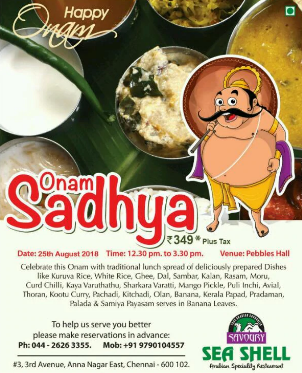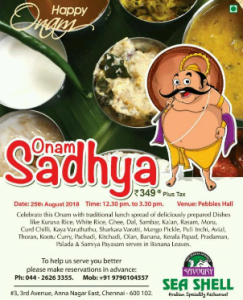 The grand Onam Sadya at Dakshin, Crowne Plaza Chennai is a fragrant and lavish Onam lunch with rich authentic Kerala flavors in an assortment of 25 vegetarian Malabar delicacies. The menu would offers an extensive array of signature dishes like avial, olan , kalan , kootukari , erussery , pulissery , thoran ,paruppu pradaman , palada payasam and much more.
When: Fri, 24 August 2018 – Sun, 26 August 2018 · 12:30 pm – 02:45 pm
Where: Crowne Plaza Chennai Adyar Park, TTK Road, Austin Nagar, Alwarpet, Chennai.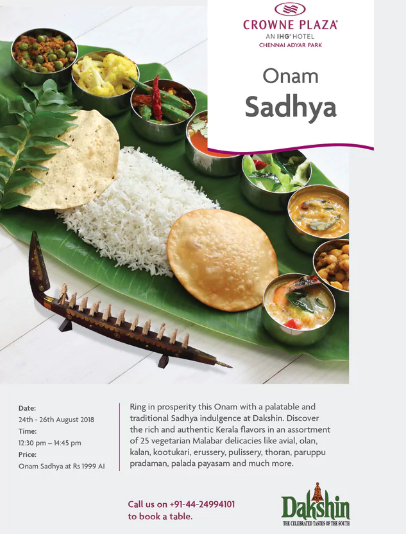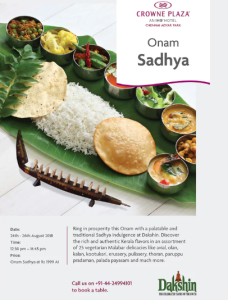 Gossip Fusion Bistro's Onam Fund Raiser Lunch is all about bringing community change-makers together to support communities that need an extra hand. For Onam 2018, Gossip Fusion Bistro is focused on helping our neighboring state get back on their feet. They will have communal lunches where people will gather in groups to dine, talk, discuss shared aspirations for better communities, join a conversation, meet people and celebrate the true spirit of brotherhood. Celebrate this Onam by sharing your table with perfect strangers and do your part in helping those in need. All the Proceeds from this Lunch go to the Kerala Relief Fund.
When: Fri, 24 August 2018 · Friday,12:00 pm – 03:30 pm
Where: New 141, Old 191, Opposite HP Fuel Station, East Coast Road, Uthandi, Kanathur, Chennai.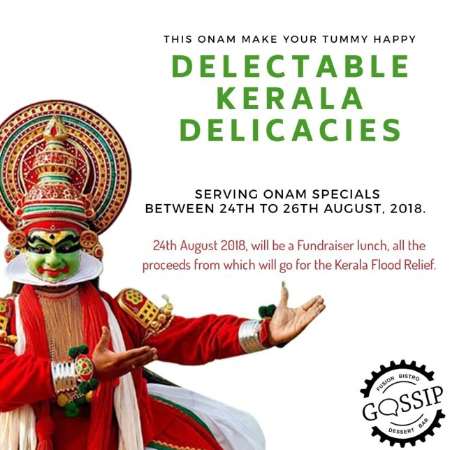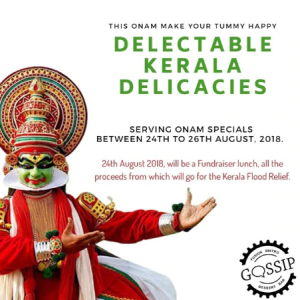 What's Onam celebrations without the traditional lunch or the elaborate Onam Sadhya? Relish on flavorful dishes from their exclusive Sadya menu at Crimson Chakra and celebrate Onam 2018 the delicious way.
When: Mon, 20 August 2018 – Mon, 27 August 2018 · 12:00 pm – 03:00 pm
Where: 13, 1st Crescent Road, Gandhi Nagar, Adyar, Chennai.