5 Reasons Why You Should Include Prasuma's Bacon Jam In Your Breakfast
There is something supremely palatable about a sweet and savoury combination. Whether is a sweet and spicy dip or salted caramel dessert, we all have a version of the popular combination that we absolutely love. Picking up on the love for this combination, Prasuma Meats & Delicatessen has launched bacon jam. Yup, you can now spread the goodness of bacon all over your toast as well!
Now, before you rule out the possibility of spreading sweet bacon-flavoured mush on your food, you need to hear us out. We tried the jams and let's just say, it's nothing like we've had before! With a palatable balance between sweet, savoury, and spicy, Prasuma's condiments might just be the next big thing at your breakfast (or lunch or dinner) table. Here are 5 reasons why you should consider giving your food a generous lick of some bacon jam.
Quick Fix
Hungry? Want an easy to make yet delicious snack? The bacon jam is just what you need! A complete flavor package in itself, the jams can be had for breakfast, lunch, dinner, and snacks. All you need is an appetite and your favorite food to smear the bacon jam all over and voila! You've got yourself a lip-smacking meal!
The Perfect Food Makeover
Use Prasuma's delicious smoky, sticky relish on your favorite burger or sandwich, mix into some pasta, jazz up the plain paratha, add a spoonful to a pizza or just simply stick a spoon in it and pig out (pun intended)!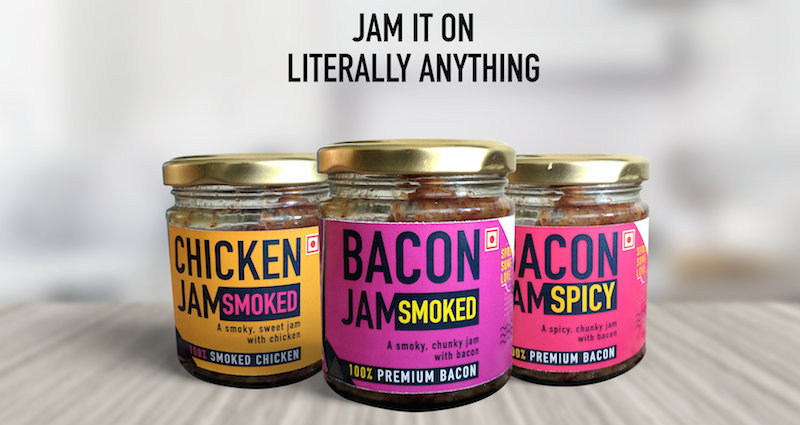 It's Healthy
The jams are not just the first of their kind in the country but they are also of exceptional quality and taste, making them reliable and not just experimental. Made using only the best and highest quality meat and spices, these condiments are not just tasty but also wholesome and high in protein content.
It's Delicious
Made from 100% Bacon & Smoked Chicken, this sweet, chunky Jam, is put simply is just plain delicious. Available in three amazing flavours – the Smoked Bacon Jam, the Spicy Bacon Jam and the Smoked Chicken Jam, all of the flavors together create a sweet, semi-sour, and savory concoction that goes well with almost everything.
More Than A Jam
The bacon and chicken jams are star players not just because they taste like a million bucks but also because they are more than just jams. Prasuma's brilliant product can double up as a chunky dip at parties, a filling for fritters, topping for pies and pizzas, and so much more!
So, are you craving some bacon jam? Then go right ahead and get yourself a bottle! Available at INR 350 a bottle and are available in leading retail stores that have established their repute in metropolitan cities, such as Food Hall, Godrej Natures Basket , nd all other modern retail outlets. If a trip to the store would not be convenient, they are also home delivered in Mumbai, Delhi, and Gurgaon through Meatigo, Prasuma's online delivery partner.