'24' Star Suriya's Secret Behind That Buff Body
South star Suriya has been making ripples in the ticker post the release of the first look of his upcoming release, '24' opposite Samantha and Nithya Menon.
The Post Production team has clearly put in their heart and soul into the poster and teaser with AR Rahman sprinkling magic dust everywhere. The official teaser will be unveiled to the public on Friday 4th March, but has already been getting rave reviews from the select few who got a preview.
Besides #Suriya's diff avatars, it's the amazing visuals, cuts and #ARRahman's score that will stay with you when you watch #24Teaser.

— Haricharan Pudipeddi (@pudiharicharan) March 2, 2016
The Ghajini star will be seen in 3 bone chilling and at the same time sweltering avatars. And while you sit through the nail-biting ordeal of waiting for the trailer release, grab a quick look at Suriya's fitness chronicles.
Sweat
The six-pack festooned actor owes his physique to a routine, which is well balanced between workout and food. Also, he credits his father – Sivakumar – whom he grew up watching. "It helps that I grew up watching my father, who's a stickler for fitness", he says.
Suriya takes to jogging, swimming and a bit of yoga to sweat it out and believes that "yoga is a great way to work up a sweat while exercising in the comfort of your home".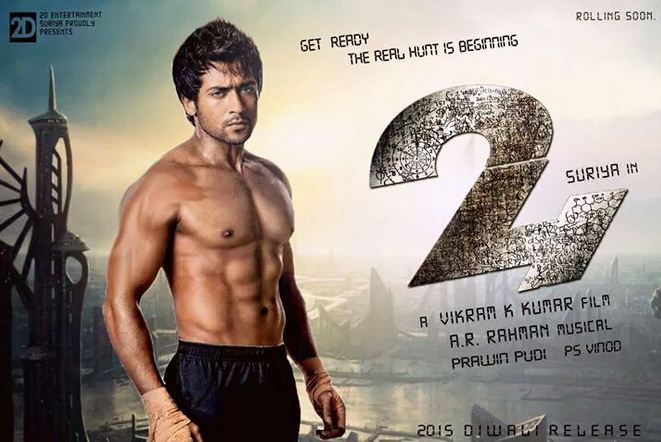 Grub
The Singham 3 lead admits that he isn't really a foodie and that he doesn't "lust for food". But he does like a regular dose of sweets. "Sometimes I just don't feel hungry. However, I love sweets, and my daily routine has to take that into consideration", the actor adds.
His diet is devoid of fatty eats like maida and fried food as they're nothing more than calories and moreover, getting rid of them is also tasking. Apart from this, Suriya's diet is healthy list of 'yays' and nays'.
"I've also almost given up rice; I eat just a few spoonfuls. I've also stopped meat for a year now. I substitute it with paneer and milk products for protein intake. I also eat a lot of vegetables and drink at least 2.5l of water a day as it helps keep the skin healthy."
The star, who will now start his shoot for Singham 3, prefers finishing supper before 7 in the evening.
Wow, most of us are not even done snacking by 7! No wonder my "24" is only a bag of two-dozen candies.