15 Waffles In Delhi That Are Absolutely Syrup Worthy [UPDATED]
Waffles are a plateful of happiness, a boon to dessert lovers all over the world – be it breakfast, lunch or dinner, waffles fit deliciously round the clock. And 24th August being National Waffle Day, it calls for some major waffle binging! Here are 7 places in Delhi that take waffles to a whole new syrupy level.
Ooh LaLa!
Food Court, 2nd Floor, DLF Promenade Mall, Vasant Kunj, New Delhi-70 | +91 9810002793; +91 9711492905
The Belgian chocolate Waffles and Crepes are a delight at this kiosk in the food court of DLF Promenade. With its specialty in American breakfast, you will not be disappointed with their service and pocket friendly sweets. Do try their Lemon Butter and Cinnamon Sugar variant!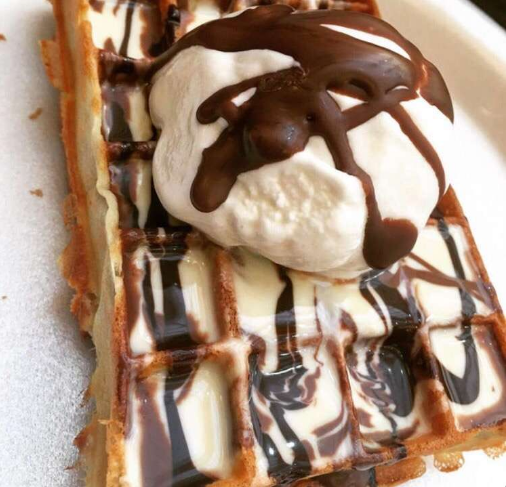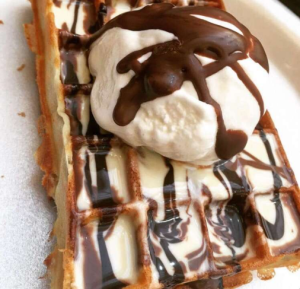 All American Diner
Ground Floor, India Habitat Centre, Lodhi Road, New Delhi-03 | 011 43663162
Eat yourself silly at the All American Diner with their superb breakfast selection and an all day menu that serves perhaps one of city's best waffles and pancakes. Start your day with a plateful of scrumptious waffles and load them with endless mad amounts of maple syrup, jam and butter.
Maison Des Desserts
T-49, Hauz Khas Village, New Delhi-16 | +91 9560366914
Wee in quantity but delightful in every bit, this bakery can never stop to deliver and impress with its desserts. Their "All Day Breakfast" menu serves some decadent waffles, both sweet and savory. Try their Yogurt Walnut and Honey Waffle or Strawberry and Cream Waffle.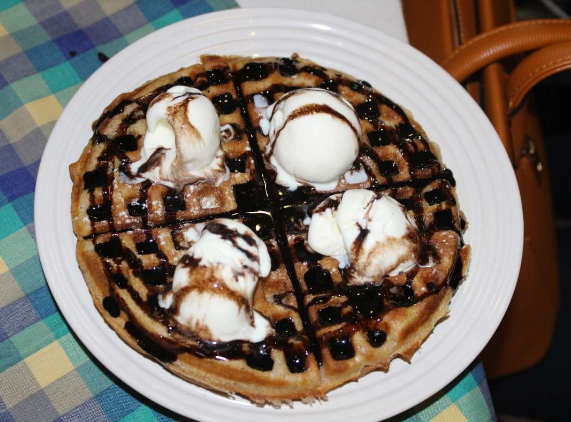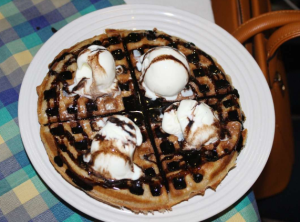 Waffle Hut
UB-29, Jawahar Nagar, Kamla Nagar, New Delhi-07 | +91 9899481411
If you're imagining a hut made of waffle, hold that thought because Waffle Hut is as amazing and dreamy as that! The place toasts some amazing sweet and savory waffles. Their savory menu consists of some mind-blowing options like tandoori chicken and pizza. Yes, a pizza waffle. We can all die in peace now.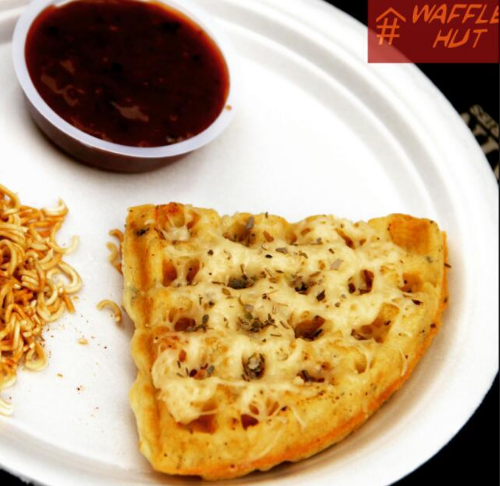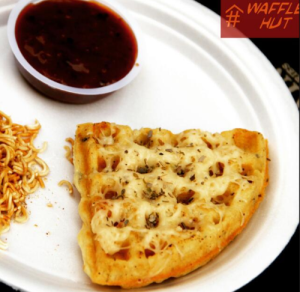 Whipped
E-556, Greater Kailash (GK) 2, New Delhi-48 | 011 33105572
3, Defence Colony Market, Near Citibank, Defence Colony, New Delhi-24 | +91 9560033396
Whipped is famous for the plethora of cakes, bakes and desserts on it menu. And to top off all the sugar and chocolate-dusted magic, Whipped also serves up 'Whipped Waffles', which is essentially a perfectly toasted waffle served with a side of vanilla ice cream and your choice of syrup or sauce.
Mövenpick
Second Floor, Select Citywalk, Saket, New Delhi-17 | 011 41050919
Third Floor, Mall Of India, Sector-18, Noida-201301 | 0120 259238
Mövenpick is a Swiss ice-cream boutique that offers up to 18 unmatched varieties of ice creams. The ice creams are all au naturale, with no added preservative or artificial colors. When here do try their Belgian Waffles with White Chocolate and Strawberry Sorbet and Syrup, which is quite a unique combination.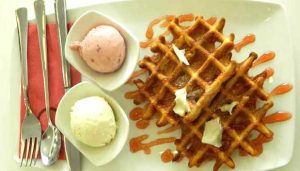 Wafflesome
M-69, Ground Floor, Greater Kailash (GK) 1-48 | 011 49051555
If there were ever a dream world of waffles, this is how it would be. Wafflesome brings to your table every possible flavor and waffle-topping that you've ever dreamt of. We suggest a round of Nutella waffle, followed by a Banana Toffee, topped off with the Blueberry.
Drool Waffles
2nd Floor, My Square Food Court, Select Citywalk Mall, Saket, New Delhi-17 | 011 41055815
Drool over a variety of steaming hot waffles loaded with chocolate, cream and all things delicious! Experience waffles with a variety of amazing toppings like honey, fresh fruits, syrup, ice cream, sprinkles and a lot more!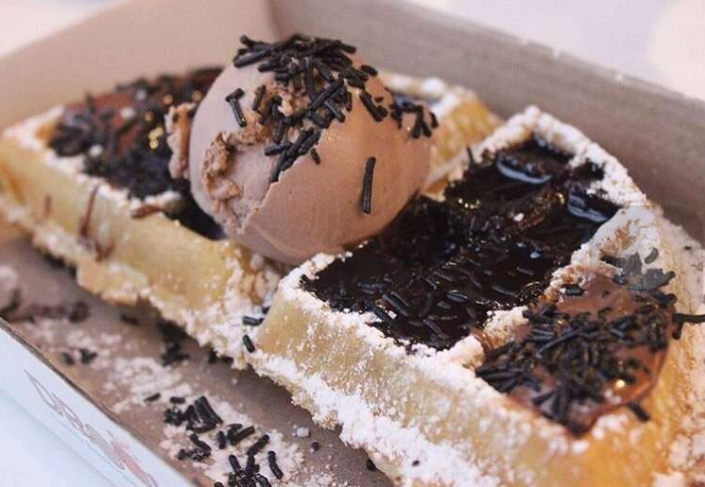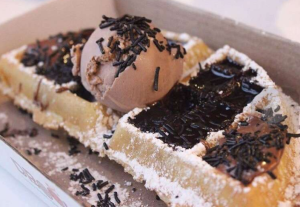 Di Ghent Café
208, Level 2, Cross Point Mall, Opposite Galleria Market, DLF Phase IV, Gurgaon-122002 | 0124 4227444
This vintage European bakery serves wholesome indulging breakfast items of which a wide assortment of Liege or Brussels Waffles is one that can be made with egg or without. The Blanckaert Waffles containing strawberry, maple sauce, whipped cream is to die for. There are even variants with wild berries or dry fruits that spell out divine indulgence!
The Big Chill Café
49, Khan Market, New Delhi-03 | 011 41757588
DLF Place Saket, Shop No. 122, DLF Place, Saket, New Delhi-17 | 011 41170000
Known for pretty much everything that is one their menu, one must try the desserts like their gorgeously baked waffles. With a dense and rich flavor, they are complete with banana, vanilla ice cream and dollops of chocolate syrup.
Blue Door Café
66, Middle Lane, Khan Market, New Delhi-03 | 011 24640013; 24618727
TBDC puts together a lavish breakfast menu, drawing major inspiration from Europe. So you can be sure of being served decadent crepes, waffles, pancakes and fresh fruit bowls. You can even scoff down the delicious sugar-dusted waffles as dessert after a luscious European meal!
Café Wanderlust
SF-53-54, 1st Floor, DLF Galleria, DLF Phase 4, Gurgaon-122002 | 0124 4113371; +91 8447944345
Café Wanderlust serves up a variety of international breakfasts, continental nibbles, desserts and Indian street foods to fill up your stomach. Enjoy the all day waffles served with your choice of topping.
Wenger's Deli
A-16, Middle Circle, Connaught Place, New Delhi-01 | 011 23324373
Located in CP, the deli has a big spot in the hearts of many for its cakes and pastries. With a whiff of fresh baking dough in the air, go ahead and order their Nutella Waffles with Nougat and Vanilla Ice-cream or the Banana and Toffee Waffles. A dash of whipped cream will finish off this delectable experience and that too for a great price!
Elma's Bar & Kitchen
31, 2nd Floor, Hauz Khas Village, New Delhi-16 | 011 26521020
Elma's is known for its sumptuous dessert and tea options in the city. For the locals, it is the ultimate hangout when looking for a tête-à-tête in a quaint setting. They do a range of delicious waffles here. Do try the Red Velvet Waffles and Raspberry & Cream Waffles.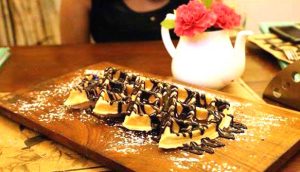 Theo's Café
Dynamic House, Dadri Main Road, Next to HP Vijayant Thappar Petrol Pump, Aggahpur, Sector 41, Noida-201301 | +91 8750242224
Go bonkers with this café's hot and fresh waffles. Make it swankier with a selection of delicious toppings. And just in case you haven't had enough, top it off with brain freezing scoops of creamy ice cream!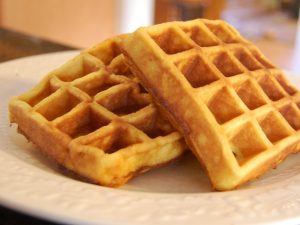 Waffle away, good people!