14 Maharashtrian foods that everybody loves
Maharashtrian food offers something for everyone. Whether you are a sweet tooth or a fire dragon, a Marathi Manoos or not these dishes are a must try whichever part of the world you're from. One small tip though, the best tasting dishes you'll find on the highway roadside eateries, a.k.a. the Marathi dhabas. From unlimited chapathis, freshly made to the unlimited Rassa and the unlimited generosity of the person serving, this is where you feel at home away from home. Here are the top favourites you have to try.
1. Usal or Misal Pav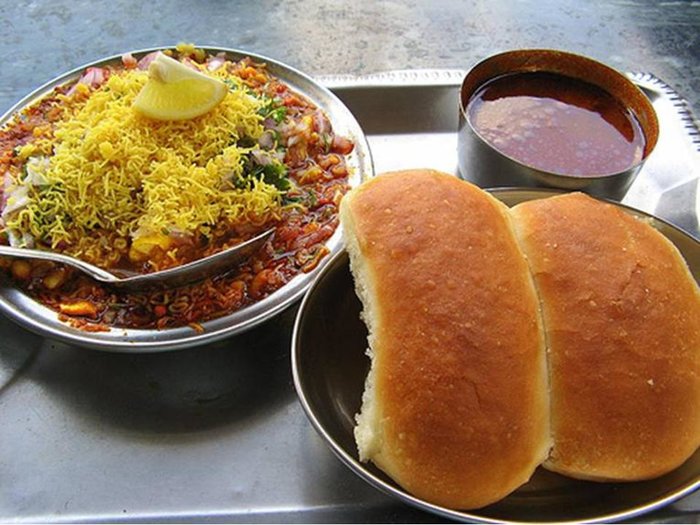 The most popular snack of all Maharashtrian food after Vada Pav, the Usal is a less spicy and slightly dryer version of the hot and spicy Misal Pav. Most places will offer unlimited Rassa when you opt for the Misal Pav because it's more about the spicy gravy than the heavy on butter lightly toasted bread. Add in a good handful of finely chopped onions, tomatoes, coriander leaves and top it with a dash of lime, perfect snack and sometimes the best lunch you can get when on the go. Remember the Pav is only to soften the blow of the spicy curry. If you can't take the spice go for the Usal, it's not got the gravy as much as the Misal but it definitely is delectable.
2. Kande Pohe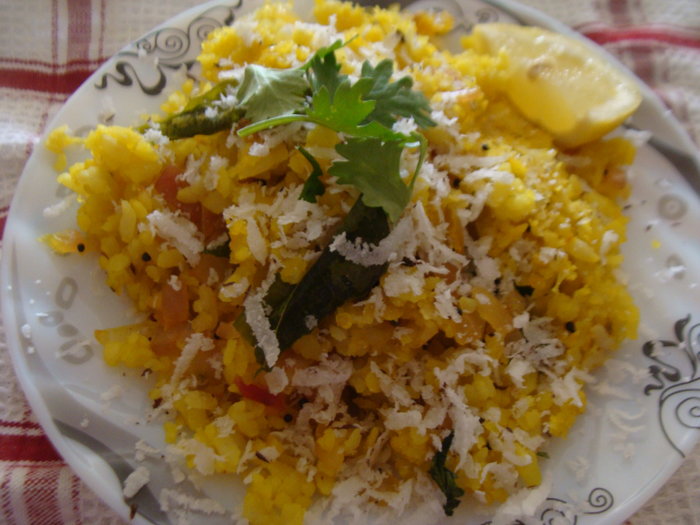 Every child who grew up in a Maharashtrian household had this for breakfast, school lunch, evening snack and whenever the guests came home for a surprise visit. Kande Pohe, literally translated, is onions and beaten rice. Some top it with fine nylon Sev while others top it with fresh chopped coriander and sweet grated coconut. Whichever way you have it, this is not something to be missed.
3. Kolhapuri Mutton Rassa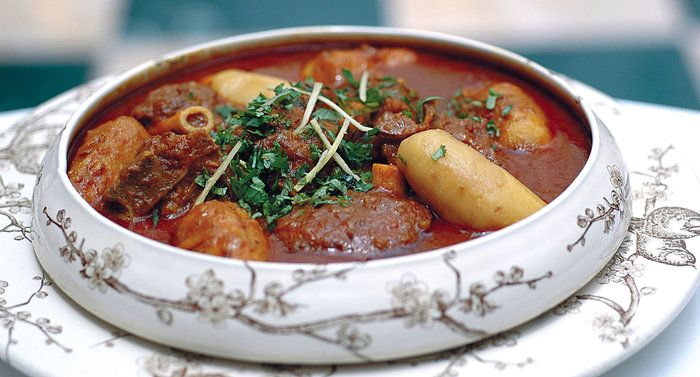 This one is for the meat lovers. If you've done your studies, you'll know that the Kolhapuri food is known for its liberal use of chillies in different forms such as dried chilli, fresh green chillies, beautiful chilli powder, etc. Simply saying, the Kolhapuri mutton Rassa is not for the delicate tummy. It's hot, it's spicy and the heat it gives you will leave you feeling like a fire dragon. And it is not the only Kolhapuri dish that will leave you feeling like that.
4. Pithale or Jhunka Bhakar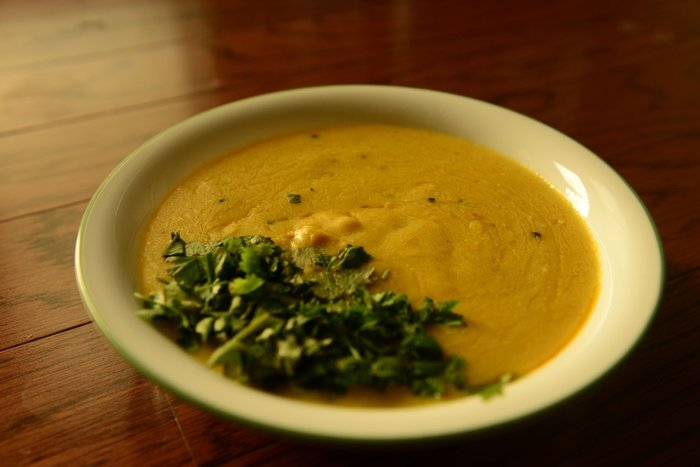 A quick and easy preparation for when you're short on time. Knowing how to cook Pithale can never leave you stranded when on a tight budget for food. Most places will serve unlimited Pithale because no one can get enough to finish the bhakri with. If you want to make it at home the steps are simple, crackle mustard seeds in a little oil, add finely chopped onions and sauté till brown then add a pinch of turmeric and salt as per taste, a pinch of asafoetida, add a glass of water and bring it to boil. Once the water boils add in the chick pea flour slowly till it thickens, simmer and garnish with coriander and voila! Dinner is ready. Roti or rice your choice.
5. Thalipeeth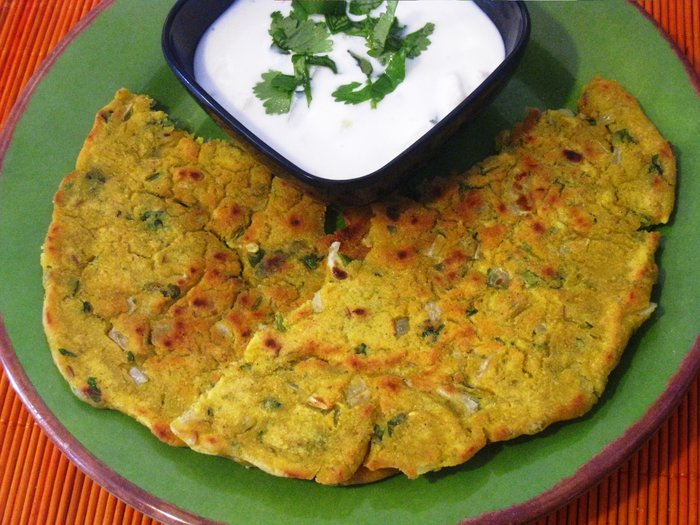 This is a savoury pancake, Maharashtrian style. Normally uses up to four kinds of flour and onions, tomatoes, chillies and a few select spices such as cumin powder and chilli powder. Another popular breakfast and evening snack it is sometimes eaten for dinner as well. These are served with Loni, i.e. white homemade butter or Thecha (see below) or a curd or a pickle.
6. Puran Poli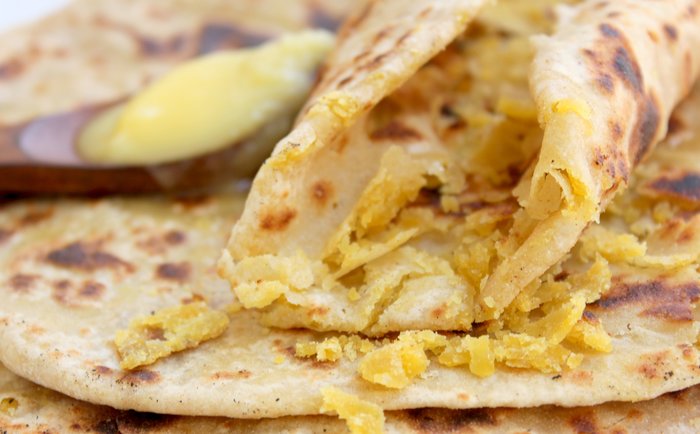 This popular dessert made of dal and loads of jaggery is the most popular Maharashtrian sweet dish. The size of the poli varies from place to place but rest assured it is rarely ever smaller than your dinner plate. It is sweet, heavy and just melts in your mouth. Served with oodles of ghee this dish is one you need to keep space for.
7. Modak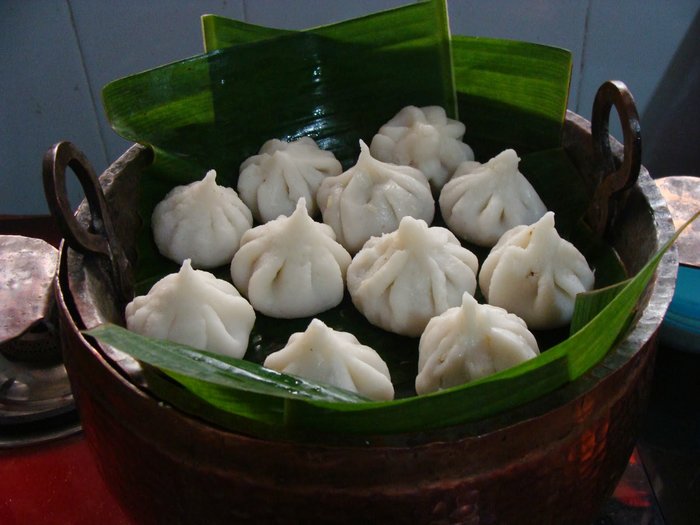 Lord Ganesh's favourite dessert, steamed Modaks are made of white flour stuffed with jaggery infused coconut, dry fruits and nuts. You'll find these in abundance during the Ganesh Chaturthi festival. You might even fall for the fried ones but the steamed Modaks have their own sweet charm and appeal that you cannot just ignore.
8. Kothimbir Vadi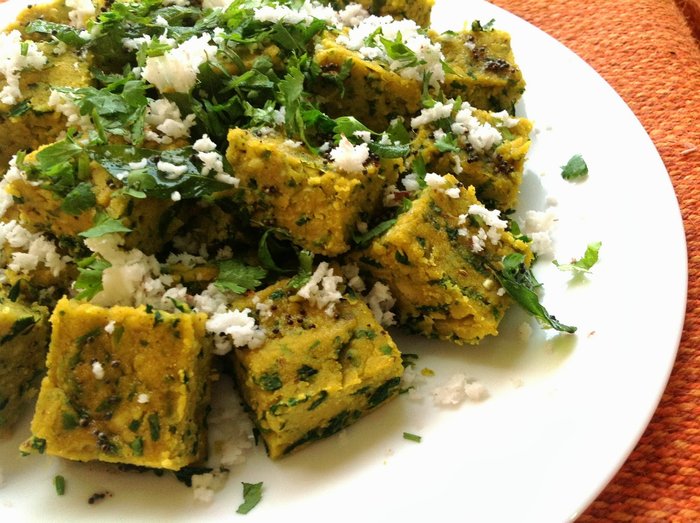 Everybody loves to snack. Because when you're doing something or nothing you get hungry and Kothimbir Vadi is one satisfying snack to munch on. Normally eaten as an accompaniment with tea these coriander patties can also be fried if you want a crunch to your snack. So flexible!
9. Waran Bhaat or Ambat Waran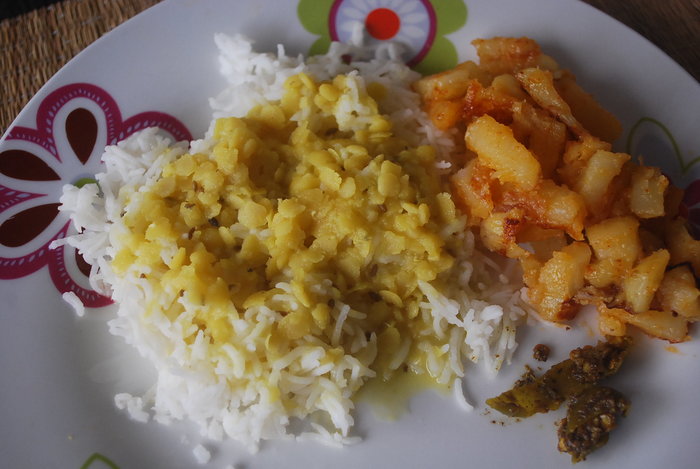 Waran Bhaat is to Maharashtrians what Rajma Chaaval is to Punjabis. This quintessential staple is extremely simple and yet so satisfying, you'd not have a problem eating 'Daal Chaaval for life'. But if you want to quirk things up a bit there is always Ambat Waran, literally translated as Sour Lentil Curry, or even Amti which is a spiced version of the Waran.
10. Shankarpali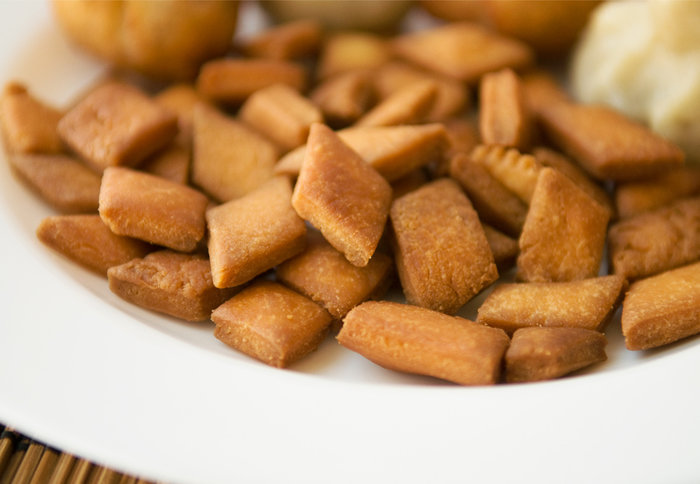 Shankarpali are sweet, melt in your mouth bite sized squares that are so full of life. Every household will have these, for us kids, we just love anything sweet! Some might call it Shakar instead of Shankar which just is announcing the obvious taste of these sweet titbits.
11. Solkadi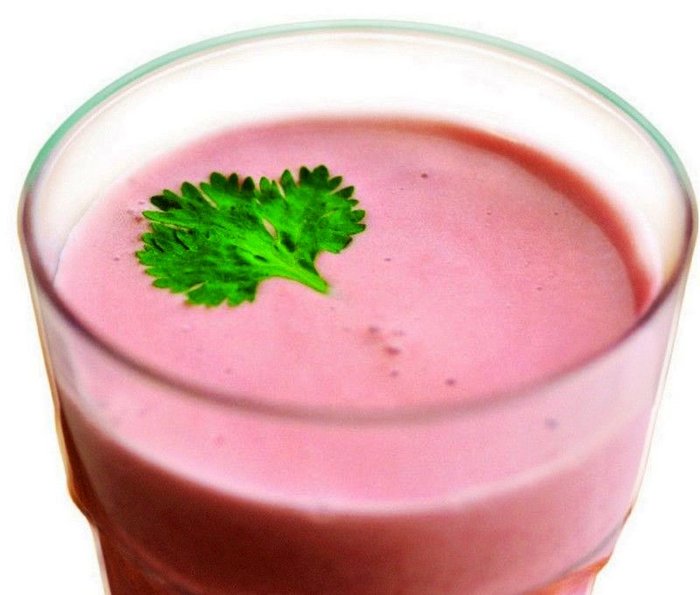 When you go to a Maharashtrian family for a visit their welcome drink will normally be one of three – Kokum sherbet (a sweet and sour drink made of kokum berry extract), Limbu Paani (lime cooler or lemonade) or Aam Panha (mango cooler). A spin off the Kokum sherbet is the Solkadi. A drink to accompany your food, generally with fish, Solkadi is made from kokum extract and coconut milk. It goes so well with your seafood, if you ever order a fish thali at a Malwani restaurant Solkadi will always be served.
12. Thecha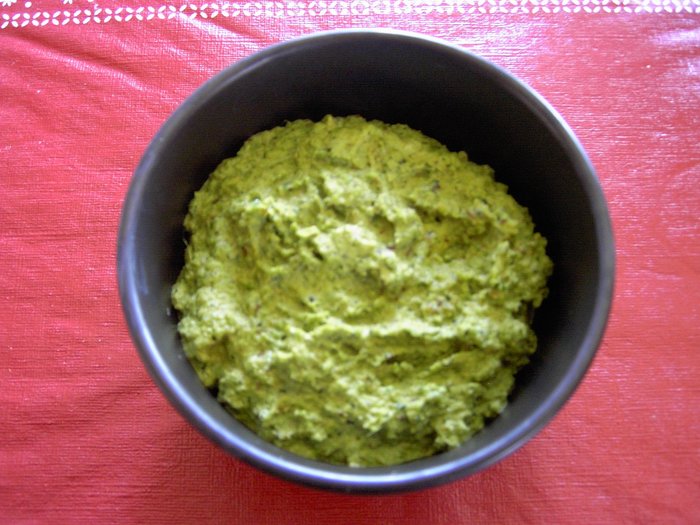 This is Maharashtrians chilli pickle. It's bright, fiery red and just a small dot will heat your mouth up. Thecha is not a pickle, it is thick sauce made of dried red chilli that is powdered with oil and salt. Some Thecha will have chilli flakes that are visible because the chillies were probably crushed at home others use the ready available chilli powder that makes it a smooth, thick paste.
13. Vada Pav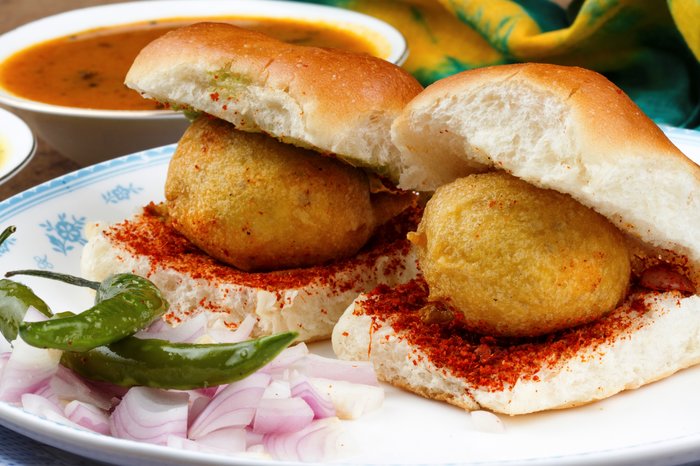 No Maharashtrian food list can ignore this delight that is Vada Pav. Everybody loves this Bombay burger. But every city has a different way of serving this delicacy. Some serve it with fried green chillies, some with chopped onions, some with farsan and most with meethi (sweet) and teekhi (spicy) chutney. Wherever you are in Maharashtra, this mean snack is a must have.
14. Chicken Saoji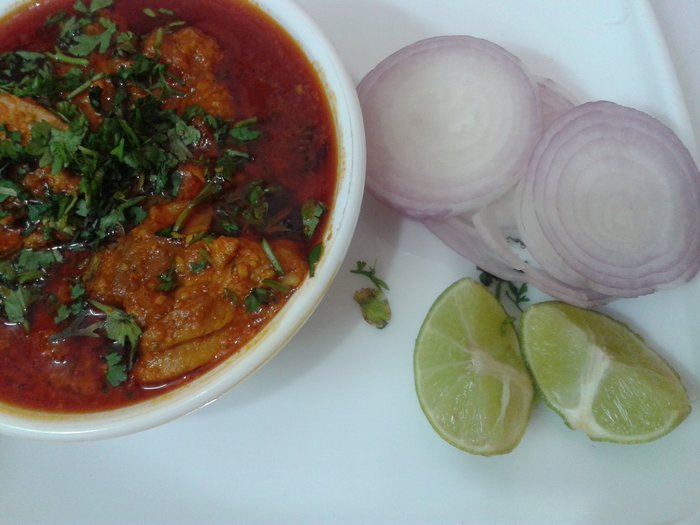 A Nagpur special curry that competes for the spiciest position with the Kolhapuri curries, Saoji uses clove and pepper paste instead of red chilli powder like the others. The surprising ingredient is the crushed peanut powder *sometimes groundnut oil) that gives it its signature taste along with the clove and pepper.