Everyone needs to eat, animated or not, right? For our loved cartoon characters, food is especially important. After a long day of fighting bad guys, making jokes, solving mysteries, beating each other up, enacting one of their crazy schemes or just generally lying down, they need to sit down and enjoy a meal (or four) to recuperate.
We asked ourselves, who are the most food-obsessed cartoon characters and came up with this list. Let us know if we have missed out on your favourite food-toon.
Winnie The Pooh (Winnie-The-Pooh)
The adorable bear is addicted to honey. And boy, is it serious! The sweet, slow-witted bear is often getting into trouble with the bees.
Shaggy Rogers & Scooby Doo (Scooby Doo)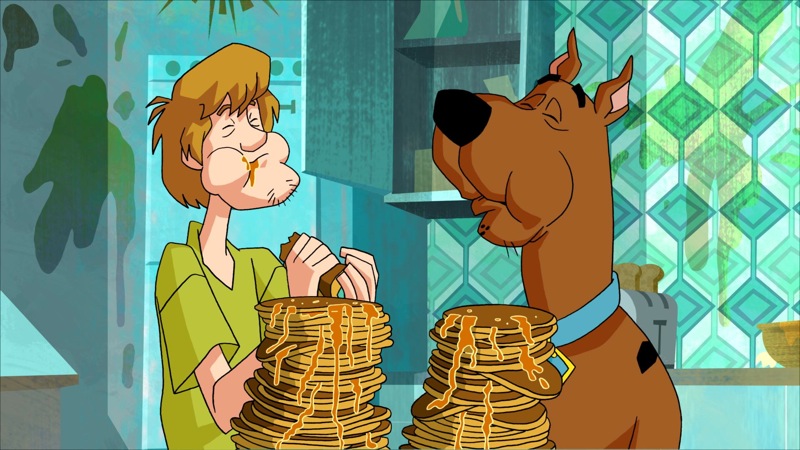 Talking dog, Scooby and his slacker sidekick Shaggy took food-loving to another level. When they weren't solving crime or looking for the next ghost to bust, Shaggy and Scooby Doo would sit back and munch on Scooby Snacks. Shaggy had cravings for weird meals like extra-cheese pizza with pickles and chocolate-covered hot dogs and Scooby would do just about anything (including dressing as barbers and waiters or a giant ghost) for a Scooby Snack.
J. Wellington Wimpy (Popeye the Sailor Man)
"I would gladly pay you Tuesday for a hamburger today!" is the line most associated with Wimpy, who of course is Popeye's sidekick. While his companion chose to stay healthy by chowing down spinach, Wimpy was all about patties of beef in a bun. He was the Burger Beast of his day.
Forsythe P. "Jughead" Jones (Archie Comics)
Jughead is the ultimate foodie that makes all other foodies green with jealousy. He is blessed with a freakish metabolism that allows Archie's best friend to eat massive amounts of food without gaining any weight. A typical over-eater, Jughead downs burgers, pizzas, candies, and anything else at an astounding rate. He's an eating contest champion, a respected food critic, and has a sense of smell so refined he can tell what food is in a can without even reading the label.
Eric Cartman (South Park)
Every South Park fan's favourite fat boy loves his Cheesy Poofs. In one episode, Cartman aspires to be the Cheesy Poof spokesperson: "I could sing the Cheesy Poof song with both hands tied behind my back!" he claims. To which Kyle responds: "You couldn't get both hands behind your back, fatty!"
Popeye (Popeye the Sailor Man)
You can't have a foodie list without Popeye in it. The archetypal sailor always eats his spinach when he needs that little boost.
Homer Simpson (The Simpsons)
The King of snacking: Homer is a poster-boy for anything all-American and completely unhealthy: Burgers, pizza, hoagie sandwiches, and donuts — washed down with lots of beer. Watch this Simpson's fan snacking like Homer Simpson here.
Garfield (Garfield and Friends)
This cynical and sarcastic cat loves his lasagne. Give him a tray and he forgets everything else. He also likes pizza, which makes sense in terms of the story line — Garfield was born in an Italian restaurant.
Obelix (Astrix & Obelix)
Obelix, Asterix's rotund companion, has an appetite befitting of a Viking, and will eat almost anything. His favourite however is wild boar.
Dagwood Bumstead (Blondie)
Patriarch of the Bumstead family and husband of the famed Blondie, Dagwood was obsessed with his mountainous sandwiches, which included a selection of meats, carrots, cheeses, lettuce and even a hard-boiled egg. If you're older you probably know what we are talking about. Kids, don't bother.
Teenage Mutant Ninja Turtles (TMNT)
These four wise superheroes operating from the sewers of New York City are known for their obsession for Pizza. They love relaxing and eating Pizza. The '90s cartoon show lives on thanks to Nickelodeon, and their favourite pizza orders are often strange but surprisingly appetizing.